Discussion Starter
·
#1
·
Hi everyone! This will be my journal for my ADA 120-P.
Please be warned that I don't have good photography equipment or skills that some of our members have....so we all have to "make do" with my iPhone and very old Canon point-and-shoot :flick:
This is the 3rd scape since I acquired the tank in 2007, and you can see some pics on the previous scape here:
http://www.plantedtank.net/forums/showthread.php?t=169357
Some of you might have seen the pics below already, as I posted these back in April after the initial fill-in:
Step 1 - setup stand, lights, and tank.

Step 2 - mulm from two established canister filters

Step 3 - Seven 9Liter bags of Aqua Soil

Step 4 - Add rocks

Step 5 - Initial fill

Step 6 - Leave XP4 running overnight.
Thanks to suggestions from TPT and ASW members, I adjusted the hardscape a bit, and you can see it on the next two pics.
Since the initial setup in April, my aquariums haven't been anywhere near the top of my priorities this busy year. It was only last week that I started to pay more attention to my tanks. I decided to do a semi-reboot last week because I got non-'belem' dhg mixed with the 'belem' that I got from a fellow sfbaaps member. So I decided to rip out all the hair grass, and re-plant only the 'belem'.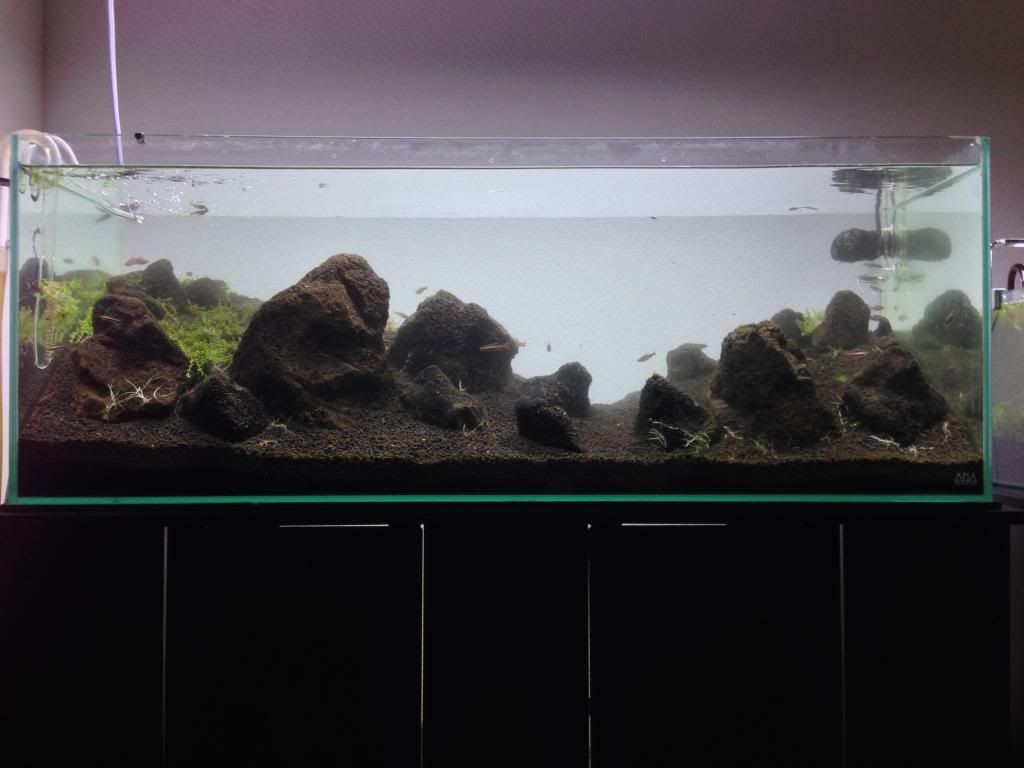 The picture above is about 15 minutes after I ripped out all the hair grass, thus the slight cloudiness. Right after I took this picture, I ripped out all the HC to re-distribute on the left hill.