This tank is 75 gallons with CO2 injection and EI ferts. I have several issues and welcome any thoughts you care to share.
First, FTS:
I am happier with the left side than the right. As you can see, the dwarf hairgrass has done well filling in - too well, it gets too tall - and obscures most of the five rocks. Here is a closeup of the left side: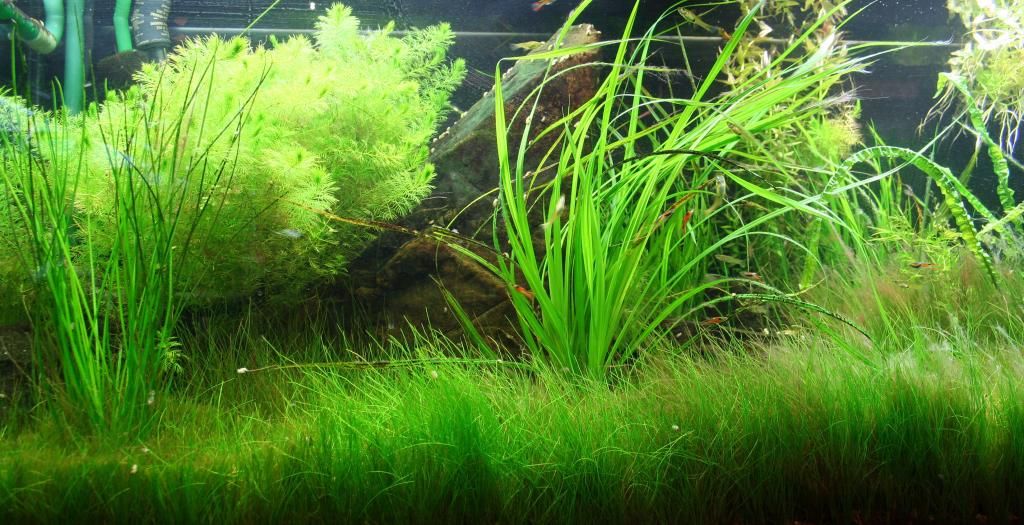 The myrio mattagrosense fills that back corner alright and helps hide some equipment, so I expect it will stay. I do wish I could trim more successfully so it fills in just so. The left-most plant is isoetes, a plant I rarely see for sale and one that has been with me maybe 10 years. It needs a trim to remove those algae covered bits, but it will always have a presence in this tank. There is a larger clump of it on the right that needs dividing. The cyperus helferi is glorious in that foreground because a powerhead adding flow shoots right at it. The DHG was recently trimmed hard on the left.
The right side is what we should discuss the most.
Let's ignore the whitish fluffy remains of BBA on the hairgrass; it is going away. Even this side has had the DHG cut, but it is too long and would go even higher if left alone. Last time I trimmed it left some brownish patches; I am not crazy about the results of trimming DHG. Frankly I am considering pulling it all (!) and putting in Eleocharis belem or something that will stay shorter. I like the overall effect and my kuhli loaches and endler fry both like it too.
The crypt balansae looks out of place; pulling that up will create a major dirt storm. The isoetes patch on right is crowded. The cyperus in the background is fine. The limnophila repens in the background does alright but my trimming efforts do not leave me completely happy. Behind the balansae is an unsuccessful patch of baby tears and the upper right is a mess because it has trimmings floating that I plan to give away soon and some Blyxa japonica that I cannot find room for and that refuses to grow roots.
Chime in please. I have more thoughts to add but let's get started redesigning the tank. I have too many plants and even have a crimun calamistratum I could add. Using these pieces, how would you arrange them?