Hi all, I'm semi-new to the FWP scene. Been a successful reef-keeper for almost 4 years now, and just recently I was bitten hard by the FWP bug. :eek5:
Anyways, I've been doing a lot of lurking and reading and have decided to go with a
minimalistic
style of simple aquascaping. I figured I might as well start a journal to keep up w/the progress of my cube.
Here is a list of what I plan to keep/use:
Tank: 200x200x200mm Glass Cube (Alife) -- Approx 8L (~2G)
Filtration: Azoo Palm Filter
Lighting: 18W PC (6,700K) Desktop Light** Changed to a 12" 2x18w Coralife PC Fixture
Substrate: ADA AquaSoil Amazonia
Aquascape: Seiryu Stone
Supplements: ADA CO2 System (1 bubble per 4-5 seconds), Seachem Line
Plants: Hemianthus callitrichoides, Utricularia graminifolia
Livestock: N/A
Goodies:
The tank came with filter & ghetto 7W lighting, it also has "edge" bracing.
I took the corners off and scraped off the excess silicone.
Since the tank is small (~2G), I don't worry about the tank bursting.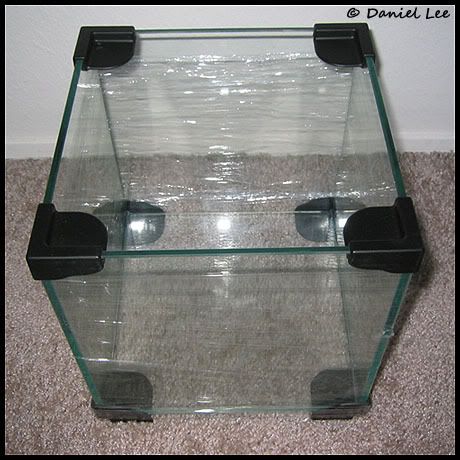 Here is the "first" full tank shot
(not pictured: heater & filter)
I'm waiting on a few other things to arrive in the mail (substrate/misc. materials), so the tank will be empty for some time. Thanks for looking
--Daniel