I'm such a Geek, I know
. Warcraft makes me <3 so very much. I have oodles of their books, cards, miniatures, etc.
And since my Main character is a Moonkin, I figured why the heck not :].
Okay so, I started this mini sculpture like .. two months ago.
But, life got all poopy, and I got cranky and stopped working on it.
It's only about 1 1/2 inches, maybe a bit taller , and 1 1/2 inches wide, maybe a bit thinner in the front.
Turning it into a "charm" to dangle from my purse :].
Unfortunately it's starting to dry out a bit [even Sculpy dries eventually if you don't work it constantly!] because it's been exposed for so long.
So!
I'm finally trying to buckle down on it, and finish it so I can cook it sometime this week and paint it, and have it done by the end of the week (I hope!).
But, I need to make myself get back to work on my art stuff, so I figured I'm make a thread, this way I
have
to finish it :hihi:.
So, here is a shot~.
I still have quiet a bit to finish.
I have to fix one of the horns that cracked and fell off
.
And I have some small [painfully so] details to make and attach.
Here's an earlier shot of it, Ignore the scratched on eyes, I just scratched them on real quick because it was creepy when the face had no eyes >> ...
Also, the beak in this last picture got broken off by my satan cat, so I had to replace it, as you can see if the first picture, I happen to like the new one better, actually. Just gotta finish it, Lol.
Btw, for those who don't know Warcraft, a Moonkin is basicly an owlbeast, a Owl-bear-monster thing :>
Here's a shot of their in-game ness.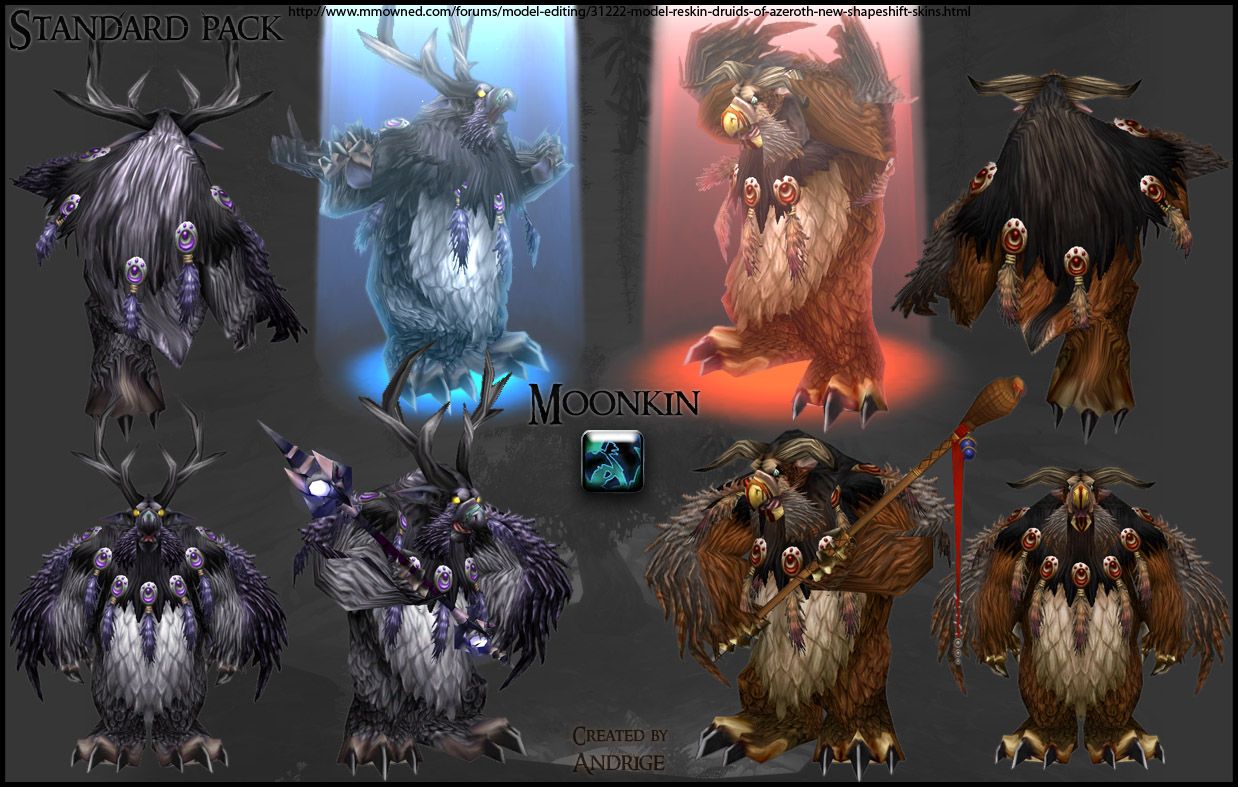 Well, actually that's someone's recolored version of them, but, it's basicly the same, I used this to link for you guys since it shows various angles
, and it was the first thing to pop up on google for me and I'm lazy
.
If you play the game you know what they look like anyway, so nyah.
I'm making the Horde one[brown one], because I play my moonkin on the horde side, even though I absolutely love the Alliance [purple] ones more
.. Mainly because they get antlers. :frown:
Anywho, time to buckle down and stop being lazy:icon_redf.