Discussion Starter
·
#1
·
Hello all,
This is my first post in PT forums!
So I have recently started in the aquatic hobby, about 2 months ago, my first fish was a betta from Wal-Mart! lol
So fast forward to today and now I have 3 tanks, one of which is the subject of this thread. My planted tank is currently set up in a 30+ gal bowfront.
The following is a copy and paste of my thread in Aquatic Central starter thread, which was earlier in the beginning of the month. As my tank has progressed from that point, ill just use this to show you what I started with and the next post I will explain what I am going to attempt to do.
"So far
30 gal bow front tank
Eheim 2234 external canister filter
T5 HO dual lights : 6000k and daylight bulb
100% silica play sand
1 bag eco complete
Dwarf Baby Tears, Hemianthus callitrichoides
Dwarf hair grass
Cyprus Helferi
Alternanthera reineckii v. 'roseafolia'
Echinodorus angustifolia Vesuvius
Nesaea pedicellata 'Golden'
Anachris
One other plant I'm not too sure of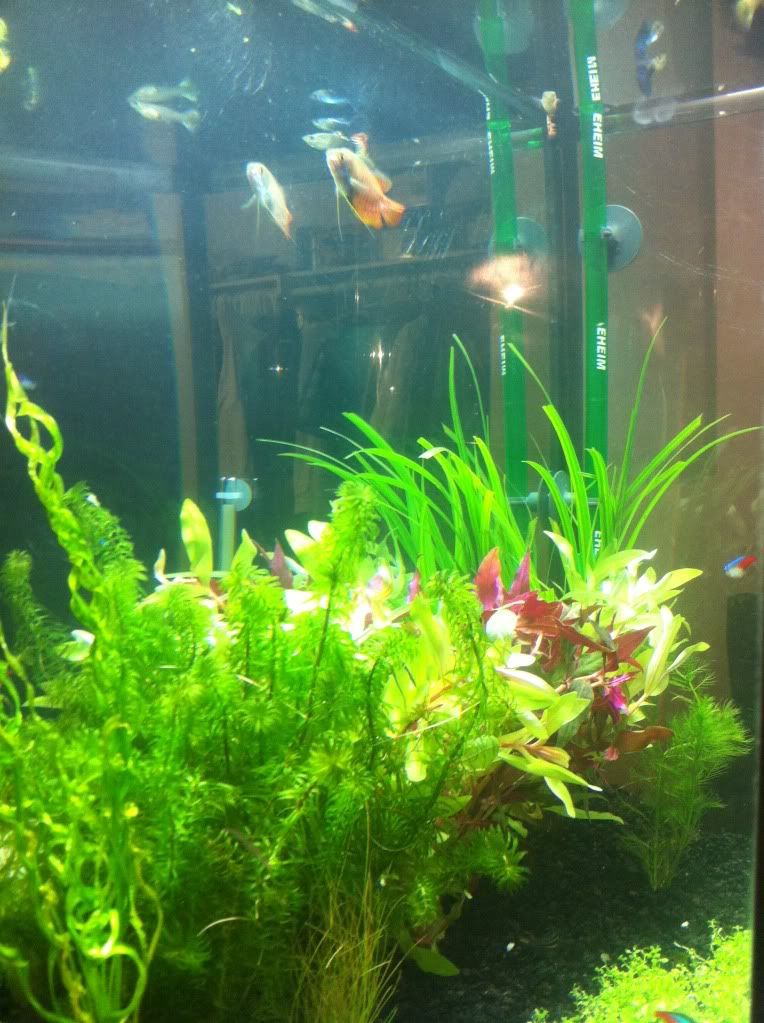 Neon Tetras x 7
Dwarf Gouramis x2
Fancy Guppies x5
Brichardi babies x5
julidochromis transcriptus babies x 5
electric yellow babies x3
This is my first attempt at a planted tank and most of my fish and plants are new, less than a week since inception.
The baby non community fish like the cichlids I will be adding to my 40 gal cichlid tank as soon as they are big enough to withstand the existing cichlids or start bullying my community fish
I used a bit more than half (60-70% RODI and rest tap water) for the tank and when I do water changes, I use about 50/50 mixture for it.
As far as water treatment, I use the typical dechlorinator and for the plant nutes, I use Flourish, Flourish Excel ( as I have to CO2 setup as of yet ) and I have flourish root tabs I have yet to use.
I will be moving in about a month and I wanted to reorganize the tank and add the root tabs then.
I plan to monitoring growth and the effectiveness of Excel in my tank and gauge whether or not to purchase a CO2 setup. (student and on a low budget)"