Proudly presenting to you, from the very formulation behind all medicineman's aquatic setups : Wonder-Gro Professional Series aquascaping fertiliser.
We would like to introduce the Pro Root+ (again) under the flagship of distributor Aquaspotworld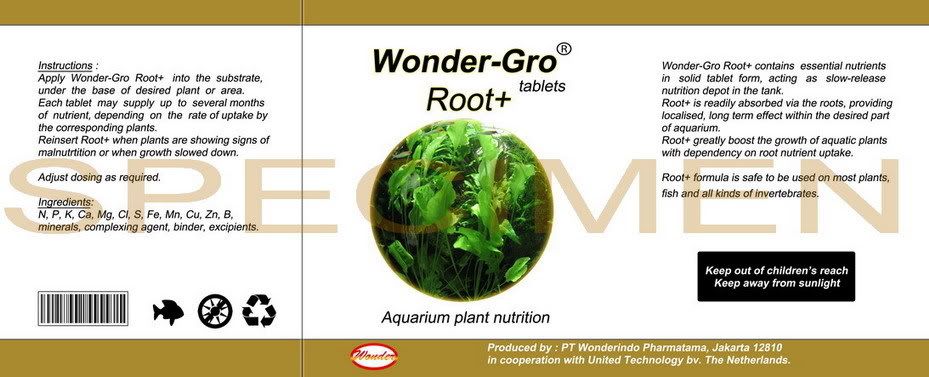 *Design and content to the product(s) are subject to changes without prior notice
Wonder-Gro Pro Root+ is an extra complete solid fertilizer inserts in tablet form, containing all essential elements much needed for healthy and strong plant growth.
Highlight content of Root plus includes the presence of N, P, K, Fe, micro elements and wide range of important minerals and nutrients.
Root plus feature slow-release depot action to ensure extended but strong effect to plant growth.
Root plus is readily absorbed via the roots, providing localised effect within the desired plant or part of aquarium.
The formula does not cloud water and is generally safe to be used on most aquarium plants, fish and invertebrates.
Instructions to use :
-Insert Root plus into the substrate, approximately 1-2 inch under the desired plant or area, carefully not to damage any existing root system.
-Each plant or area may be accordingly given more, or less than one tablet. Optimal effect may be noticed within the first few weeks and could last for up to several months, depending on the rate of nutrient uptake by corresponding plants.
-Reinsert Root plus once the effect appears wears out, shown by diminishing growth rate and paling in colour of corresponding plants.
-Each tablet could cover approximately an area of 2-3 square inches.
*PT Wonderindo as the manufacturer is not to be held responsible for any damage or death to the aquarium and all of its content resulted from the use of our product.
Some flora or fauna may be more sensitive than others and it is recommended to start off with lighter dosing and observe carefully.
Dosing instruction serves just as a main guide. Actual usage and result may vary following factors such as plant load, water chemistry, presence of CO2, level of lighting and overall setup condition.