Discussion Starter
·
#1
·
Background info: well established 10 gal tank. Pressurized CO2, 18w T5HO x 2, Entire Seachem line at my disposal but apprehensive on correct dosing.
This is a pic taken at night; notice the algae that has built up on the Taiwan moss: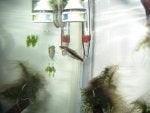 What I don't get is, when I went to Europe for a month this summer, I left the lights on a timer but on reduced time with a siesta (same as now) but with reduced total time to 7 hours of light (now its 9 hours). I also ran out of CO2 before I left, and I didn't have time to refill before we left. So the tank was sans CO2 or nutrient supplements.
And would you believe when I came back, my thread algae (thats what I suspect it is) was almost ALL gone. The cherry's and snails were fine when I got back (was away for 4 weeks), but the algae was in check.
When I came back and settled in, I decided to get rid of my HC and Hygro (left some crypts) and got a whole bunch of UG and Taiwan moss. So, I refilled my CO2 and began dosing again and then...whammo! This stuff came back with a vengeance within a week!:help:
So I bought a SAE in the hopes of him eating this stuff. I know he'll grow, and I'll have to get rid of him soon, but at this point I"m desperate. If I can't get a control of this algae problem, I may abandon the planted tank genre...:icon_cry:
Please advise on the ID of the algae and weather you think the SAE will eat it.