Hi all. I joined the forum a week ago and have been reading this forum since. I've been keeping African Cichlids (Tropheus) for a while now and have been intrigued on how much of an art a planted tank can turn out to be. Honestly, I never thought I'd be joining in the fun and always thought it was easy... Boy, was I wrong. Enough of the jibber-jabber and let me get straight to the point. Here is my first planted tank created about 2 days ago and added the last piece yesterday when I installed a CO2 system.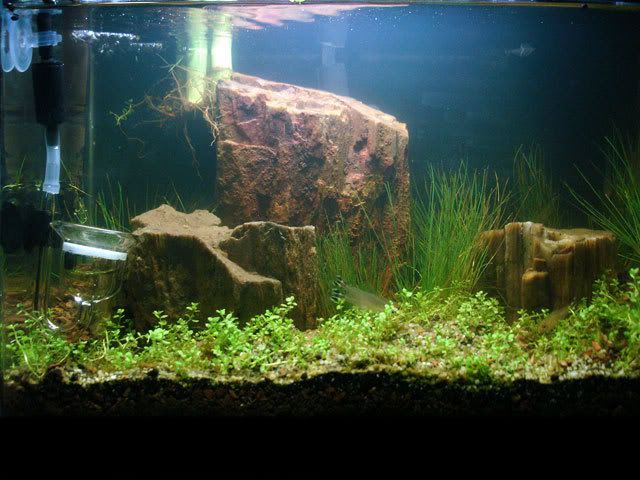 Tank: 2.5 gal rimless glass
Substrate: Flourite
Stone: I think they labeled it, "Petrified Wood" at the LFS
Filtration: Red Sea Nano Filter
Plants: HC and Dwarf Hairgrass
CO2: 5lbs Brushed Aluminum, JBJ Regulator, Solenoid, Bubble Counter, and Diffuser at 1 bubble per second
Lighting: JEBO 13 watt 6500k
Ph: 6.0
Temperature: 78F
Additives: 1ml Flourite Excel
Livestock: 4 Rummynose Tetra
Wow, never really expected the water to be that cloudy using Flourite. I know I rinsed that thing a billion times. Learned about and saw examples of Iwagumi style and attempted to apply the same concept on my layout.
The Rummynose were free from a friend and realized that they look crowded in there.
Questions:
1) I'm planning to get some Cardinals in exchange for the Rummynose but don't know how many I should get for my size tank.
2) Should I get shrimp? If so, how many?...
3) Can I get both Cardinals and Shrimp? (amano, cherry red, or bumble bee.) If so how many?
Question about my equipment:
1) Are the bubble from my diffuser supposed to escape from the whole surface area of the ceramic? Currently, bubbles are only fizzing from one part of the ceramic circle.
2) The Bubble Counter is 1 bubble per second at the regulator, but when I count the bubbles that travel in the tube (before they hit the air pocket near the ceramic circle) I count less than 1 bubble per second. Should I adjust it so it's 1 bubble per second at that point?
I'm open to questions, concerns, and feedback. Thanks for you support.
Mike