I made a post a while ago when I did a similar build for my 25 gallon tank. I wanted to go further with this build, give myself more adjustability and room for future expansion.
I just finished building one of
Hydrophytes
cedar stand
designs (pics of stand and tank tommorow) which I applied this set up to.
Tools:
Power drill
Drill press (optional, but recommended)
3/8", 1/2", 1 1/8" spade bits (wood)
3/16" metal bit
Wrench
Hammer
20L (5G) pale
2 Pieces of pipe (any type, 20" approx length)
Pliers
Materials:
3/8" aluminum rod (I used 2 5' lengths, more than I needed)
*Machine thread eye bolts (I used the smallest I could find)
*Two matching locking nuts for eye bolts
**Two T-nuts (I used 5/16")
**Two matching 3" hex bolts
Two finger knobs for hex bolts (optional)
Small airplane cable (I used 48")
Crimps for cable
Examples of Eye bolts and T-Nuts
Eye Bolt
http://www.biconet.com/birds/GIFs/stealth/acc/eyeBolt2.jpg
T-Nut
http://www.woodpeck.com/media/main_tnut.jpg
http://4.bp.blogspot.com/-6-updg-3_kw/TiVtguqBXMI/AAAAAAAAA7w/sbBQTSJ1TpU/s1600/prong_t_nut.jpg
Hex bolt
http://www.bombayharbor.com/productImage/0812294001230089250/Hex_Bolt.jpg
This is how it looks assembled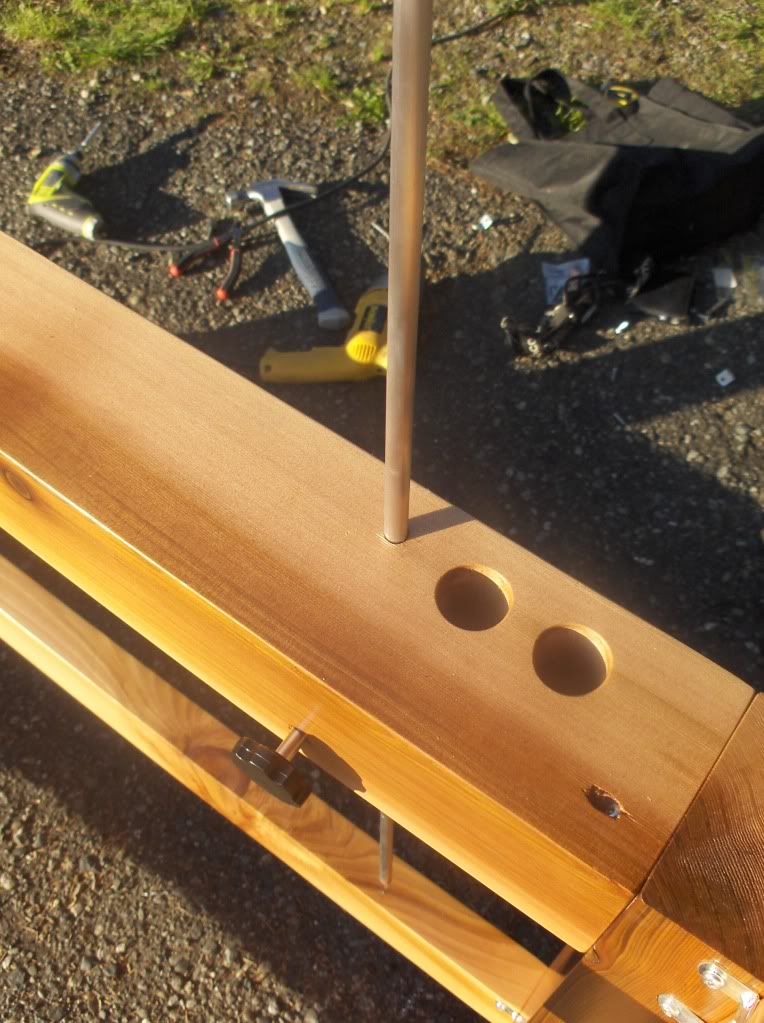 Front top to bottom I drilled a 3/8" hole with the drill press for the rod to slide into. From the back about halfway through the post I drilled a 1 1/8" hole for the t-nut to sit inside. And from center of that the rest of the way i drilled a 1/2" hole to allow the hex bolt to be threaded into the t-nut from the front.
Note the black knobs, they just sit over the hex head of the bolt so you dont need a wrench to tighten or loosen them. They aren't needed, but I liked using them.
Back view of 1 1/8" hole with T-NUT mounted inside.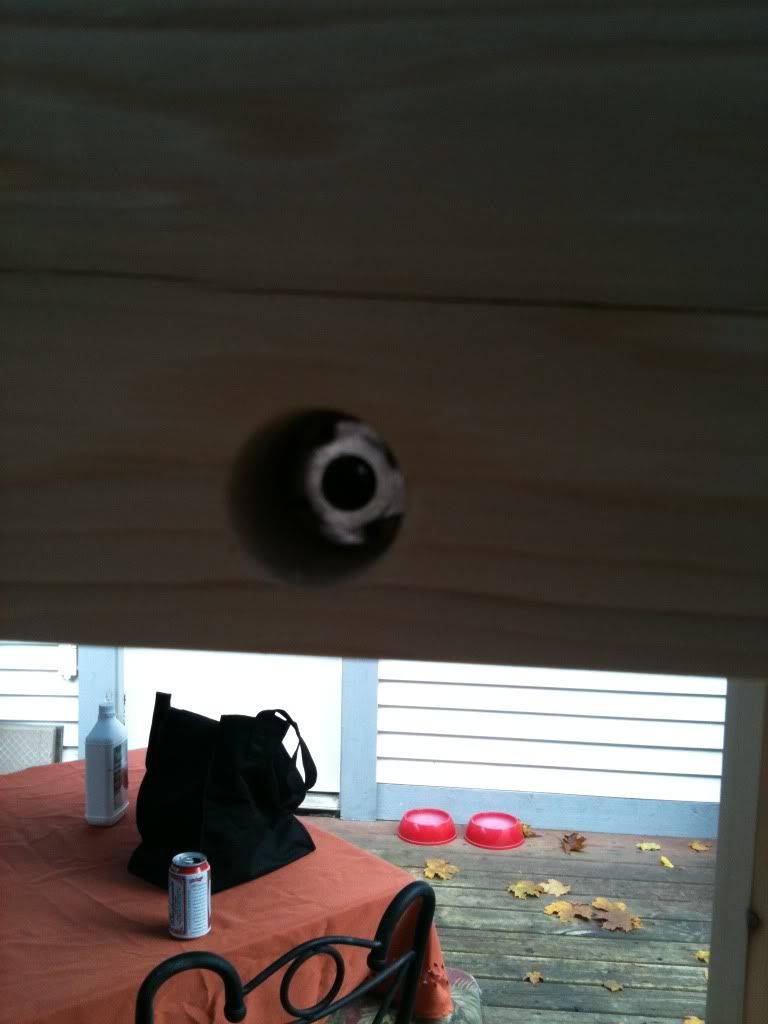 Back view of rod through 3/8" hole running infront of T-NUT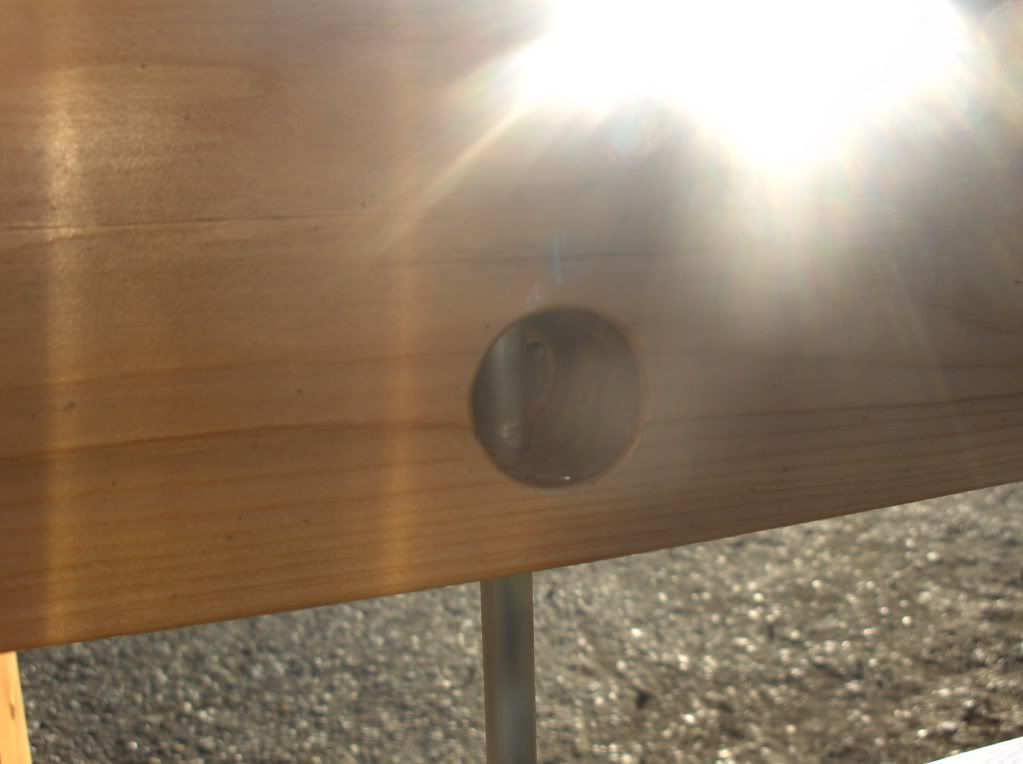 For the rod assembly, with a little help I bent the rods over the 20L (5G) pale using two pieces of piping (electrical conduit is what I had on hand) for leverage, one at a time checking against eachother to have them match. To mount the cable to the light I tore apart the light, then drilled 4 smalls holes and ran the cable inside. I used a crimp to hold the cable inside the light for a clean look. After that, I found my center for the light and drilled a 3/16" hole to mount my eye bolts.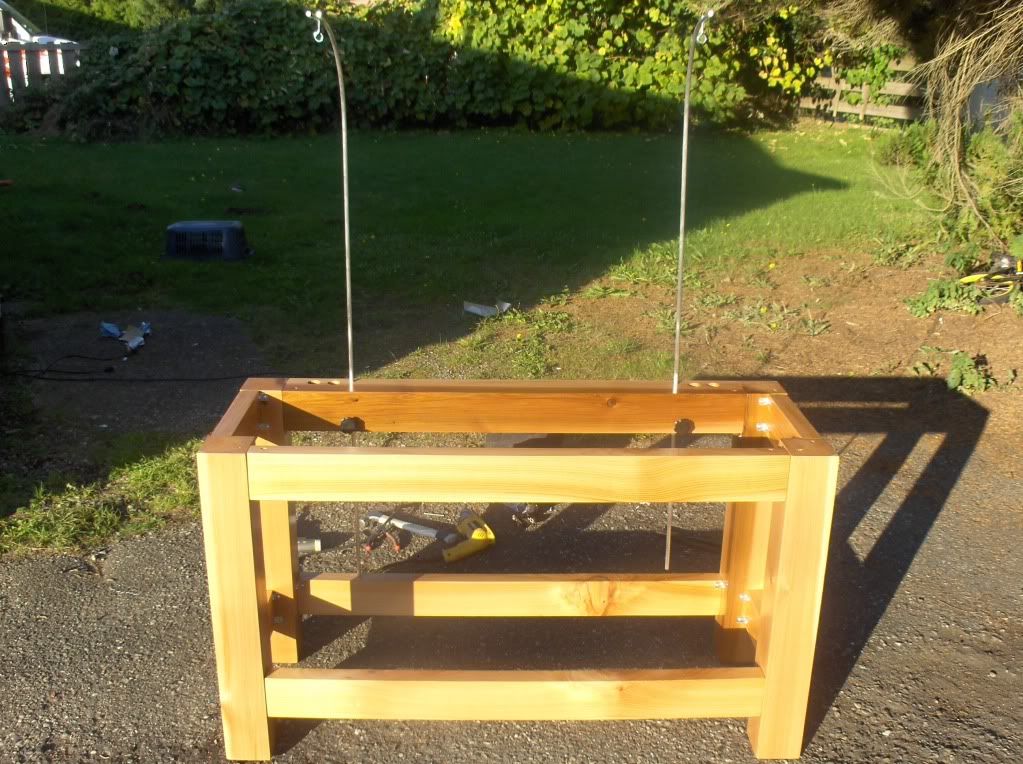 Doing it this way made it so I am able to adjust my light anywhere I would like to. As well as swing it out of the way when I'm doing quick maintenance. I did a total of 4 of these across the back of the stand. I'm only the two most outer ones for my light now, but did two more in the center in case I ever switch to two smaller pendant or MH lights.