Most Recent Video Update: Here
INTRODUCTION
I recently entered this fantastic hobby with a
10 gallon
, that, over the past few months, has improved greatly. However, I'm running out of possibilities with my 10 gallon and I think I'm coming down with some MULTITANKSYNDROME! (I heard it's very contagious on this site).
I don't have much room in my dorm so I opted to go with a
5 gallon tank
that will be designed for a Betta! Gotta love them bettas
The tank is the 5 gallon Tetra brand from Wallyworld. I just got it in yesterday and have it sitting on my shelf until Thursday when I'll be able to start adding "things" before my spring break.
My 10 gallon did not have a plan to it other than I wanted some live plants and some fish. It shows in the aquascaping
For this tank I wanted to plan out my design and experiment more in the realm of true aquascaping. Instead of studying for my massive exam on Wednesday I have been sketching out a few plans and visualizing the final tank.
SUBSTRATE
The substrate will consist of 1 inch of
Organic Potting Soil
(slopes up to around 1.5" in the back for a bit of a hill effect) and a capped layer of fine gravel (CaribSea Super Naturals).

LIGHTING
I have not decided on specific lights but I'll most likely go with a CFL between 10 and 18 watts. The tank hood only allows for a single screw in type bulb. Depending on how that looks I may go with a clamp on desk lamp with a CFL.
Now for the fun stuff...
AQUASCAPE
The aquascape will center around a
Red Tiger Lotus
(I know they get big I'll be doing regular trimming/pruning...the whole point of this is to give me something to maintain). I'm also going to experiment with a carpet plant of
Marselia Quadrifolia
. Scattered on the side opposite to the RTL will be a few random rocks (hopefully granite and quartz crystal that I can find in the woods back home). The granite will be covered in
Peacock Moss
to give that deep green contrast to the
Red Tiger Lotus
and to break up the carpet a little. The Quartz will give more contrast and breaks. I'll play around with their placement once I get the tiger lotus and
MQ
in the tank.
Here's an example of my horrifyingly bad artistic skills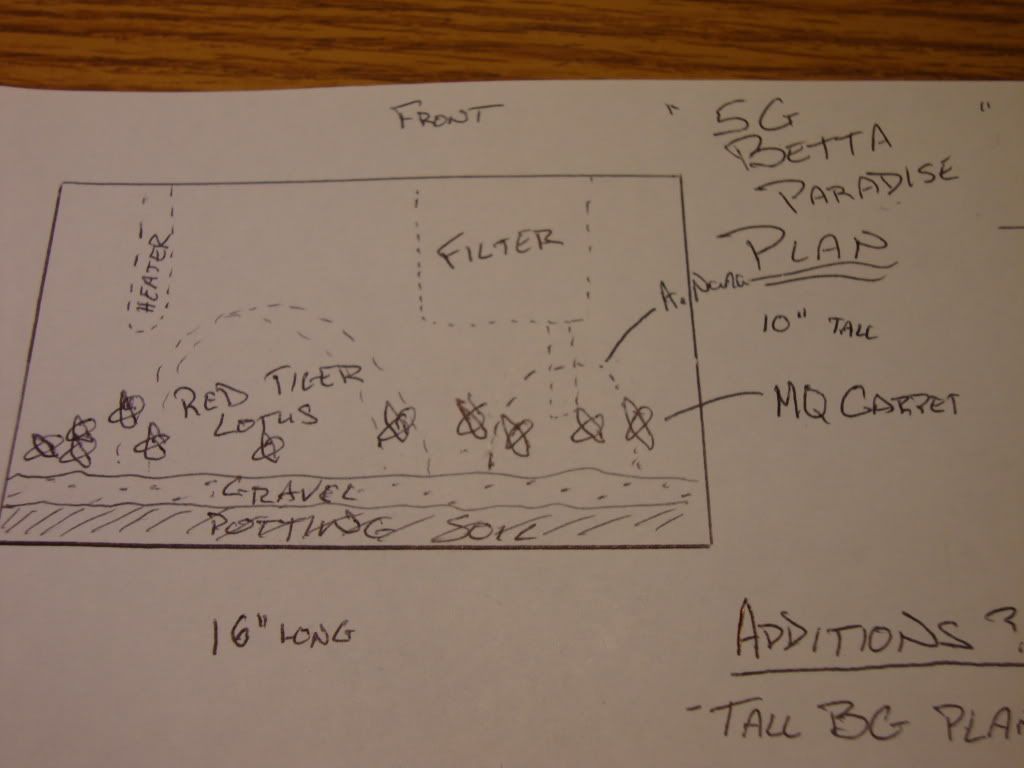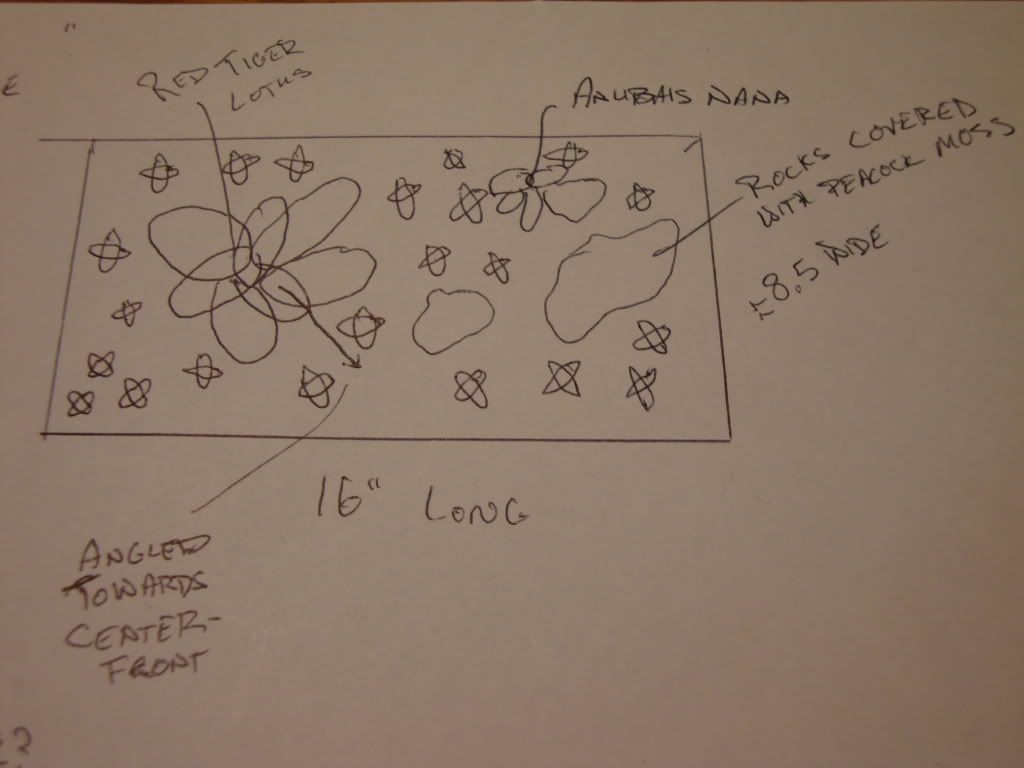 In the designs I also have a spot for an
anubais nana
. I want to see how the different greens will contrast with each other. And the
nana
should help disguise some of the filter intake.
FUTURE
I may have to replace my filter because it is significantly larger than I was expecting. An 8 inch deep tank sitting on top of a nearly 12 inch shelf should fit perfectly. Well apparently not with a 4 inch filter on the back. The tank hangs off the front edge of my shelf by about half of an inch. So close! Will this be a problem? I know with larger tanks this could be a huge problem but the forces on a 5 gallon are insignificant to that of a 55 gallon right?
If you have any suggestions please let me know.
RANDOM
Also, has anybody noticed that the photos on the boxes for aquariums of the "showcase" aquariums are
HEAVILY
overstocked? Just an observation.
Let me know what you think!