I think it was around this time last year that I started to get the itch to start a fish tank. It all started with a 1 gallon complete setup from Petco and a betta fish. Over the past year I went from the 1 gallon, to a 2 gallon hex (didn't last very long), then to a 5 gallon hex which was a failed RCS tank and then remade into a java fern and moss forest with a bad algae problem and another low tech 5.5 gallon standard which was pretty steady with dwarf sag, hygro "suset" and moss and a pretty bare 2.5 gallon standard with a blue crayfish.
The two 5 gallon and 2.5 gallon tanks had been running for about 6 months maybe and I was getting the itch to start something new. The maintenance of all the tanks was simple enough but a pain as one was in my bedroom, and I did not enjoy water changes and having to lug container of water up and down the stair. So I made the decision to consolidate; the crayfish was sold and last week I set up a nice little attempt at actual aquascaping with the 2.5 gallon in my room (link in my signature) and the two 5 gallon tanks were to be combined into a 10 gallon.
So, this past labor day weekend I went and picked up an old 10 gallon setup from my parent's house. This was the first tank I ever had, back when I was in elementary school. Very successful with the rainbow gravel, fake plants and decor; it was up and running for a couple of years with swordtails and platys that seemed to constantly breed.
Well on Monday after I got off of work I went to conbining the two 5 gallon tanks. Took me about 2.5-3 hours to get all the gravel, plants, and fish tranferred over.
10 Gallon specs:
Tank: 10G standard from Walmart (starter set bought years ago)
Filter: Aqueon filter from the 5.5 gallon
Substrate: Gravel and mulm from the 5 gallon hex and 5.5 standard
Light: 20" 19W Fluorescent light (orginal hood and light that came in the set) ** I would appreciate suggestions for what to change the lighting to **
CO2: none, probably not going to add it (trying to keep this tank simple)
Ferts: infrequent dosing with Excel and API Leaf Zone (usually when the water gets changed)
Flora:
- Dwarf Sag (i think)
- Java Ferns
- 2 Crypts
- Java Moss
- Sunset Hygro
- Rotala rotundifolia
- Echinodorus tenellus
- Bolbitis heudelotii (i think)
- Anubias petite
Fauna:
- 3 Rasbora het
- 2 Zebra Danios
- 5 Pgymy Cories
- 1 Dwarf Gourami
- 1 Rainbow Shark
- 1 Angelfish
- 1 Mickey Mouse Platy (I'm planning on getting another one, since this one is always hiding)
- 1 African dwarf frog
- 15-20 Ramshorn snails
Now for some pictures:
5 gallon hex (this picture was from when the tank was started; algae grew all over the tank, but the plants did VERY well; tons of java fern plantlets and moss)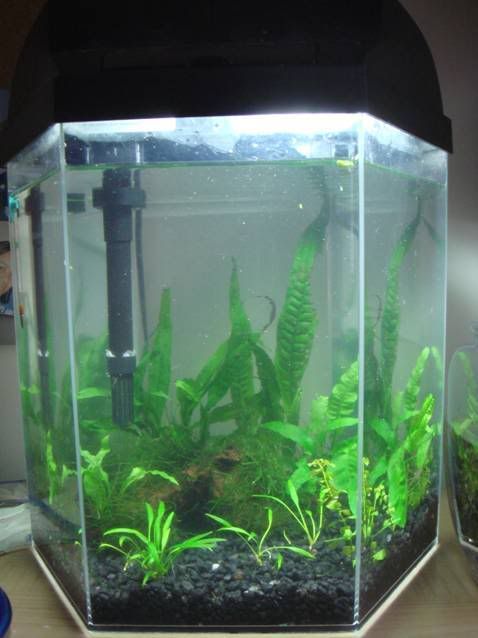 5.5 gallon standard (before a trimming)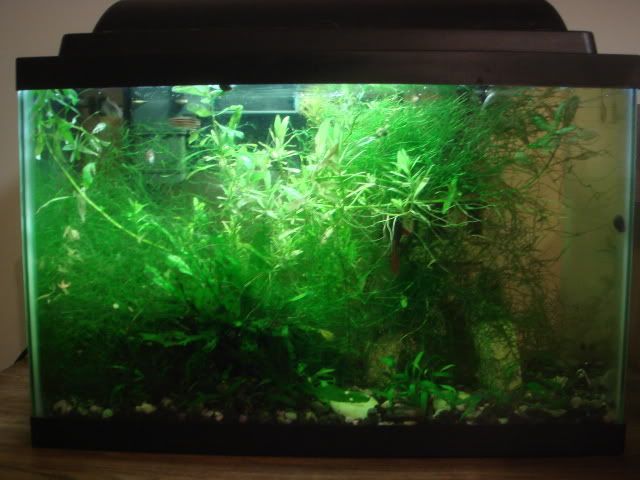 5.5 gallon standard (after trimming) :tongue:
I will upload a pic of the 10 gallon later today... I just decided to start the post since I can't seem to sleep, but I'm too lazy to get the picture off of my camera at the moment.