Hi and welcome.
I will start of with suggestions, as that is what you asked for.
One point, both pieces of wood are the same height, same sistance from the front and sides of the tank, and the same style (vertical). Try and angle them a little, 25 degrees, put one deeper into the substrate, moving one back further and one font a little (I mean a little) or closer to the centre. With atank you don't want it to be symetrical. It is not pleasing to the eyes. You want differences, natural, etc.
One thing you will find with a 29 gallon tank is that you would rather have small thin pieces of wood then large thick pieces. It takes up less space in the tank and makes it feel bigger, plus adds more dimensions to the tank. Bigger chunks of wood are usually used in bigger tanks and covered with moss to soften them. like this: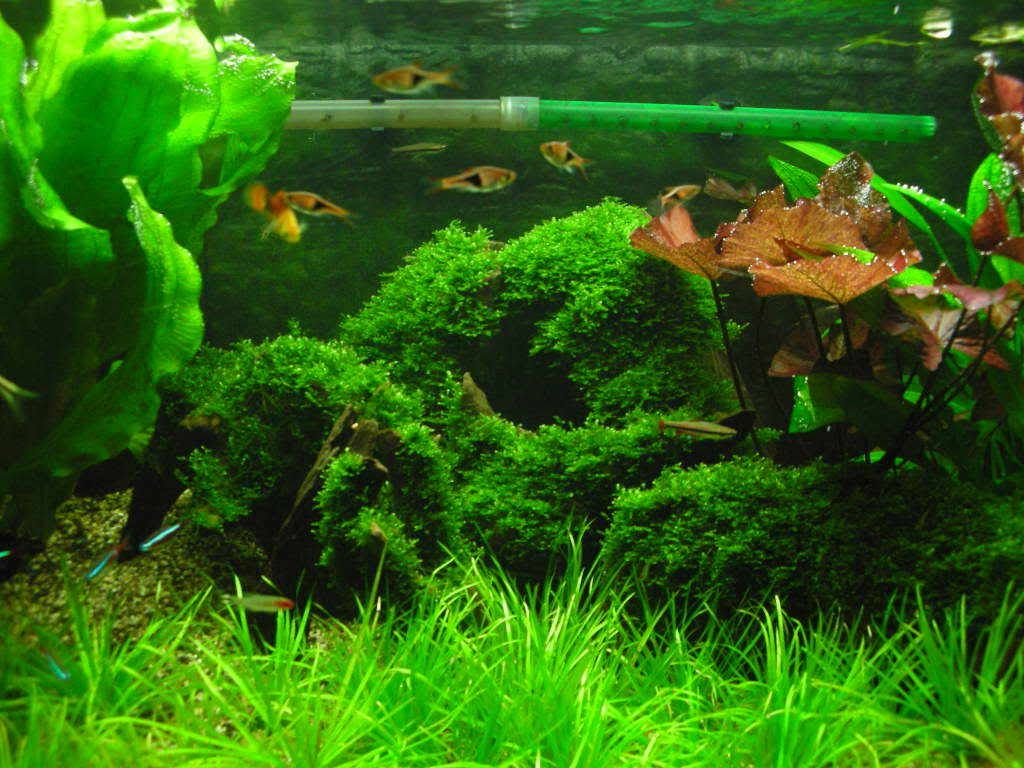 130 watts of light (2 * 65) is a lot for a 29 gallon tank. I am running this tank with 48 watts of light 8 hours a day and growth is very quick.
With high light like you have you might run into problems with algea. Usually high light drives the demand for CO2 and fertilizers. Since you are not using pressurized CO2 and DIY Co2 is usually inconsistant, you will find that plants growth will be affected and algea will develop. Suggestion, half the lights until you get CO2 and a proper dosing strategy.
Your filter, HOB, though not idea, is not really a problem. It will work well, just keep water level high so there is not a lot of surface movement and loss of the little CO2.
Substrate is not a problem. Using ADA Aqua Soil or better substrate only helps at the beginning, with the inital setup and growth, though after the tank matures and growth has settled, it makes no difference. and with moving plants around and rearranging the tank, standard sand is a lot easier and less messy to work with.
You will have more problems with changing the substrate later on then keeping what you have as with time even an inert substate will become a mature and a fetilizer and bioloigal filtration system for the tank, as waste and bacterial develop and are broken down in the substrate.
The most important will be your fertilizing schedule through the water column. Suggestion of PPS-Pro with a simple dosing of:
Bottle 1
90ml of water with
5g K2So4
6g KNO3
1g KH2PO4
4g MgSO4
Bottle 2
90ml of water with
7g Plantex CSM+B
Recommended dose is 1 ml of each solution in 10 gallon aquarium every day before lights go on. So that would be 3 ml daily, so the bottles would last you 1 month each. Very cheap, at approx 1 dollar a month total cost.
Best of luck. Just play with the drift wood until you get it a little different, not so similiar on each side. Try moving your rocks just of center as well, to the left.