For folks that have come & gone thru EI, pressurized CO2, etc, and want something lower maintenance (as if you have a life outside of your tanks lol), this is the best article I've found (this is Tom Barr's low-tech method in a nutshell, the "opposite" of Tom Barr's EI if you will).
The low tech method is applying the same principals but with different variables (lower lighting, low ferts, no co2, & no h2o changes), this article is a great summary; it will make more sense to those who have a background in EI, but even for any beginner, if they follow this article, the challenges to a healthy tank will be minimized).
Sudeep Mandal's *EXCELLENT* summary of Tom Barr's Musings
This is my 46g tank that I started 4 months ago, using the steps outlined in Sudeep's article. As you can see, moderately planted from the beginning (fairly heavy but could be heavier), break in w/ low light hours, etc.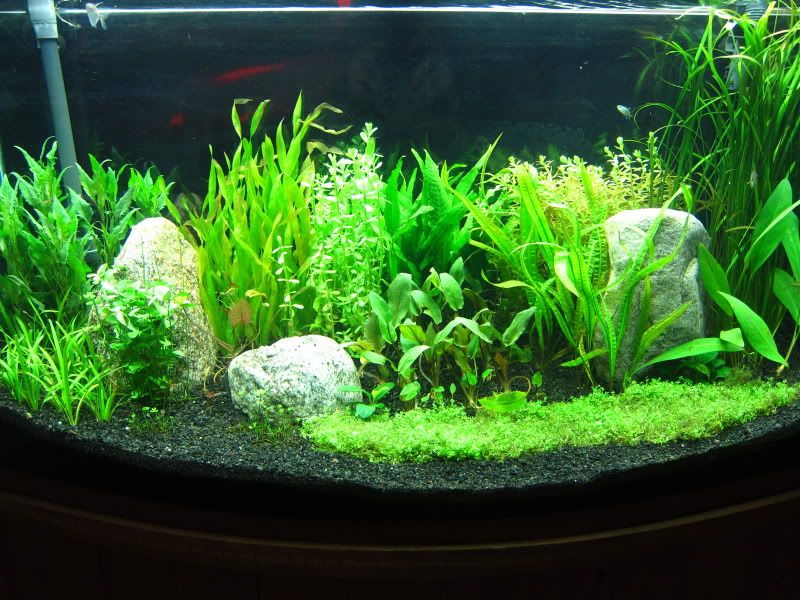 This is my tank now, 4 months later. As you can see, not all the plants have survived (dwarf tear's didn't make it, val's barely making it, sag has thinned, dwarf clover doing ok), but, everything else going well. No h2o changes (just RO top-off's), ferts 2x weekly, 6 hours of 10K & 6.7K daily, daily feeding. A few otto's, and 10 nerite snails help out a ton. My lily's just started melting, so, I'll still have to make some small adjustments, but the low-tech method, with its slower pace, will allow you MUCH more time to identify problems and react before algae takes control.