Discussion Starter
·
#1
·
A little background, first. I've been a member for a while, but out of the loop for about a year.
I have been a planted tank hobbyist for around 4-5 years. I have made some truly horrific planted monstrosities. I didn't keep the pictures of all the bad ones for, well, obvious reasons, but I kept some. Remember that I said these are the ones I
didn't
toss out, haha…
I had always been fascinated with the iwagumi style. I particularly value the wabi-sabi aesthetic it demonstrates – and really that's what draws me to Mr. Amano's work and Japanese style gardens in general. My own work as a theatre director follows this same transient, imperfect ideal, and I have always been drawn to art and expression that reveals frailty, character, uniqueness, organic origin and development, etc, particularly as it represents isolation and flawed beauty.
While I am only a doe-eyed novice yet, I always strive toward this sense of wabi-sabi – with little success, I admit – in my layouts. The areas I need the most experience and practice in are plant selection and trimming techniques.
I've spent a lot of time lately on the ADA View YouTube channel, and really it couldn't have happened at a better time. These videos have been invaluable to me. Seeing these scapes planted for seminars, and then trimmed and grown in - seeing their development over time - awesome.
We don't have an active club in my area, and the members around Portland are not terribly active as a community, so we have little opportunity to share plants, techniques, and tips with one another. This has been a good substitute so far.
A quick retrospective of my previous work. I do this for context. Go ahead and skip, if you want the build begins later. But, If you like a good, old-fashioned house of horrors, or a nice freak show, perhaps the type you'd rather not admit you love to see, then please by all means share in my past failures!
An early attempt:
Things I got right: CO2 and Light
Things I didn't: Ferts, substrate, layout, trimming, and plant choice
I wanted to represent an area much like my home. High desert. Tonina sp. "Lago Grande" was a poor choice, here. The other plants grew ok, though.
Another:
Things I got right: Layout, substrate, CO2, Light
Things I didn't: Ferts, trimming and layout material
Ugh… why am I sharing this? Well, I think it's important to remember where I've been, so that I can see how far I've come. Plus, it's kind of cathartic to relive some of these horrors, haha…
My first collectoritis tank:

Things I got right: light, ferts, heavily planted
Things I didn't: CO2 (neither stable nor well distributed), substrate, layout, gassed my fish ☹
This was my first 90-gallon scape. Perfect footprint, but the height was a LOT to deal with. I couldn't get the proportions to look right. I couldn't tolerate the complete chaos, either. I enjoy engineered chaos. My job is a lot like that.
My first (sort-of) success:
Things I got right: Light, CO2, diffusion, ferts, heavily planted, substrate, layout
Things I didn't: trimming
That was my 90-gallon from a few years back. I had a chance to practice some trimming techniques and grew a pretty awesome HC carpet. I never trimmed the carpet though, so it eventually uprooted when it reached about 2" thick. The plants grew so quickly that I couldn't keep up with them. 6xT5HO plus reactor diffusion and PPS classic dosing was a very high-growth combination!
The next version of the 90-gallon: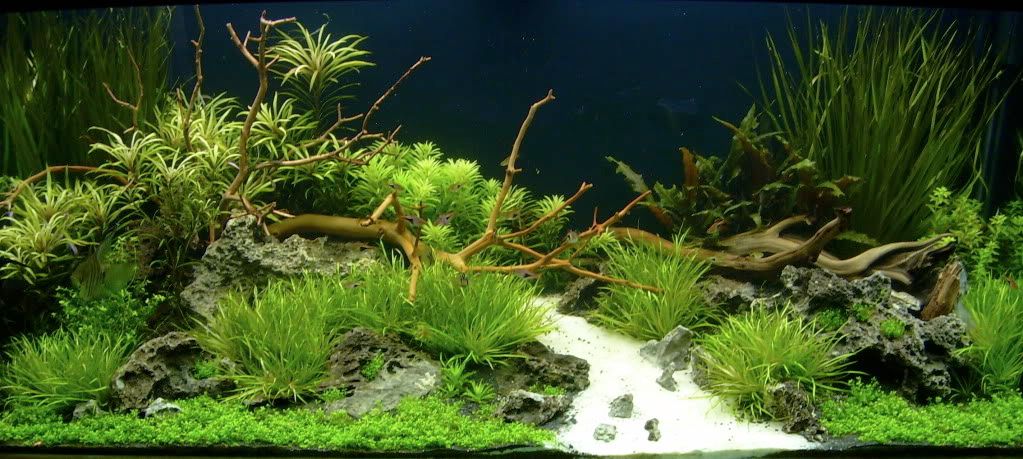 Lace rock and Manzanita. Kind of a tough scape to maintain with the sand. Eventually, my routine broke down, and I ceased to be productive scape-wise. I still really wanted an iwagumi scape. So, I built a few nanos to try my hand at stone layouts.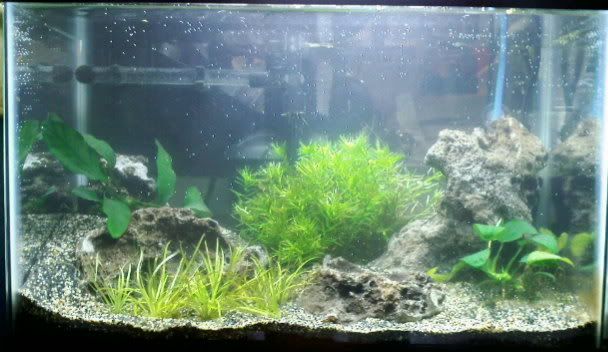 And then, back to the 90 for some wacky stone scapes: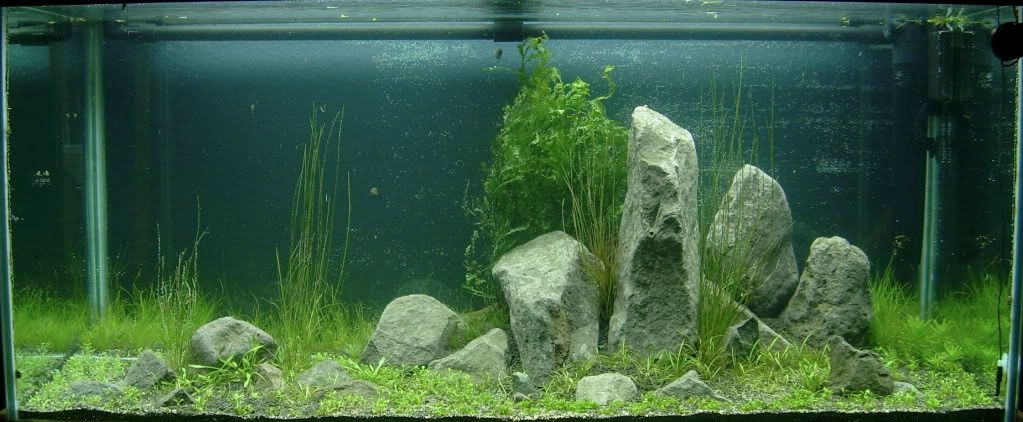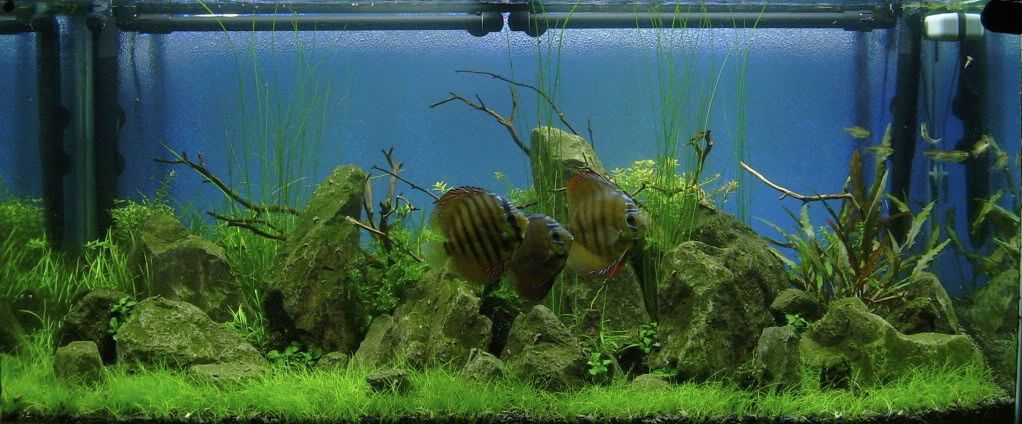 That one was more like an aquarium clown-car: How much hardscape can I cram into a 90-gallon glass box?
Others: