Discussion Starter
·
#1
·
These questions are actually for my father, who has a group of three ponds in his yard in Colorado. Basically, he'd like to manage these ponds as naturally as possible, but he's been having some issues with out of control hair algae.
Some info:
His ponds are at about 9000 ft in a ponderosa pine/meadow type environment. They freeze solid every winter. The largest is about cattle-tank size, and the smallest is about a 30 gallon tub. They all get full sun. They are planted with water lilies, and some other bog-type plants that I'm not sure of the names of.
My dad's main interest are the chorus frogs that live around his ponds and lay eggs there every spring. He'd like to make them ideal environments for the tadpoles without interfering too much with the natural balance of things.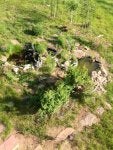 The issue:
He has a horrible problem with string algae each summer. Manually removing it endangers the tadpoles, which get caught in it like a net. He'd like to avoid any algae treatments and try more floating plants. He tried water hyacinth last year, but it seemed to burn up in the sun and died.
He also seems to get way too many dragonfly and damsel fly larvae - not a huge issue, but they eat his tadpoles.
So, any suggestions for floating plants and/or algae control? Any way to control dragonfly nymphs without harming tadpoles?
He's planning on adding a shallow bog-style pond this spring.