Discussion Starter
·
#1
·
My tank is about 72 gallons thats heavily planted and lightly stocked. Controsoil substrate, CO2 injected, fertz dosed daily. Tank is probably about 10 weeks old. This is the first Algae problem I have ran into so far
Lights are from fluval Planted 3.0, ramps up 3 hours, On 90% power for 4, ramps down for 3.
CO2 i measure with a drop checker. And about 6-8 bbs. I think the canister is running low as its its measuring at about 750 psi... only have a single stage reactor.
Fertz, 6 ml a day of NilocG thrive plus. It was dosed at 2 ml per day about 2-3 weeks ago and I noticed a lot of potassium problems in my Hygros. Problem with the hygro seems to be better Perhaps i am overdosing? Also dose about 8 ml of excel to help prevent algae... doesn't seem to be doing much. I started this about maybe 3 weeks ago, maybe the excel is the cause?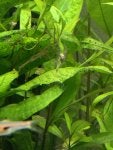 Sent from my iPhone using Tapatalk