Hello TPT'rs,
I wanted to start a conversation about bulb spectrums.
Here's a few things I've learned about lighting, in hopes that it might make things easier on someone starting out.
Trying to figure out how much light I needed was the first roadblock I came to. Luckily I found this forum and some very intelligent people.
Hoppy's Chart
was a life saver, and honestly, I don't think my tank would be thriving without this piece of brilliance. With it, I deciphered that ~ 75umols were making it down to the substrate. From there I could figure out what plants I could grow.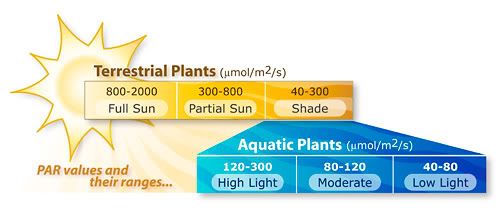 I've come to believe these numbers are a bit high. The measurements I base my lighting on are
from the substrate
: 15-30 par = low light, 30-50 par = medium light, 50-90 par= high light, 90+ = algae farm.
Now that I knew the intensity of my lights I had to figure out which bulbs to use. Here's where Kelvin Temperature and Spectrum really took me for a ride. I read quite a bit of information about plants only using wavelengths in the red and blue parts of the spectrum, with green light being a waste. This is not true! Plants use light in the whole range of the spectrum, from 400nm-680nm. Here's what others have said:
"Dr. O. Elgersma (Philips). In 1982, Philips held a number of its own experiments to determine the effect of different lighting on the growth of aquatic plants. We used the following plants: Hottonia inflata , Limnophilia sessiflora , Ludwigia natans , Bacopa amplexicaulis , Hygrophilia polysperma , Rotala macrandra . The difference in photosynthesis at different wavelengths was less than 10%! The results of these data are applicable to all aquatic plants as they all have the same chlorophyll."
"In general, with regard to lamps for growing plants, most of them have a reddish hue, and is good for photosynthesis mostly in
terrestrial
plants. When aquatic plants are illuminated only by red light, the stems of plants are strongly stretched and look ugly. When there is a blue light, the stems and leaves of plants are much better. In addition, red light fades very quickly under water, and blue penetrates well into the depths. For this reason, it is considered that for photosynthesis, under water plants primarily use the blue part of the spectrum of light. " (The wavelength of light and photosynthesis in plants, ADA)
"Quantum yield - It shows how efficiently a plant uses light of a wavelength measured by evaluation of O2 production- the main product of photosynthesis indicating its intensity. Measurements of quantum yield as a function of wavelength for plants have shown that the photosynthetic efficiency of photons in the range 400-680nm is
almost identical
, (Taiz and Zeiger, 1991 Plant physiology) with a rapid decline after 680nm. The fact that green light is almost never used in the process of photosynthesis is not true. Quantum efficiency of green light is ~15% less than red light, and ~5% less efficient than blue light.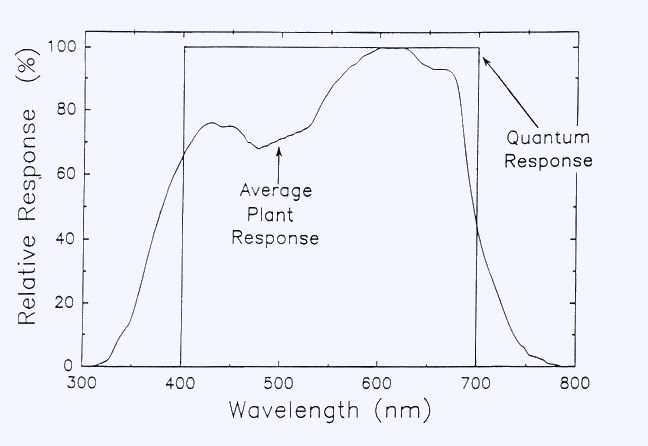 The quantum yield of the blue and green light is somewhat less than red, but blue and green light penetrate much deeper in water than red light. Within 1 foot of water 50% of red light intensity is lost, in 2 feet of water 70% of red light intensity is lost, and after 3ft nearly 90% is gone.
So, in my haste I decided to get 2 plant bulbs and 1 daylight bulb. My tank had an unflattering reddish hue which I put up with because I thought it was best for my plants. Secondly, I was getting very lanky stretched out growth from my plants. I know aesthetics are a personal choice, so I'm not trying to tell you what your aquarium should look like. Just trying to help. With that said, I looked up some info on how to make my aquarium look better while maintaining good growth and found this:
"It turns out that the total photosynthesis in plants under water, from all the wavelengths, are
approximately
the same from all parts of the spectrum of light."
"The fact that plants use the entire visible portion of the spectrum of light more or less uniformly allows for the selection of lighting based on aesthetics. Lamps with a color temperature of 6500K are better at color rendering than 5000K, because they have a better differentiation of blue shades - it comes from the fact that the 6500K color temperature is higher, and a higher color temperature means a greater proportion of blue and green spectrum. More green light will significantly improve all the subtle differences between shades of green and make the aquarium "brighter".
"Lamps with special PAR-spectrum enhanced red and blue portions leads to great distortions of color."
"Aquariums should prefer lamps with color temperature of not less than 5200K and a ratio of red / blue (R/B) ~ 0.6 with a slightly higher proportion of blue light - they will more accurately reproduce colors under water than the reddish light of ~ 0.8. (R/B) lamps. With 0.37(R/B) being too blue. In addition, as mentioned above, blue light is much better at penetrating water to a depth than red.
Here are some common bulbs: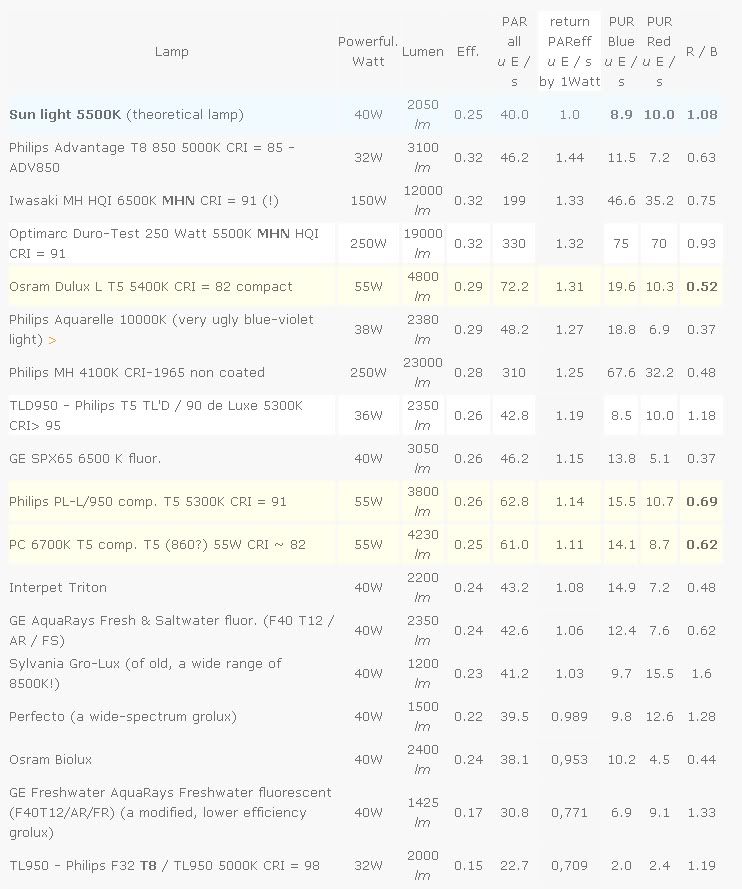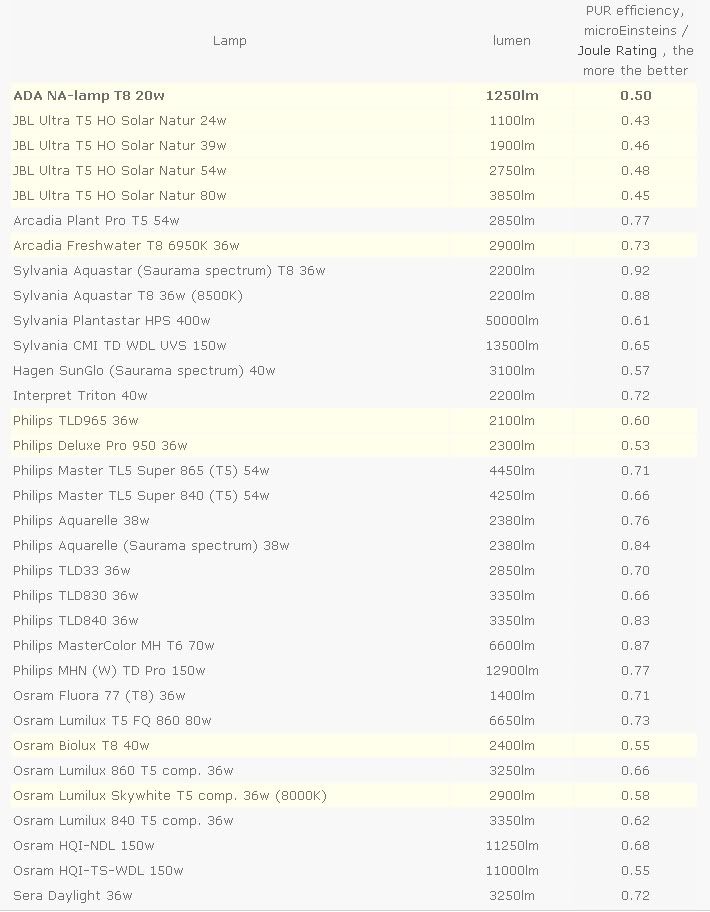 Of those I like the following:
Here's a typical plant bulb for reference. Notice the reddish hue? Sylvania Gro Lux
Philips 950 (most economical)
Hagen Life Glo

Arcadia Freshwater

JBL Ultra Solar Natur
GE Ecolux Ultramax
I decided on using a Life Glo + Flora Sun + Ultra Sun(until I can buy the Philips 950).
Hope this was informative. If I was incorrect about something please let me know.