So ive been seeting up a new tank, a Osaka 320 ~84 gallon tank and figured id make a journal for it.
I decided id try the full ADA Soil system so here is a border of AS2 with a sprinkling of Tourmaline BC in the center.
Powersand Covering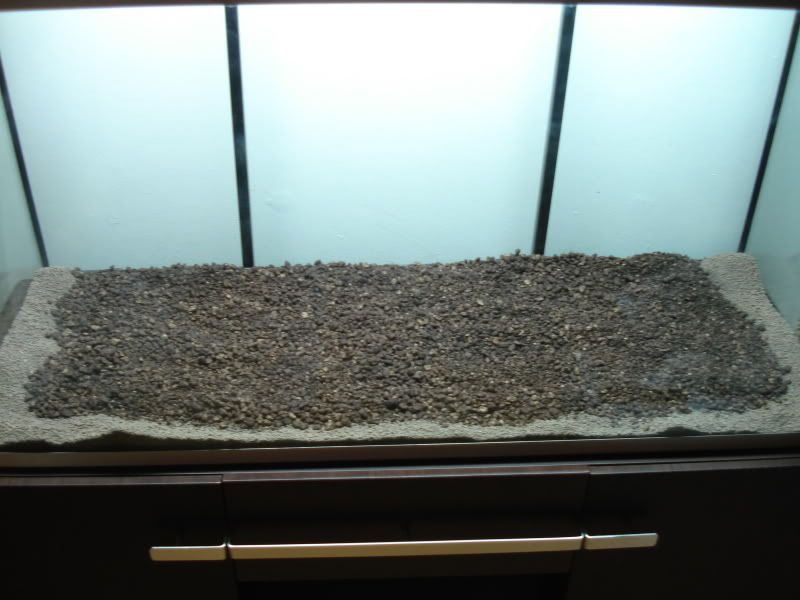 And the final AS toppper, its sloped from about 2 inchs in the front right area to about 10" in the back left area.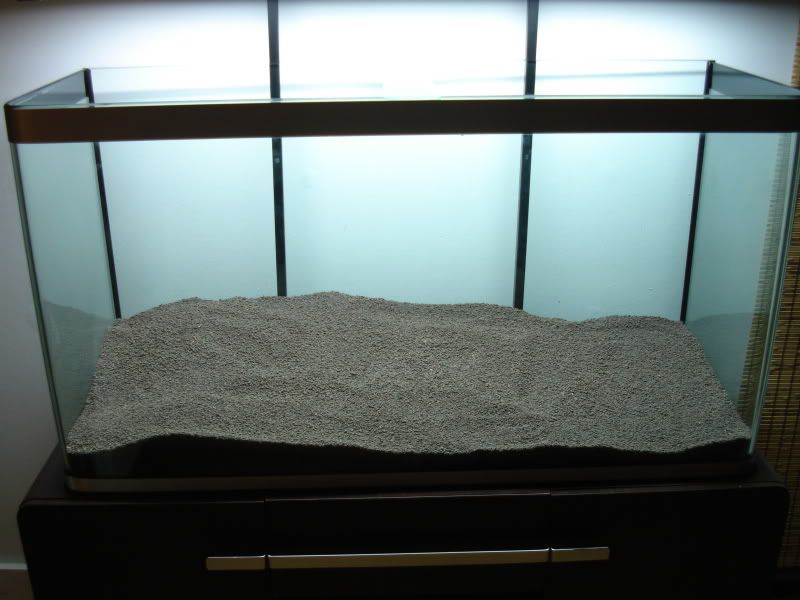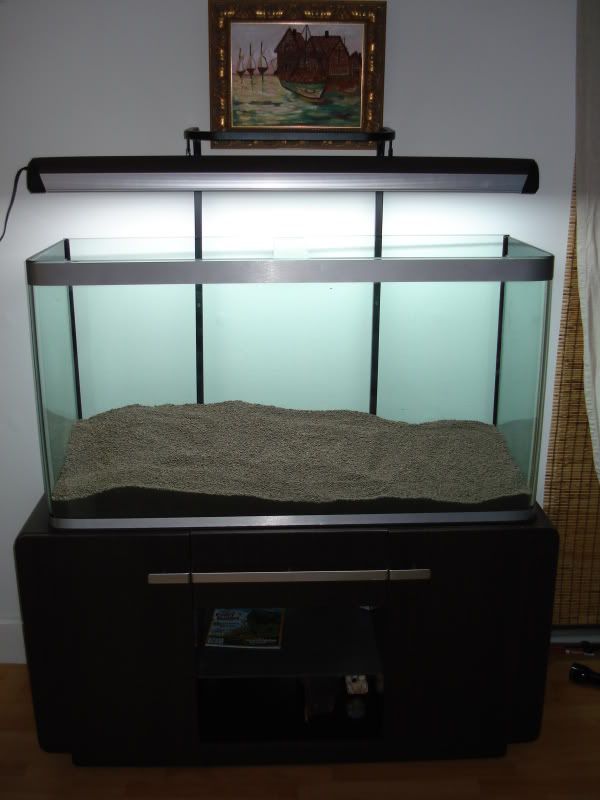 It came with a Fluval 405 and i added a Fluval 305 from my old tank as well as the CO2 system.
This is the right hand cabinet. I was actually surprised it all fit, its tight but works pretty well.
This is the left hand cabinet.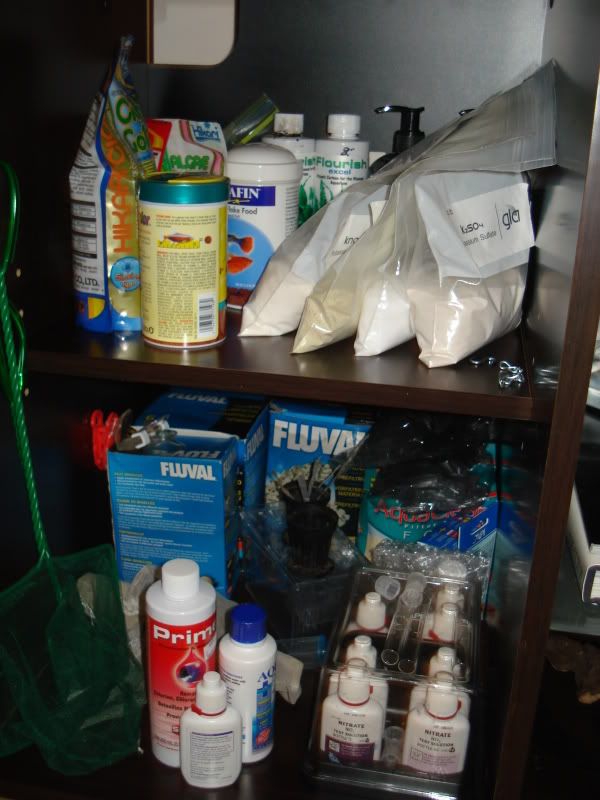 Over the last 2 weeks Ive been running the filters and doing water changes because there was a TON of ammonia in the water even though there was no fish, Im guessing because of the aquasoil. I also migrated plants from the old tank into the new one and set up a hard-scape using granite rock and some nice manzanita wood (thank you badcopnofishtank). The tank finally cleared up from the ammonia so i was able to add fish.
And here are some shots of the tank now.
Left side.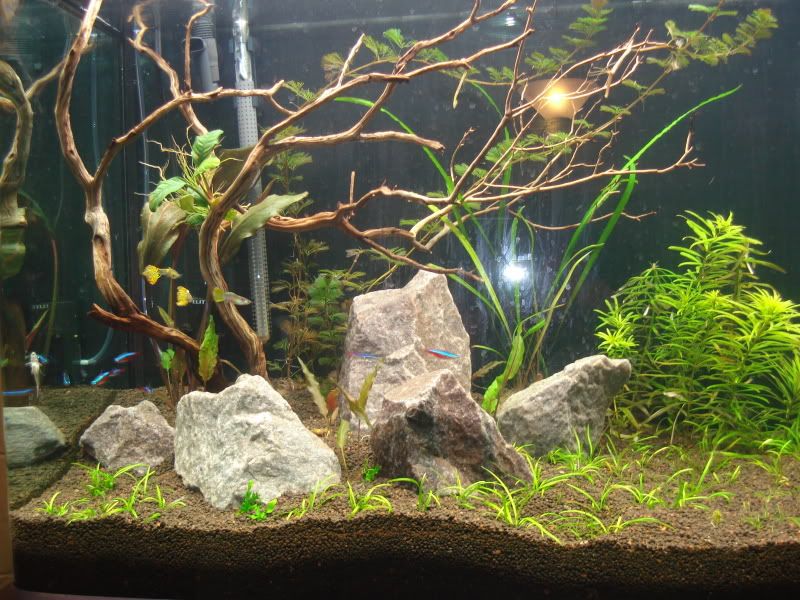 Right side.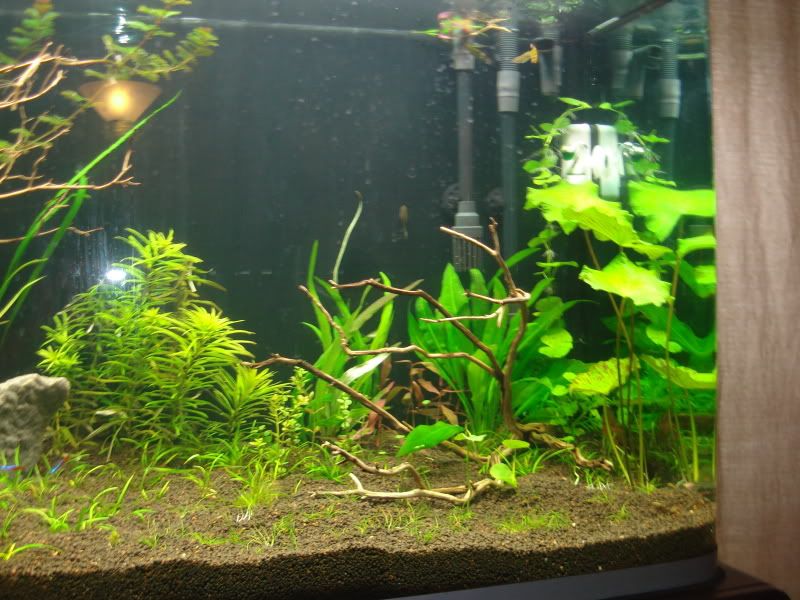 And some FTS.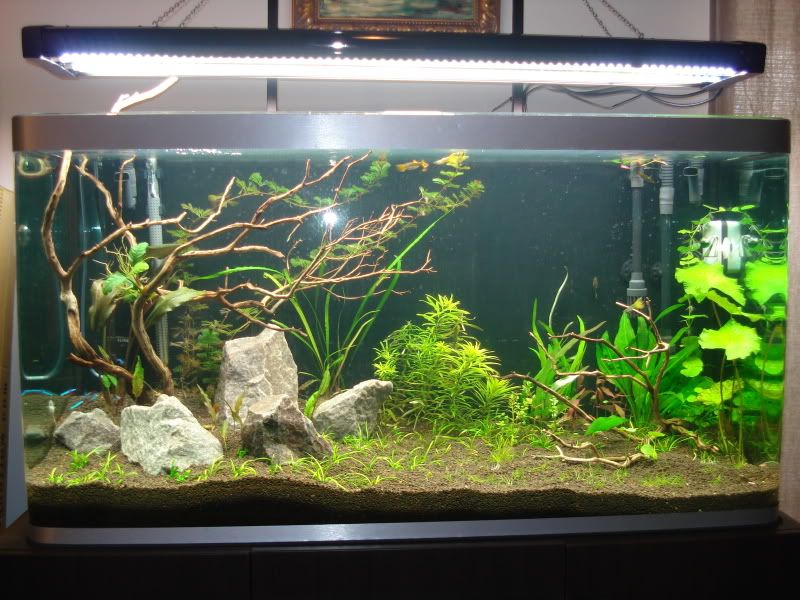 It still needs to grow in alot, and there are actually alot of crypts around the rocks that all melted.
So far i have in the tank
Fish:
4 fancy guppies
4 neon tetras
3 Cardinal tetras
4 Otto Cats
2 German blue rams
1 Golden nugget pleco
1 Bamboo shrimp
a few surviving RCS
Plants:
Eleocharis sp. "belem"
Echrinodorus tenellus
Nymphaea stellata
Hygro. corymbosa 'angustifolia'
Ludwigia 'Cuba'
Polygonum 'Sao Paulo'
amazon swords
wisteria
Anubias nana 'cofeefolia'
Carolina fanwort
green tiger lotus
Red tiger lotus
crypt wendtii "red"
crypt wendtii "green"
crypt wendtii " florida sunset"
Crypt Cordata "rosanervig"
Crypt bangkaensis 'Bangka Giant'
Crypt x timahensis
On monday i should be getting some more fish. As of right now I'm thinking 4 more Rams and 30-40 more tetras, either rummy nose or more cardinals. I was thinking of putting in 4-6 discus, but i don't think ill do that for at least a few months. Looking for discus here in south Florida led me to a importer who is selling me 40 rummy nose or cardinals for ~$.50 each. Ive also ordered 12 Amano shrimp.
Anywho, this is only my second fish tank so any advice or criticism is very welcome.