Finally, I forced myself to sit on a computer and start writing a tank journal of my recently started 75G AGA planted tank. This is my second planted tank (I switched from 15g
) and the first properly thinked over, planned and set up in my "career". It took me a lot more time than I thought to fill it with water and I hope it's worth the time and effort. You can find my DIY stand building thread in my signature if you'd like to find out how this project started.
I'd like to thank all of you for support and advice, this forum helped me a lot with understanding planted tank nuances. Special thanks to Left C for helping me assembling my regulator, oldpunk78 for his help and plants he gave me, Torpedobarb for MTS and a helpful info and all RAOK'ers and kind people on the forum- I owe you one
Tank info:
-75g AGA standard tank standing ona DIY stand LINK
LIGHTING
Catalina Aquarium 4x54W hanging about 6" above the tank; only one pair of bulbs are used right now, photoperiod is 10 hours
SUBSTRATE
Mineralized topsoil capped with 3M colorquartz T-grade and fluorite black sand in the foreground
FILTRATION
-Eheim Classic 2217 with standard media+ bag of purigen and customflo inlet&outlet
-Eheim Proffesional II 2028 with standard media + pillow stuffing
and eheim installation kits&tom aquatics surface skimmer
HEATING
Hydor in-line heater 300W plumbed into 2217 outlet tubing
CO2
Pressurized on timer- Matheson 8-320 regulator with clippard solenoid, Swagelok metering valve andDIY PVC pipe reactor; 20# aluminum cylinder standing next to the tank
There's my thread about assembling this regulator, if anyone is interested, here it is LINK
WATER PARAMETERS:
Temp: 80 degrees
Kh from the tap: about 4dKh
Ph: 6.5
FERTS:
None at the moment, it's MTS for gods's sake
We'll see how long I can get without ferts
Fauna:
9x rummy-nose tetra
Hemigrammus rhodostomus
8x Ottos
Otocinclus affinis
3x juvenile Discus (turquoise blue, but I can be wrong, you judge
)- I just couldn't refuse to take them whem I saw them in LFS
Pair of German Blue Ram Mikrogeophagus ramirezi
7x Panda Cory cats Corydoras panda
Pair of Madagascar Rainbow Bedotia geayi
I am planning to transfer some adult RCS from my old tank, which is a CRS colony tank at the moment, hoping that they'll survive with my fish.
Flora:
Two things- I suck when it comes to IDing plants and two: it's a mess without any 'serious' scape at this time, I try to ID all of what I have in the tank in the nearest future- I'm sorry for that
From the begging…
As some of you probably know, this tank is my first serious project and I did my research before setting it up. However, I couldn't pass few mistakes and I learned new lessons… First, I've got too excited and ordered too many plant varieties and spent too much money on them. Second, I didn't plan discus in my tank. I wanted a large fish and I thought about angels, but one day (about two weeks after filling the tank with water) I drove to the LFS and SAW THEM!!!! Price for my discus was a steal and I stared for a good 15 minutes at the tank where they were swimming thinking "They're so beautiful- BUT I CAN"T TAKE THEM) Guess what happened? Did you ever have the same situation? Anyway, I keep my temp at 80-81F. I know it's not the best for discus, but I am afraid of plants melting away. Discus are seems to be happy, though , they are active and eating whatever I throw into the tank
One more thing- this journal is a kind of retrospection, cause I don't have enough time to be on-time
So it all started in 06.17.09…
PAINTING THE REAR GLASS PANEL
I wanted black, permanent background so I painted my rear glass with rust-oil flat oil paint. I didn't want to use spray paint because of the fumes, so instead I painted with foam roller. In order to get it done right, I did 5 very thin coats and it turned out good with nice and even surface.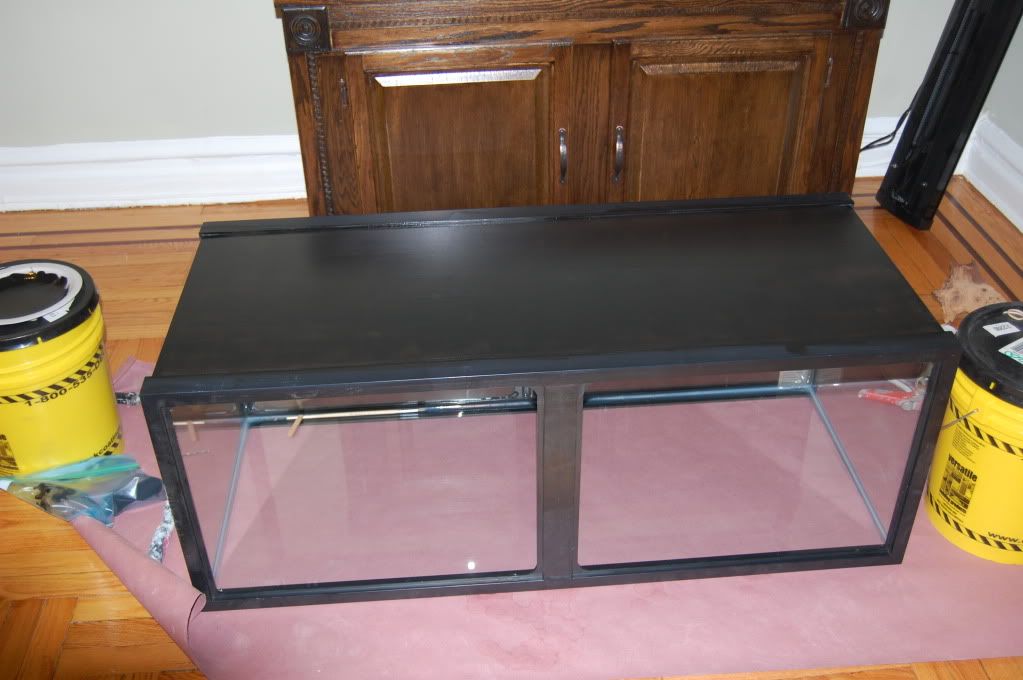 MINERALIZED TOPSOIL PREPARATION
As I mentioned before, I've got my MTS from torpedobarb (thanks man). He suggested to mix it with some of the colorquartz and so I did. I bought a new mixing paddle and mixed rinsed CQ with MTS in the 5gal bucket.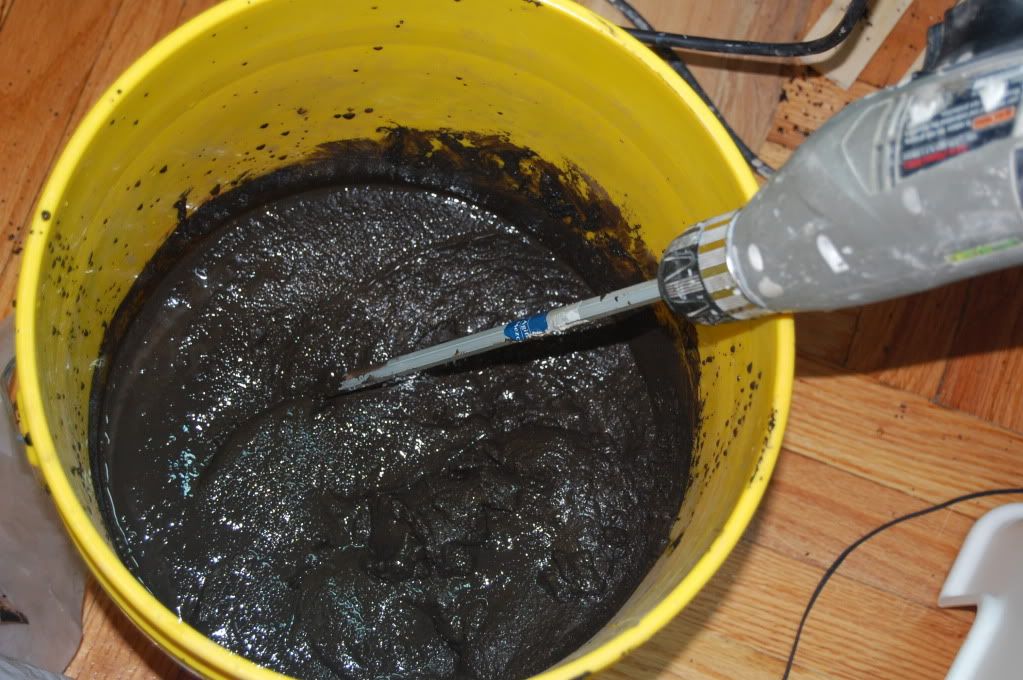 I made a border of CQ and poured the mix in. That way I've got a 1-1.5" layer of mts-cq mix. I capped it with pure cq, but it turned out to be not enough so I needed to order some fluorite black sand to get that required 3" of substrate. I tried to move as much cq as I could to the back of the tank and them filled the empty space with pre-rinsed fluorite black sand.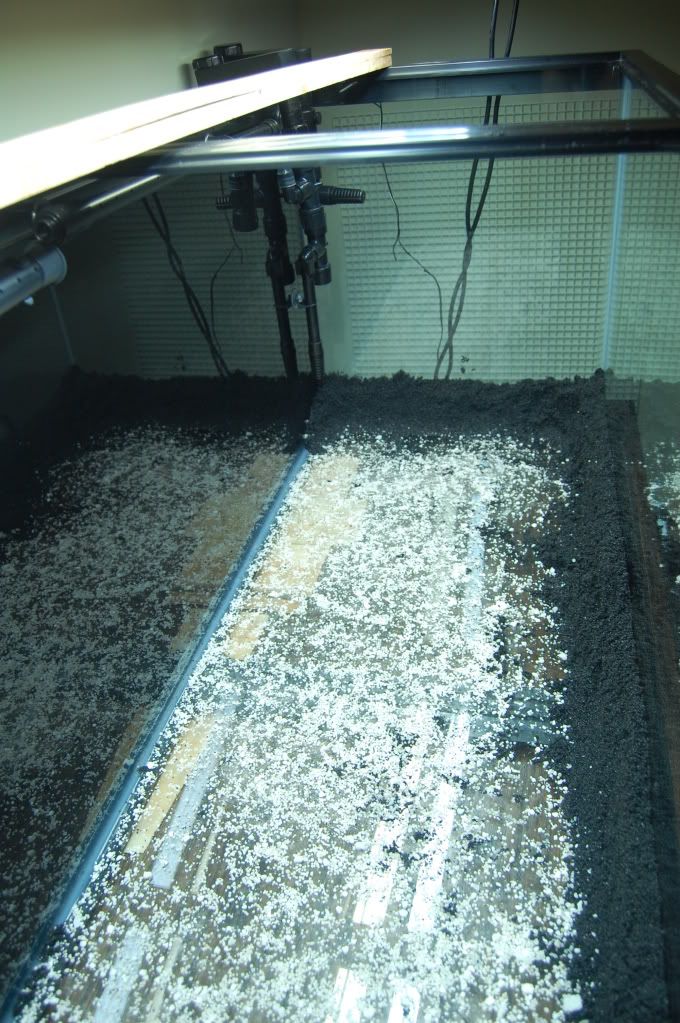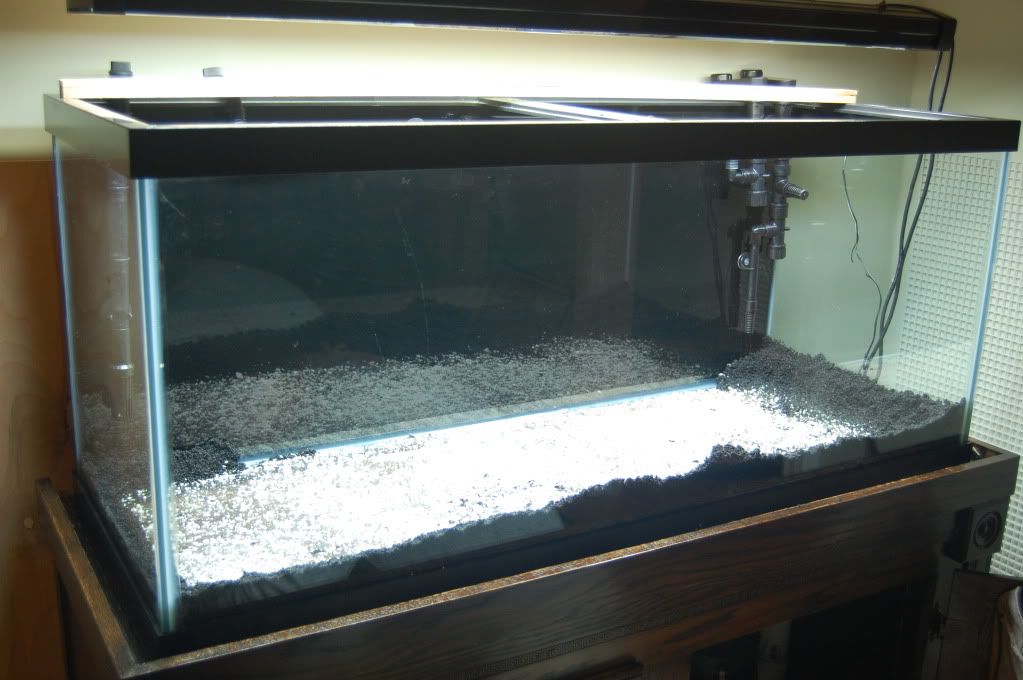 HARDSCAPE
My hardscape consist of two manzanita "trees" made of Manzanita wood branches bought from
Jake aka badcopnofishtank and few granite rocks collected locally that I used to hold Manzanita (I didn't pre-soak it so it would float if not held by rocks). Here are some pictures of my creations- originally there were three "trees" that I've made, but I used only two of them in my setup.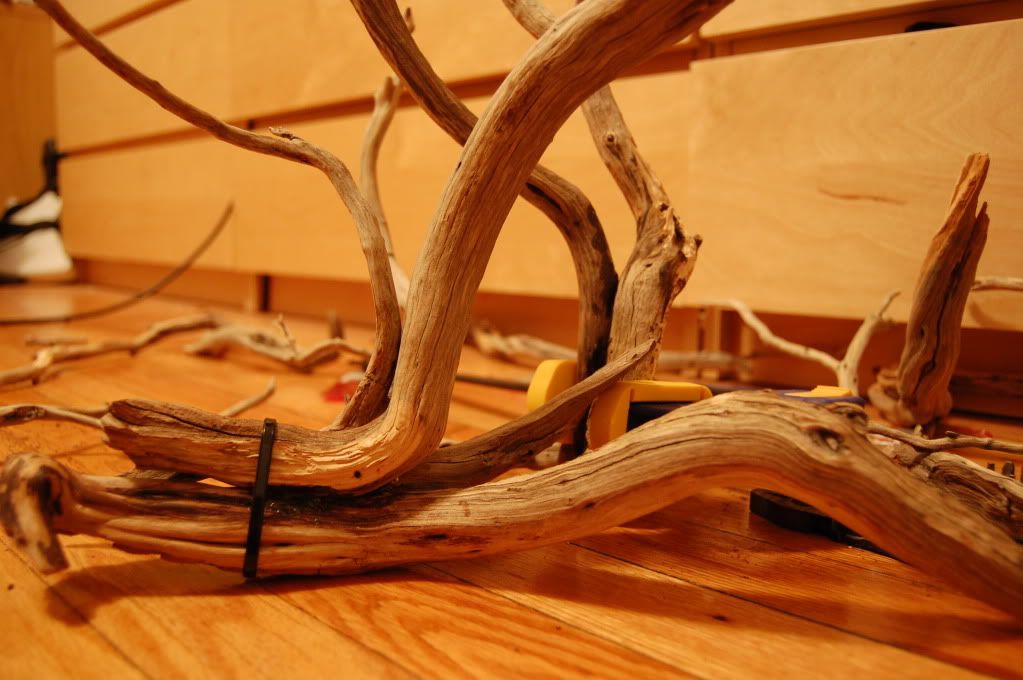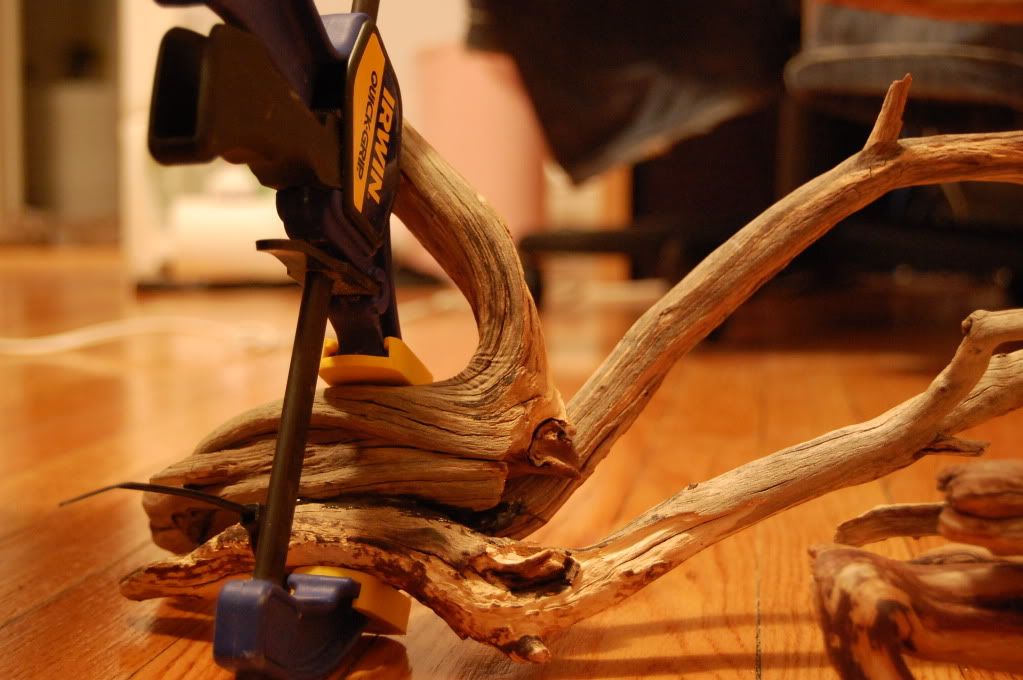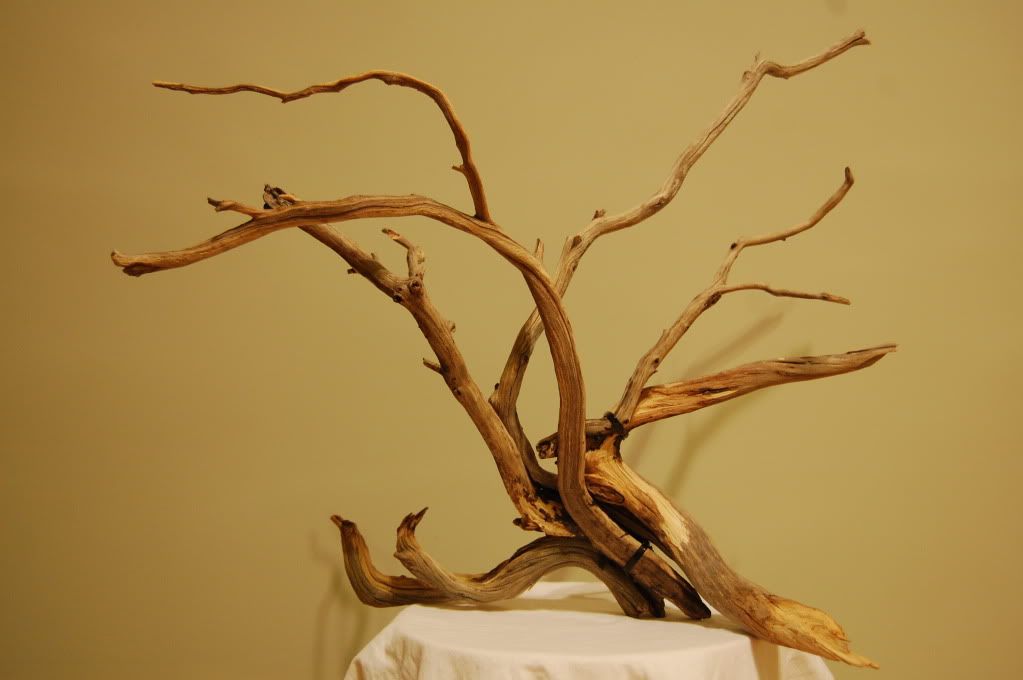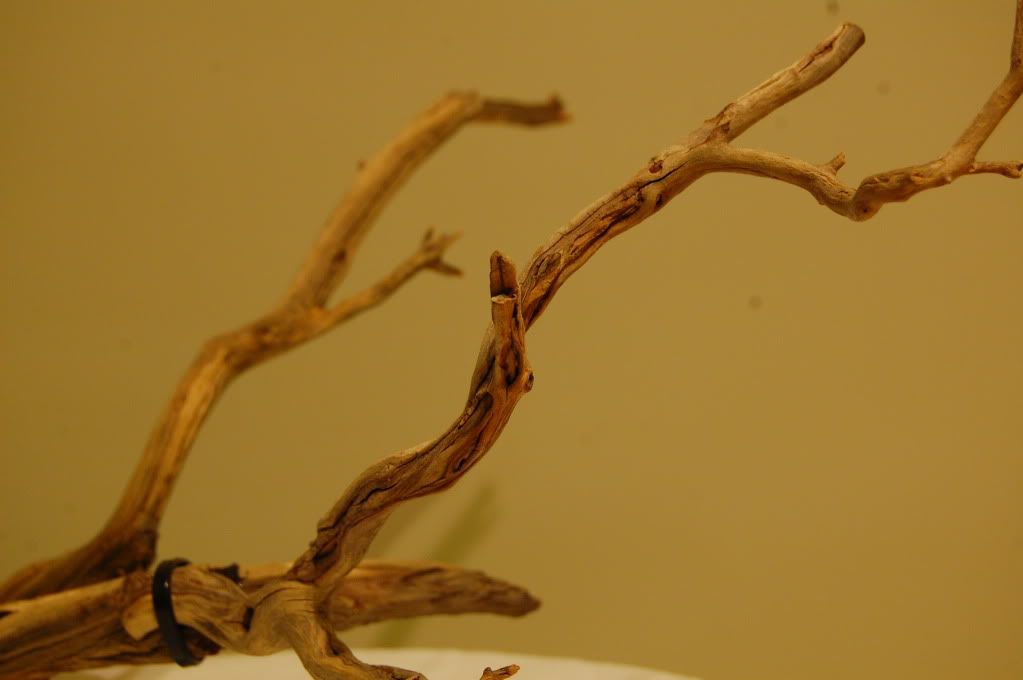 I tried all methods of putting those branches together and from my experience, zip ties work best if placed in easy-to-hide spots. First I tried to screw them together with stainless steel screws, but it was PITA to do that, so I used J&B weld quick and glued them . It worked great at first, but after I put them in my tank they started to break at the seams (probably due to wood absorbing moisture, IDK). So I zip-tied branches together and it holds well so far.
So this was my harscape when there was no water in the tank.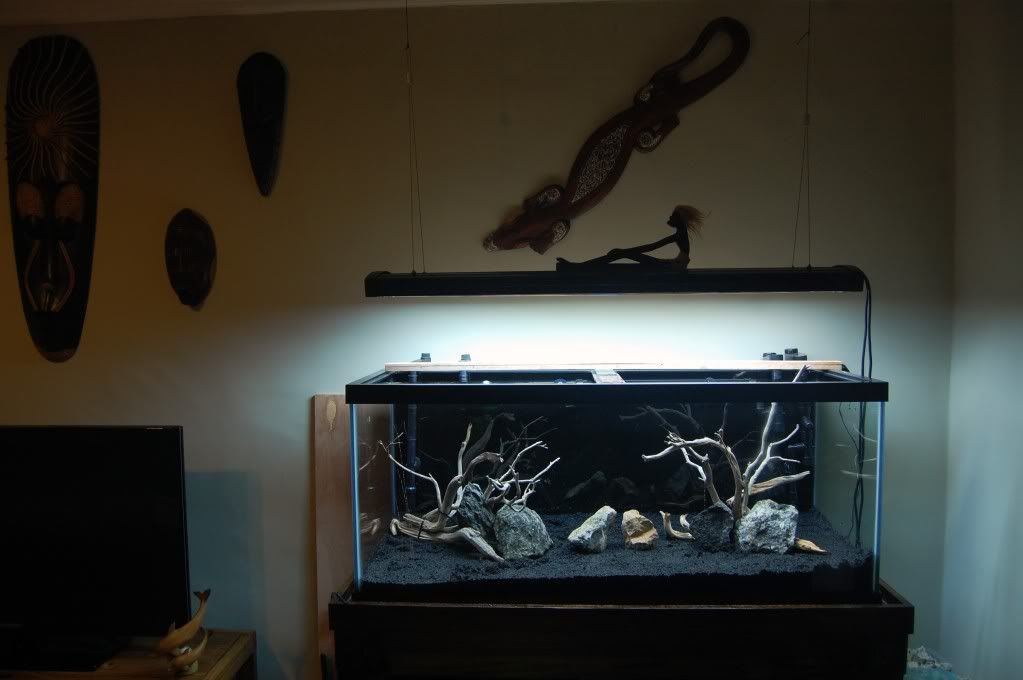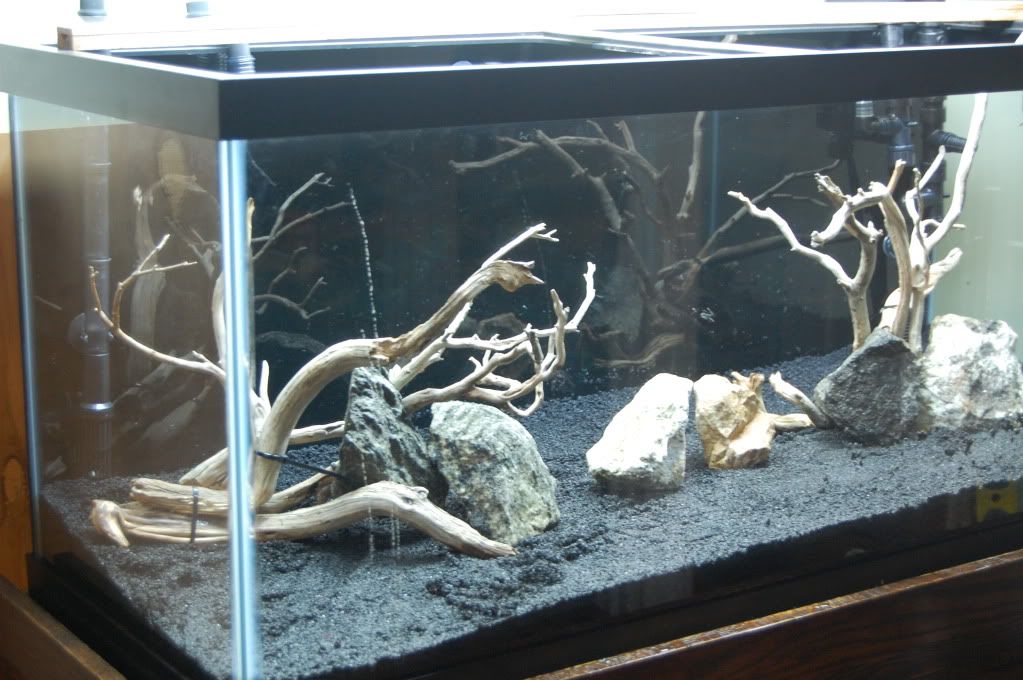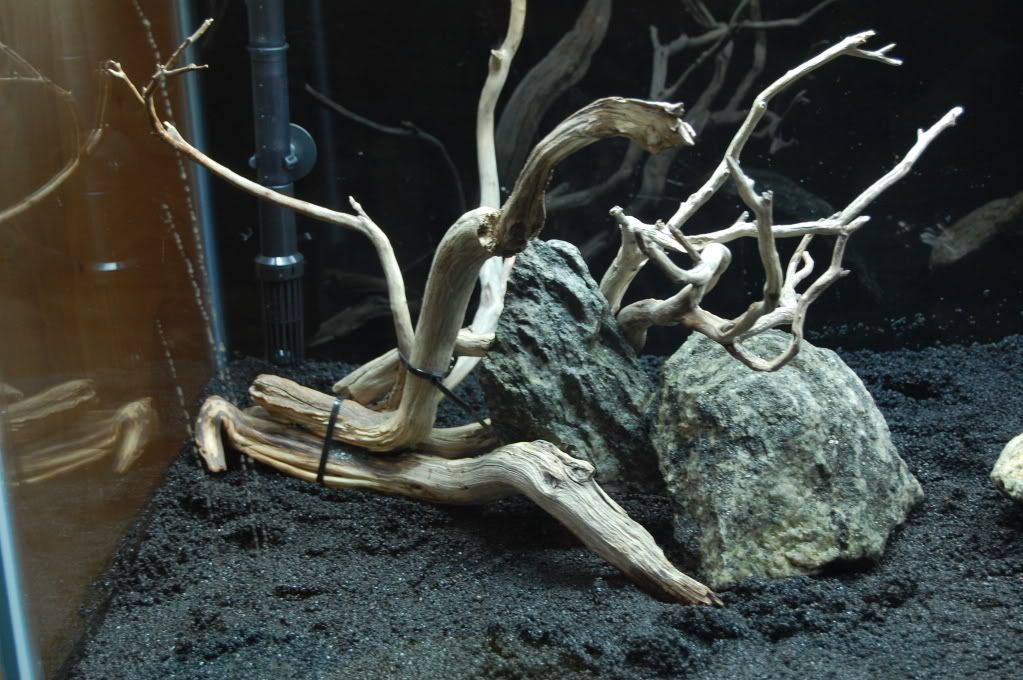 I removed most of the stones from the tank after filling it 'cause they took too much space IMO.
INITIAL SETUP AND FIRST THOUGHTS
So I filled my tank with water and to my surprise, the stand I built didn't fell apart
I purchased many plant packages I am having a hard time IDing now (I'll try to shot a picture of every plant I am not sure of, maybe you'll be able to help me IDing it
) and started to cycle the tank. I've put two pioneers (guppys) into the tank to help establish a bacteria colony. I also used media from my old 2213 filter to shorten the wait time. I added my fisrt fish after 2 weeks and it might have been too early, but I haven't notify any loss except one rummy-nose tetra that acted strangely from the beginning.
I made a list of observations I have made during the time that passed from the beginning of this setup that could help someone who is thinking of getting a tank similar to mine:
-open tank tops are great- I know there is a risk of fish jumping out (actually my killifish and both guppys that first appeared in the tank committed a suicide by jumping out), but hell it looks good
You can view the tank from above and it's so much easier to work around the aquarium. Evaporation is an issue as well (over a gallon per day here in hot and humit NYC conditions), but at least I am breathing with moisturized air in my apartment
open tops really help with controlling heat in the tank, especially in hot summer days (however, a small fan is necessary to keep the temperature stable)
-Hydor In-line heater works very good and it's very powerful, it keeps the temp rock stable, but sometimes it "fights" with fan during cooler days (I considered a double channel temperature controller, but it's out of my pocket investment at the moment)
-Customflo vs eheim installation kits- at first, when I unpacked customflo system from the box I thought-"wow, so much customization options, it's so great" but the truth is, you don't need it- simple intake and spraybar work the best and take much less space in the tank that a "fancy" multi intake and a 90 degrees spraybar with weak flow; eheim installation kits are built with high-quality materials and are so much easier to setup and clean . Both customflo and eheim have caps on the intake and output sides that you can unscrew for easy priming the filter- smart
-eheim classic 2217 vs eheim professional II 2028- I have both of them working for almost two months and I can make a fair judgment of which one is a better filter- 2028 wins here without speculations. Cons are lack of quick-disconnects (but instead you have a disconnect lever on the filter body) and higher price, but there are many pros over a 2217. First of all, priming button on 2028 works great. I thought I won't have to prime any of my filter more than once, but it's not that easy. And when 2217 looses the prime, it's one hell of a job to get it back to work again(updated, I found a way to prime this thing and it's not that hard as I thought it was). Second, eheim installation kits simply destroy standard eheim classics intake and spraybar with their modular build, easiest of putting them together, priming caps, larger diameter of spraybar which allow to easier cleaning and nice grey-black color that compose nicely into the background (instead of that UGLY green classics use). Both filters are dead silent, so no winner here. And last thing, media baskets- maybe not necessary, maybe they affect water bypass, but they keep media organized well and make the cleaning process a piece of cake (almost
)But In have to admitt, 2217 stuffed with media and filter floss means virtually no by-pass.
-two filters in a large tank is a great idea, you've got two inlets on both sides of the tank and two spraybars which help preventing "dead spots" In the tank. It's convenient to clean one without turning off the other one. You can hook up an inline heater to one of them and DIY reactor to the other one. It's safer in general- if one of them fails, there's always a second one working; the only problem is more plumbing under your tank and more equipment in the tank
-3M colorquartz vs fluorite black vs fluorite black sand- since I couldn't make a 3" layer of substrate with CQ I've had, I was forced to order some substrate material; I couldn't find CQ locally, so I ordered two bags of fluorite black online- one regular and one sand variety; Fluorite black sand has very fine particles and it's not pure black, more like very dark grey- I used it in the foreground to let foreground plants get their nutrients instantly, fluorite black looks just like crushed coal ore, it's shiny black with blue hue here and there, has rather large and coarse particles comparing to CQ. I didn't use it in this tank, I was a little bit worried of corys hurting themselves with it. My verdict is- CQ is the best substrate for the money when used as a cap for MTS; it's the darker of those three, has perfect sized particles, holds slopes well and is cheaper than fluorite. On the other side, it's hard to get locally, rinsing takes forever and it doesn't have any nutrient content in it, but it still the best option for a MTS substrate cap IMO
-pressurized CO2- there's not much to say here except that when you get one you'll realize how DIY CO2 sucks
No, really, co2 system with good regulator and metering valve is well worth the money you spend on it
FIRST TWO WEEKS
I've got some pictures of the tank after two weeks from the start of this setup.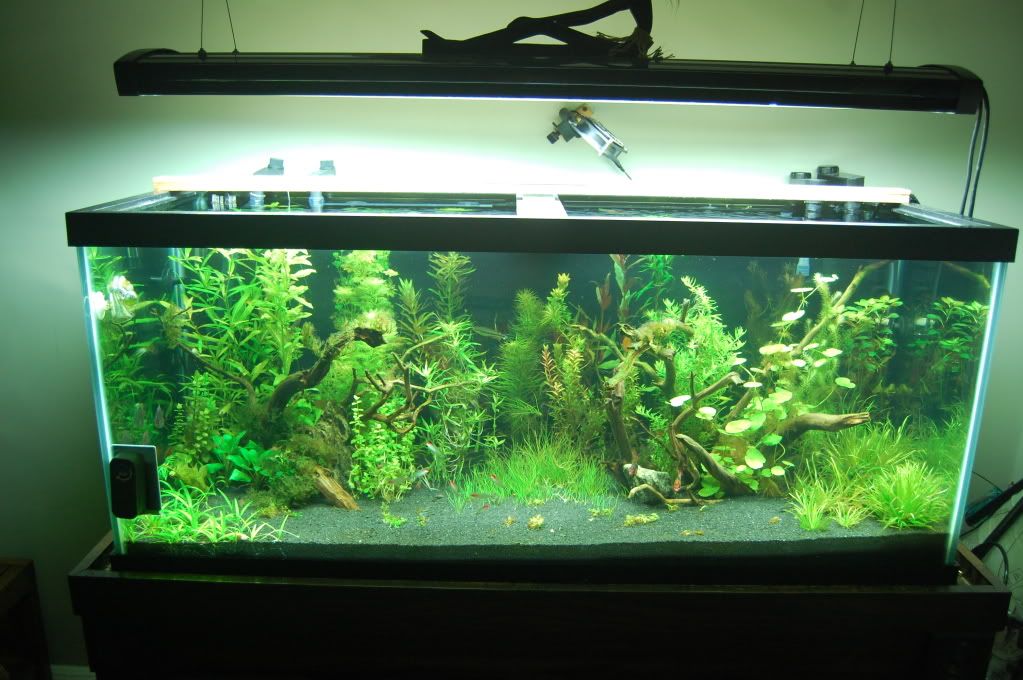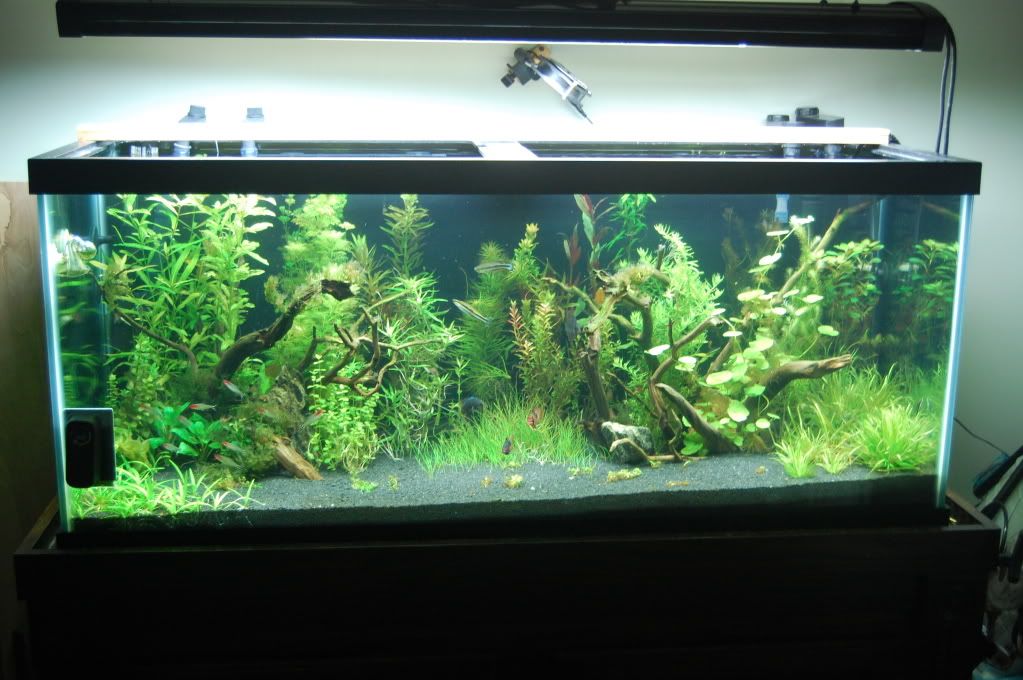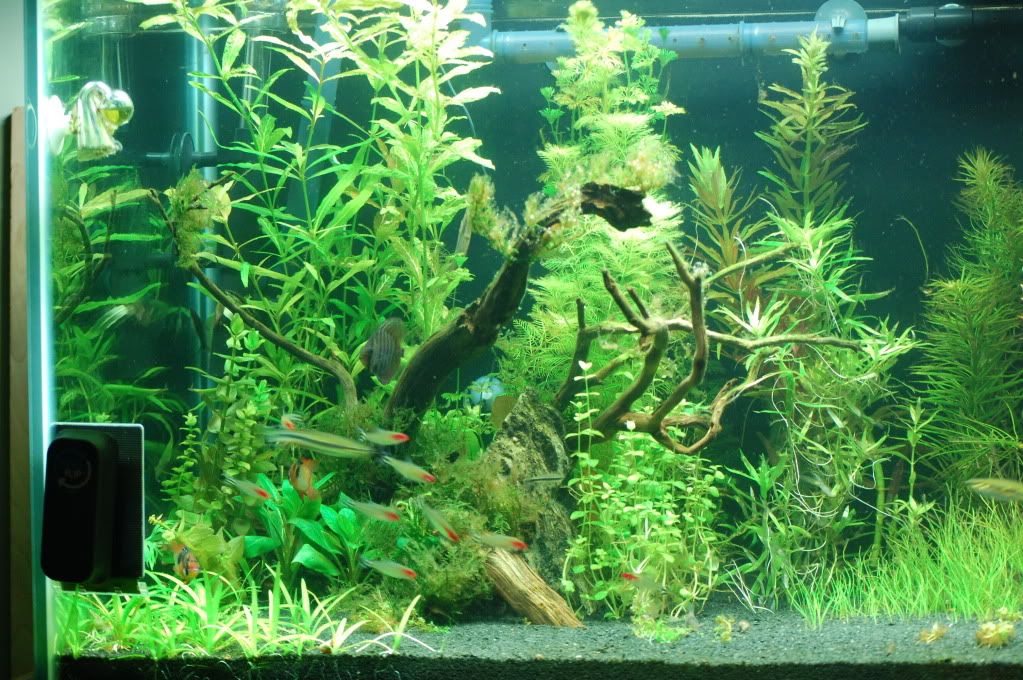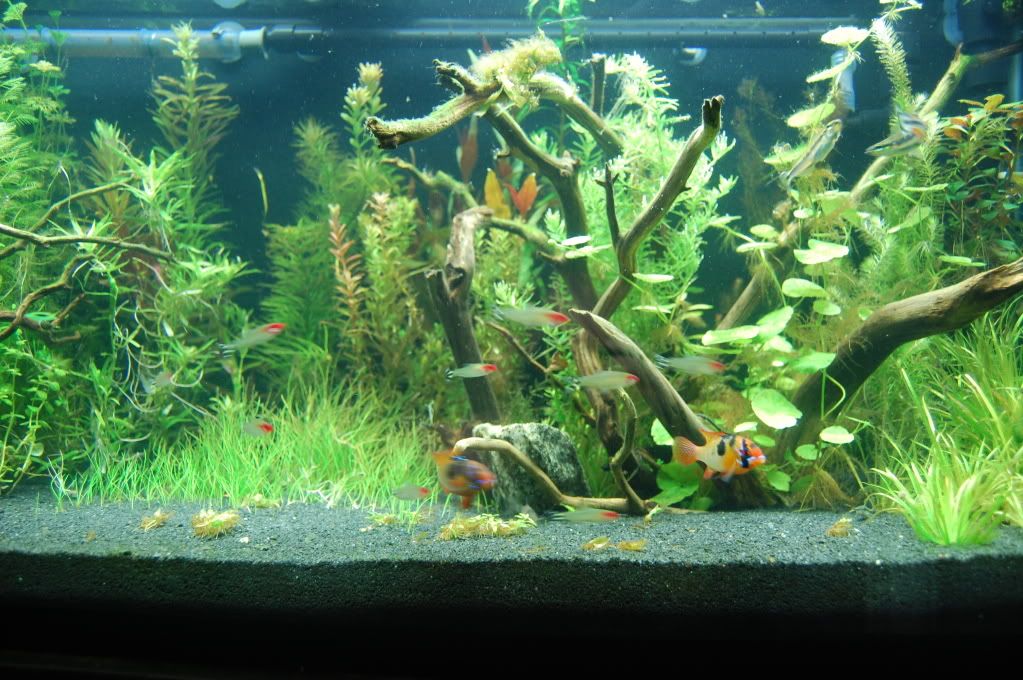 Pics of my fish: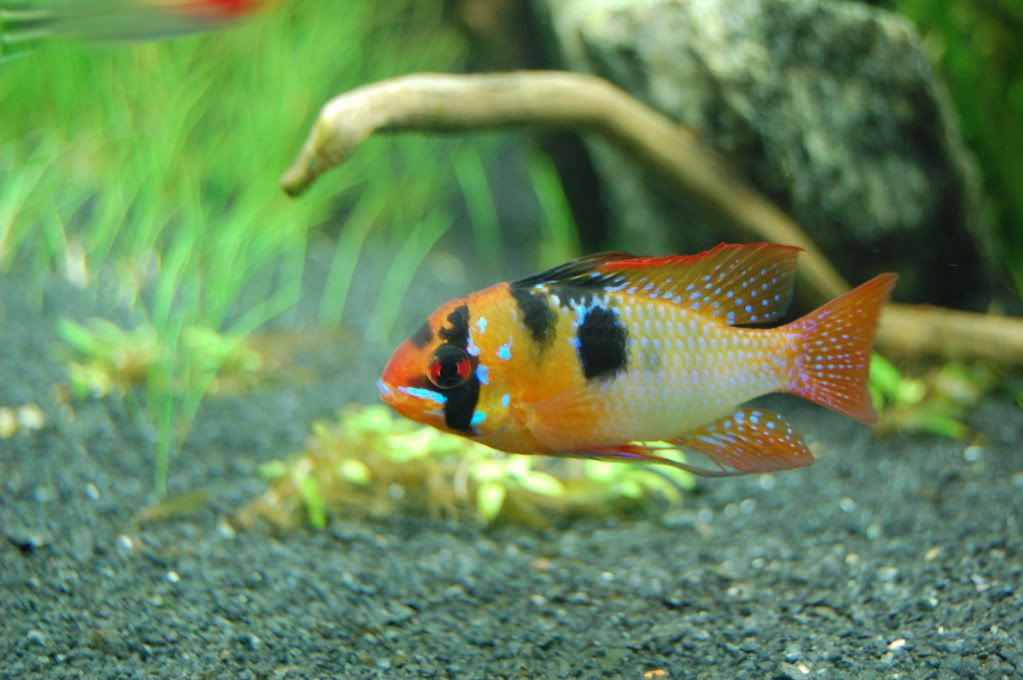 My German blue ram male- this guy along with his "wife"
are my oldest fish by now and they were happy living in 15g tank before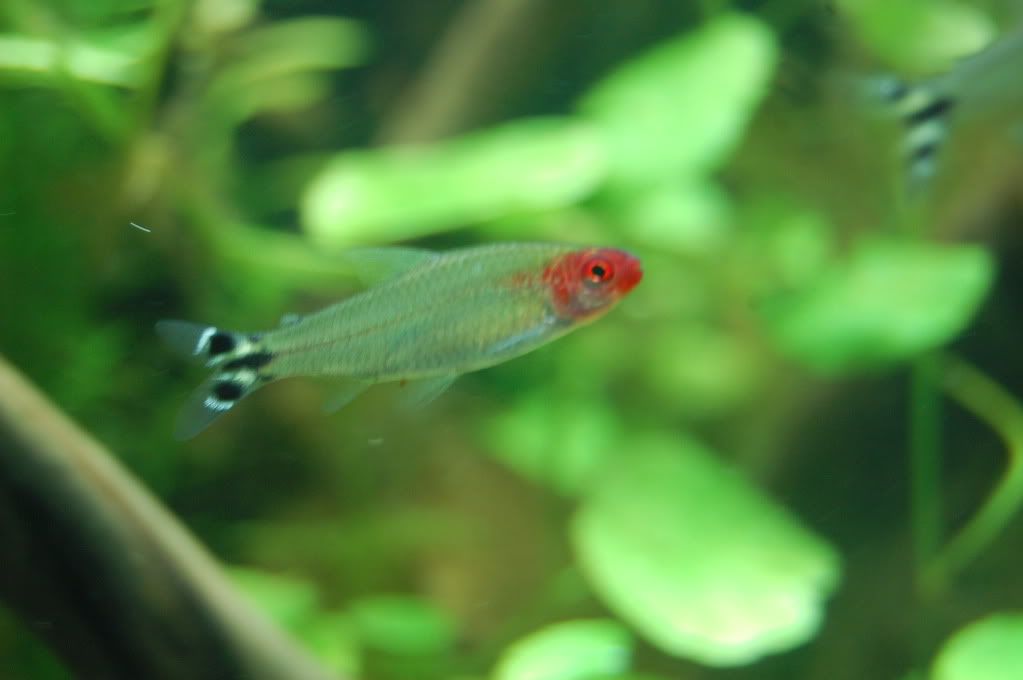 One of my rummy-nose tetra school- those are really good scholers , they swim together almost all the time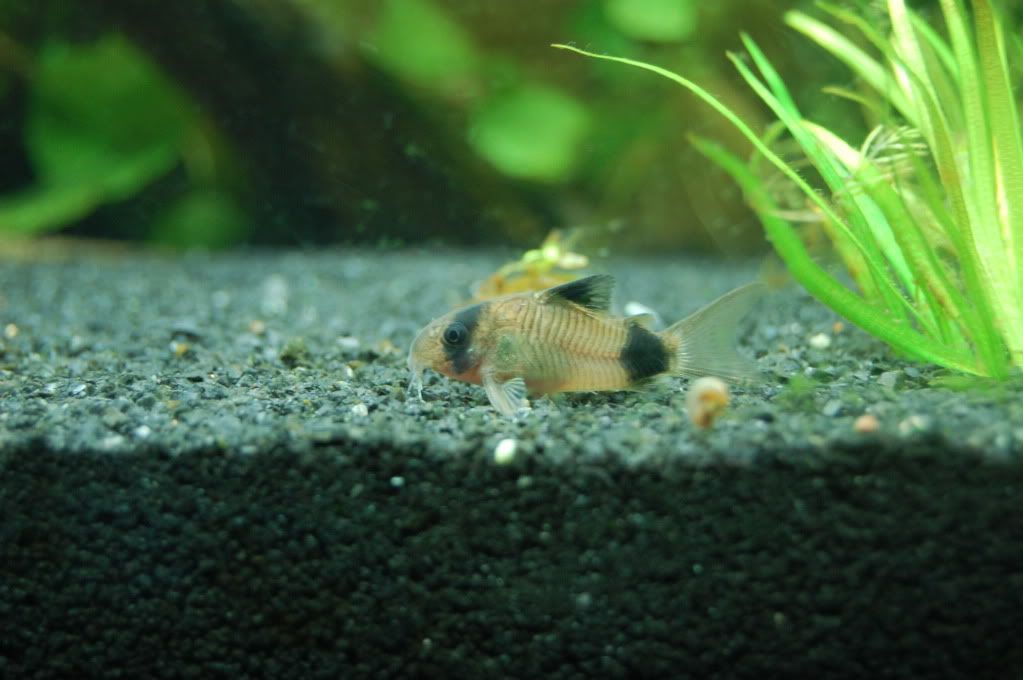 One of my panda corys looking at the GSA on the glass
- amazing fish as well, very active and form a school sometimes, especially at night or when the happen to meet in one place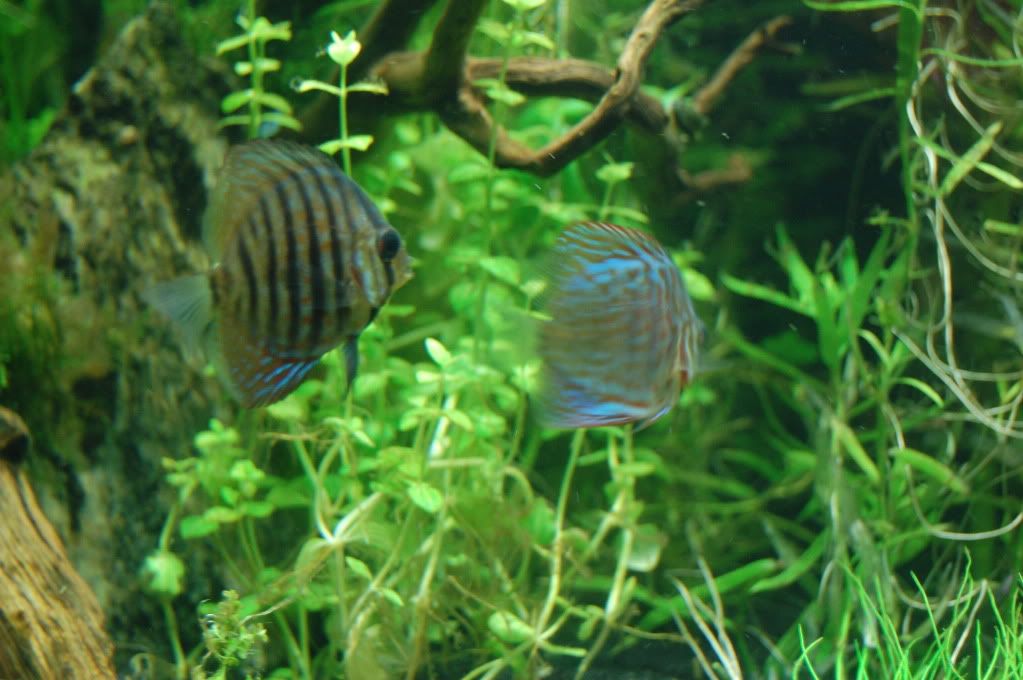 Two of the three juvi discus I have in the tank. Aren't they nice?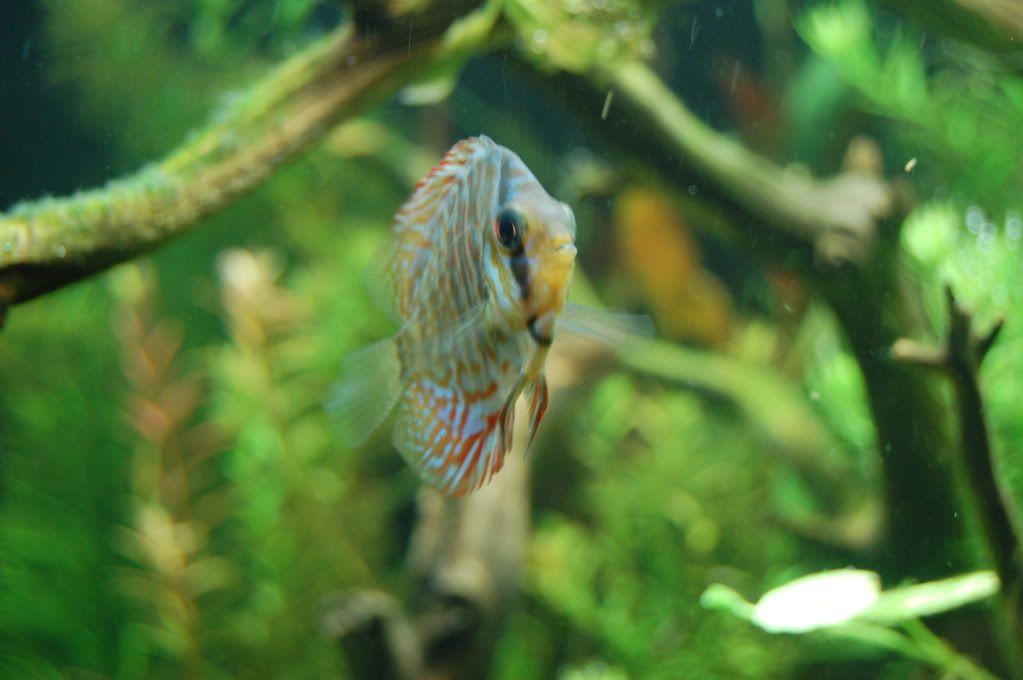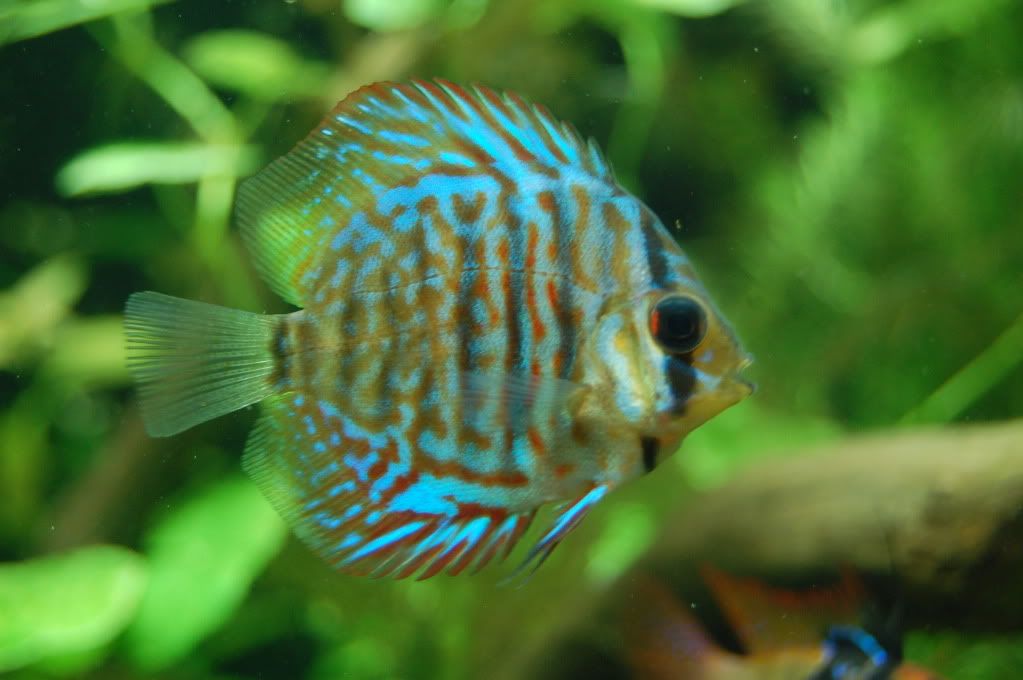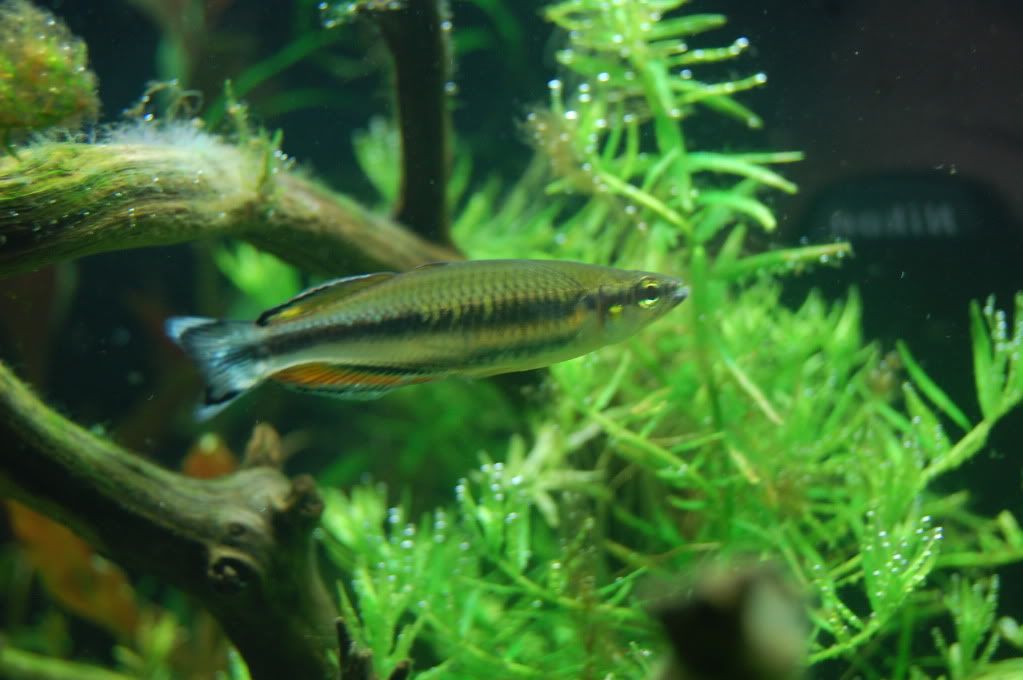 Madagascar rainbow male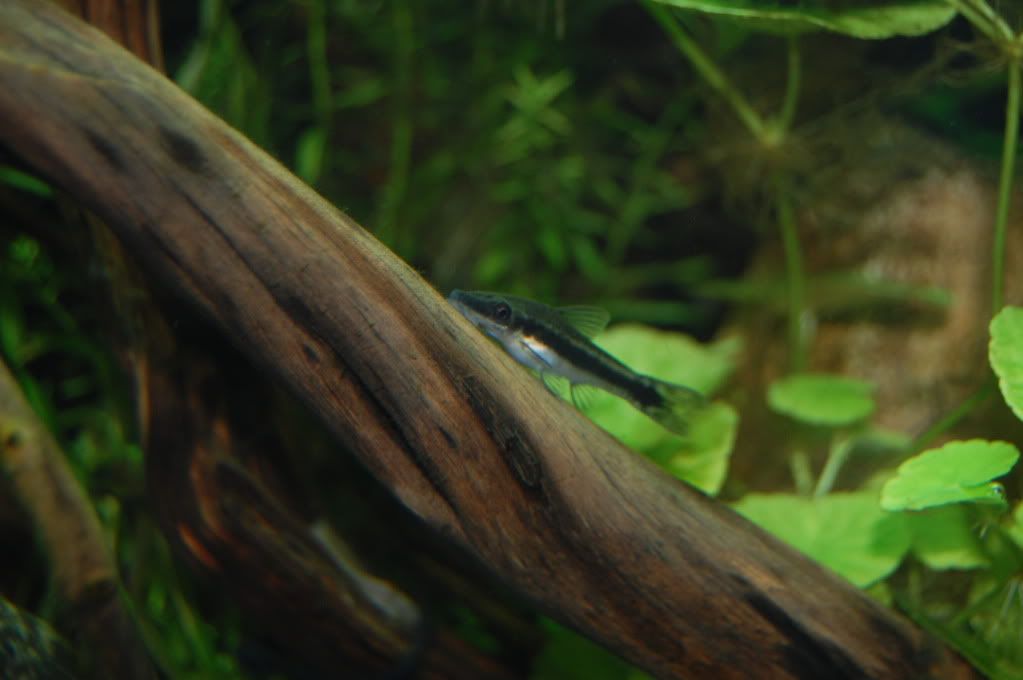 Otto resting on a Manzanita branch
So that's how it looked when I first planted and stocked the tank. I will keep you updated in the future!
Those two first weeks were mix of excitement and dissapointment. First impressions-wow, the tank gives me so many possibilities and is such an eye-catcher. I like the way it looks in my living room and it's like a magnet- you keep staring at it even that you have to do other things
Now I know why people are keeping those 200g tanks at home
In aquarium hobby size defenitely matters
But then the algae came. I read that you can have initial algae outbreaks with mineralized soil, and it happened to me unfortuantely. First came brown algae, usual stuff in new tanks, but seriously, I haven't seen anything like this in any of my recent planted or non-planted tanks. I had so much of oit that my ottos had bellys like santa claus . At least they were happy. I prunned all the moss I had in the tank and put it in my RCS tank. Shrimps took care of it everytime I was putting new portions
Now I am fighting traces of BGA and infection of BBA. Anyway, I really like to post it today, so I'll keep you updated when I'll find some time.