Left UGF
- Air Driven regular UGF. Water travels down through the substrate.
Right UGF
- Reverse UGF where the UGF is the "spraybar" from the canister to push water upwards.

First Layer of lava Rocks and coco puffs all pre-cycled from the tank teardown.
Remineralized RO to 200ppm. Tested water 24 hours later. pH and TDS holding steady.
Media Reactor Pre Filter. Not being used currently, because I want the pH to be neutral for BTOE and Royal Blue Tigers.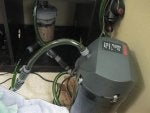 Close up of gravel. I chose a lighter inert gravel because it is hard to see black shrimp in dark substrate.