Lost Temple R.I.P.
The Weeping Dragon
Continued in new Journal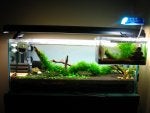 History:
I started collecting parts and ideas for the 60p. All along it was to be a planted tank to tap into my inner Amano...until I got infected....by shrimps. I literally had EVERYTHING bought for a jungle tank, but plans change. I even sold a new Solar I because I don't want an algae tank because no CO2 will be used.
ShrimpTech Philosophy:
Hybrid shrimp breeding tank that balances shrimp breeding with aesthetics. ShrimpTech is a combination of a shrimp breeding tank and a planted tank with the priority on the shrimp. A pure shrimp breeding tank only has wood & moss and no rooted plants. A pure shrimp breeder would also have 80%-90% open space to easily sort and catch shrimp. These are the main differences between a hybrid and pure shrimp tank. I love collecting and growing plants too much to run a pure breeder tank. (I've tried...)
Start Date:
5/30/2011 - 60p
2/16/2012 - 20 long
Tank:
ADA 60p ~ 17.5 gallons
AquaPro 20 gallon long rimless
Lighting:
60p: Archaea 45cm LED, Archaea 27w PC clip on.
20l: 36" Coralife T5HO 2X39w running one bulb. 10,000K
Filtration:
60p
UGF driven by 2215 with Jaqno Prefilter, Oxygen Plus Bio-Filter driven by Whisper 20
20 long filtration:
(There are two tanks worth of filters on here; to keep the cycle going on a tank that I broke down)
2 X UGF
1X Sponge Filter
1 X Breeder Box Purigen Reactor
Powered By:
Eheim 2213 (running UGF #1)
1 X ZooMed501 (for the breeder box)
Whisper 40 - Split to sponge filter and UGF #2
Substrate:

In order from bottom to top...it's like making lasagna or a 7 layer bean dip
UGF Circulation Pipe
Lava Rocks + Power Sand
Layer of substrate additives:
Tourmaline BC, Bacter 100, Super Clear, Mosura Old Sea Mud Powder, dirty sponge juice from a different tank
ADA Africana Normal Type
2nd layer of additives
ADA Amazonia 2 Normal Type(60p)
ADA Amazonia New Normal Type(20l)
Flora:
60p
Taiwan Moss
Weeping Moss
Narrow Leaf Java Fern
Eleocharis Acicularis
Hygrophila Pinnatifida
20 Long
Weeping Moss
Mini X-Mas Moss
Taiwan Moss (breeder box)
Fissidens
Narrow Leaf Java Fern (breeder box)
Dwarf Water Lettuce
Bucephalandra Kampit
Micro Anubias
Crypt Parva
Crypt Nurii "Mutated"
Crypt Hudorio
Staurogyne Sp. Purple
Staurogyne Repens
Shrimps:
60p
Tangerine Tigers
20 Long
13 grade A Benibachi CBS
3 grade SS Benibachi CBS
Enough Blah blah....here are some pics....
Stand being built. Oak.
View attachment 33693
UGF with Lava Rocks and additives.
View attachment 33694
7 Layer Bean Dip
View attachment 33696