Discussion Starter
·
#1
·
Picked up a couple of RCS from a "LFS" and the more I looked at one, the more "off" it appeared. Thought the shrimp was berried at first, but that's not the case. From what I can gather, it could be
ACHLYA
?
I have the two shrimp in a quickly setup quarantine tank, after confirming that something wasn't quite right with one of them and have not introduced either to my other tanks.
Seems to be either a death sentence, or, if you can get the right products, a deadly cure. Products such as Methylene Blue/Green, JBL Fungal, Permangranate, Formalin, Paraguard, Primaflix, Ick Guard....
Actual LFS (different store) said to try the salt dip or H202 methods first, prior to using one of those products. More specifically, only use them as a last resort.
And.... from what I've read, salt dips don't work. It's not a parasite, it's a fungal problem.
I have also read that things may "correct" themselves when water parameters have been improved. I did use water from two separate tanks (one established, one new) in the quarantine tank, added driftwood, almond leaf, heater and a sponge filter.
That aside... and I'm sure this may be rather pointless.... but...
How often can salt baths be done? Or how many a day?
For how long can the shrimp remain in the salt bath?
If I attempt an H202 treatment (3ml/gallon), would I be doing this once, daily?
Or would I be better off dosing with Excel?
I'm guessing I need to do the treatment for at least one week and hope I don't kill them in the process.
I've included pictures to hopefully show the issue. The first image taken with my cell phone and image cropped.
The next two images have been modified somewhat (color, contrast, lighting) to hopefully make it show clearer. First image resized and cropped, second image is original photo that was cropped.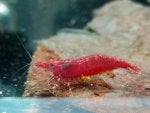 Here's some more info that I've found....
Systemische Mykose - Crustakrankheiten.de
http://i.gyazo.com/9d05c96272bb9c7fcda260be3ab8dd73.png
And I have searched the forum and read other threads on this topic as well as threads on other forums.
And one last thing.... I think the fungus was a neon green/lime green coloration when I first picked her up, but after doing an initial salt dip (>60s), it looks like it has turned a yellowish color now? And nothing has come off. I've tried a longer dip as well, however, no changes.