Discussion Starter
·
#1
·
Hi all, I thought Id finally get around to sharing my new tank. It is 20 gallon, pressurized CO2, Current dual 65w lighting fixture, Aquasoil and HOB Allglass filter. I use dry ferts dose according to the EI method.
The hardscape:
And here is the initial set up. I know you should plant a little denser but this was all I had to work with. Water was clear from the start. I spent a painfully long time filling it up to make sure the water didn't get cloudy.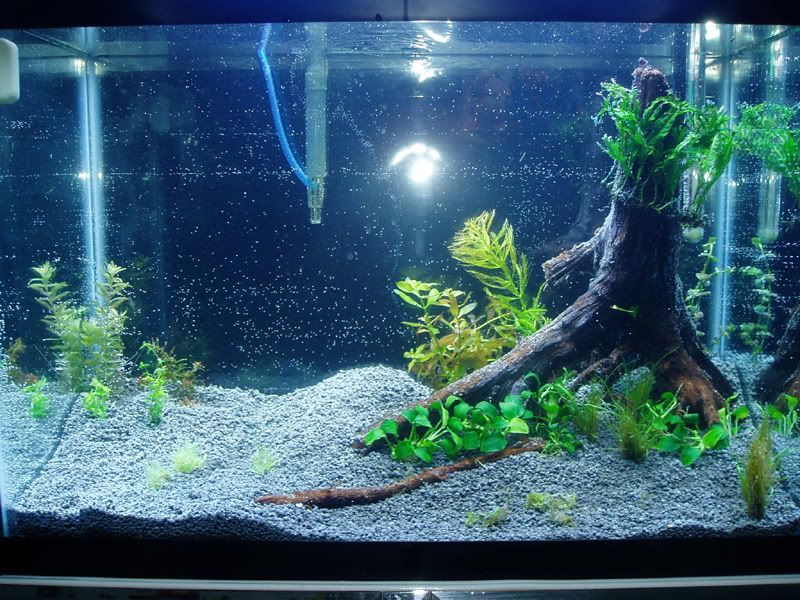 And here it is after 4 weeks. Growth has been very good and Ive been trimming a lot to get the stems to shape the way I want. Algae has been problematic so far. Around week 2 I got hit with green water algae. After 2 weeks it didnt get any better so I gave in and bought a UV. After 3 days and the water has become clearer than I could ever have imagined. Now the problem is hair algae. I've been fighting it since the beginning and nothing has worked for me thus far.
Other than the algae I like the way it has turned out. I'm trying to carpet Ultricularia Graminiflora on the left side but I think I managed to kill most of it by denying it liguid iron ferts. The Windelov hasn't turned out the way I expected and Ill probably be getting rid of it but I gotta figure out what to replace it with.
Thanks for looking, enjoy!