Discussion Starter
·
#1
·
Tank:
90 cm x 45 cm x 45 cm
Lighting:
DIY IceCap SLR reflectors w/ 4 39 watt Giessemann Midday T5HO bulbs
10 hours total lighting, only 6 hours with all 4 bulbs.
Substrate:
Mineralized topsoil covered by 3M Colorquartz Aggregate T-Grade Black Sand
See
this thread
for full details regarding the topsoil.
I did 4 good wet/dry cycles with the soil this time and haven't had the algae issues I did before.
Filter:
Rena XP3
Plants:
Rotala sp. 'green'
Rotala sp. 'colorata'
Rotala sp. 'Vietnam'
Rotala sp. 'Nanjenshan'
Rotala sp. 'Araguaia'
Rotala sp. 'Goias'
Rotala sp. 'Mini'
Rotala macrandra 'green'
Rotala pusilla
Rotala hippuris
Rotala sp. 'Ceylon'
Hemianthus callitrichoides (HC)
Fissidens fontanus
Pogostemon helferi (Downoi)
Bacopa sp. 'Araguaia'
Hygrophila sp. 'Bold'
Hygrophila sp. 'Araguaia'
Ludwigia sp. 'Guinea'
Anubias minima
Anubias barteri var. nana 'Gold'
Fauna:
Pseudomogil furcatus
Hysonotis leucofrinatus
Caridina japonica
Olive Nerites
Here's the original setup date picture on 5/25/07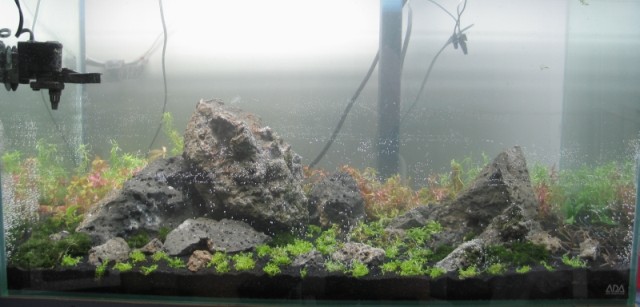 Here's an update today on 6/3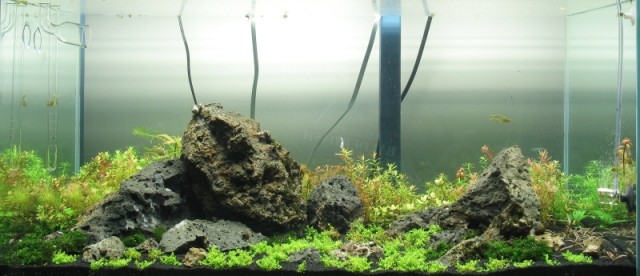 I haven't chosen a backround color yet, hence no backround. I'm trying to decide between white, black, or light blue.
Comments and criticisms are welcome.