Warning-- LONG post. Sorry!
Can someone tell me how to make pictures appear so people don't have to click to photobucket?
Ugh just accidently deleted everything I wrote! Here we go again…
I have kept bettas for a while and one 5 gallon tank. I kind of abandoned fish for a month or 2 and got the motivation to restart. :icon_roll So here it is.
5 gallon:
Filled yesterday. Ammonia is less than 0.25 before the water change. I plan on daily pwc's. Temperature is in the mid to high 80's. 0_o
-java moss and ferns
-random plant purchased yesterday. Green with reddish leaves. Also another tag along, a fern looking thing.
-algea covered dwarf hairgrass
-soil and established gravel mix underneath black sand
-1 female endler purchased yesterday
-Aqua Tech 5-15 filter with flow slowed by a thin shirt. Also the intake is now fry proof.
This tank was a pool of muck feeding once every other week with until 2 or 3 days ago when I dumped it and rescued the 2 CPD's remaining, along with plants, snails and gravel. One CPD, who is dominant, always chases the smaller guy around and is fatter and healthier. Both are probably males. All the rocks and driftwood was collected and soaked and bleached and some baked. I accidently let the driftwood dry and now they have to temporarily be held down by rocks. :/ The soil was baked and rinsed and the gravel is from the old tank. Sand was rinsed and brand new.
Stocking suggestions? I was thinking of getting 2 or 3 more CPD's, 5 (too much? Too little?) Corydoras pygmeaus, a few cherry shrimp to start breeding, and 2 more endlers. Also a lot more plants. Is this overstocked? I am definitely not adding more fish until it is fully cycled.
Bowl:
-gorgeous betta. I'm thinking it's a plakat male. Building a small bubblenest and there is no sign of eggs. I want to name it Bo regardless of sex. More pics of him/her.
-mystery plant/s
-java moss
-soil and gravel under black sand
-one black rock
Also filled yesterday. Betta purchased yesterday. Old java moss. Newly purchased mystery plant.
1 gallon jar:
Set up for a month about.
-java moss and fern
-temporary housing for 2 male CPD's
-gravel
-airstone, only turned on a few times a day or it's overwhelmingly strong
Tall container:
Filled 2 days ago.
-mystery plants
-black sand
-black stone
Planning on stocking with shrimp and snails and adding a piece of driftwood with a different moss than java attached.
Food:
To feed all these critters, I am going to order NLS small fish formula, golden pearls 200-300 microns, Ken's Premium Meat and Spirulina Wafers, and Seachem Flourish from Kensfish. Also, veggie sticks w/ extra calcium from Jake.
Pictures of Bo: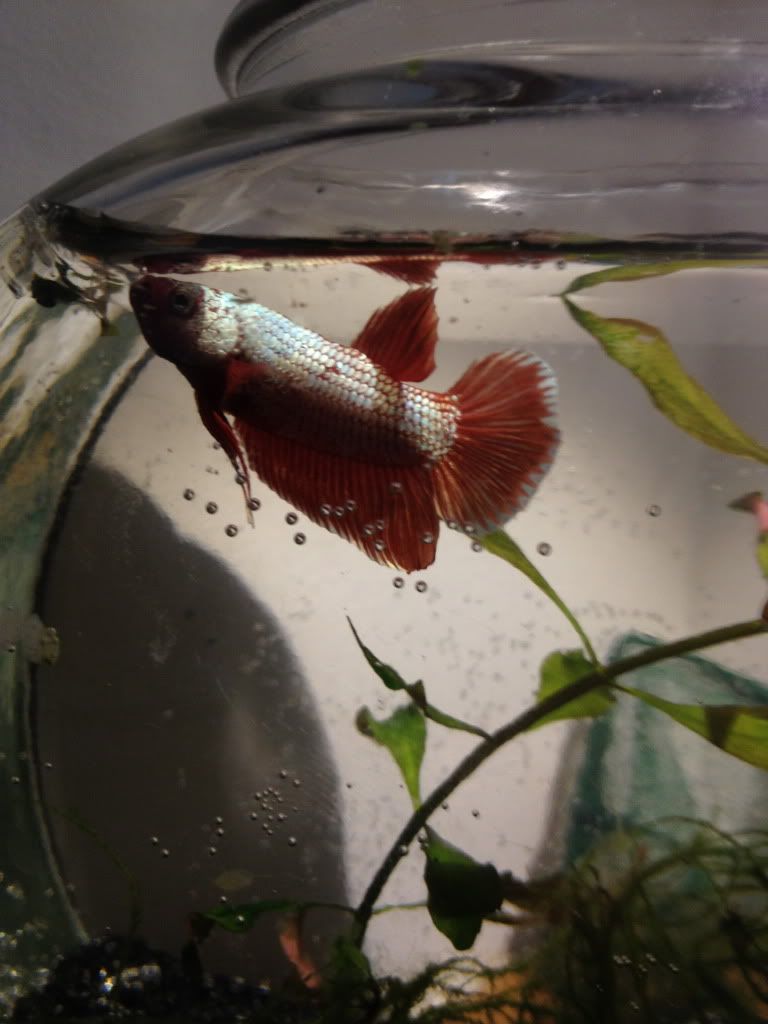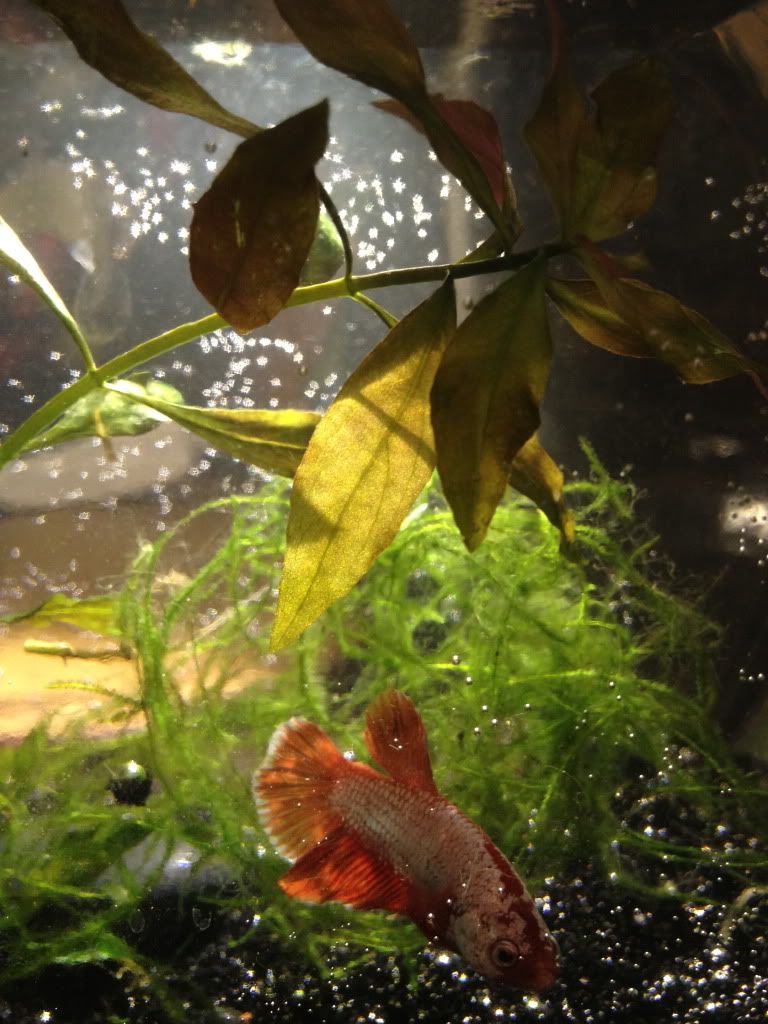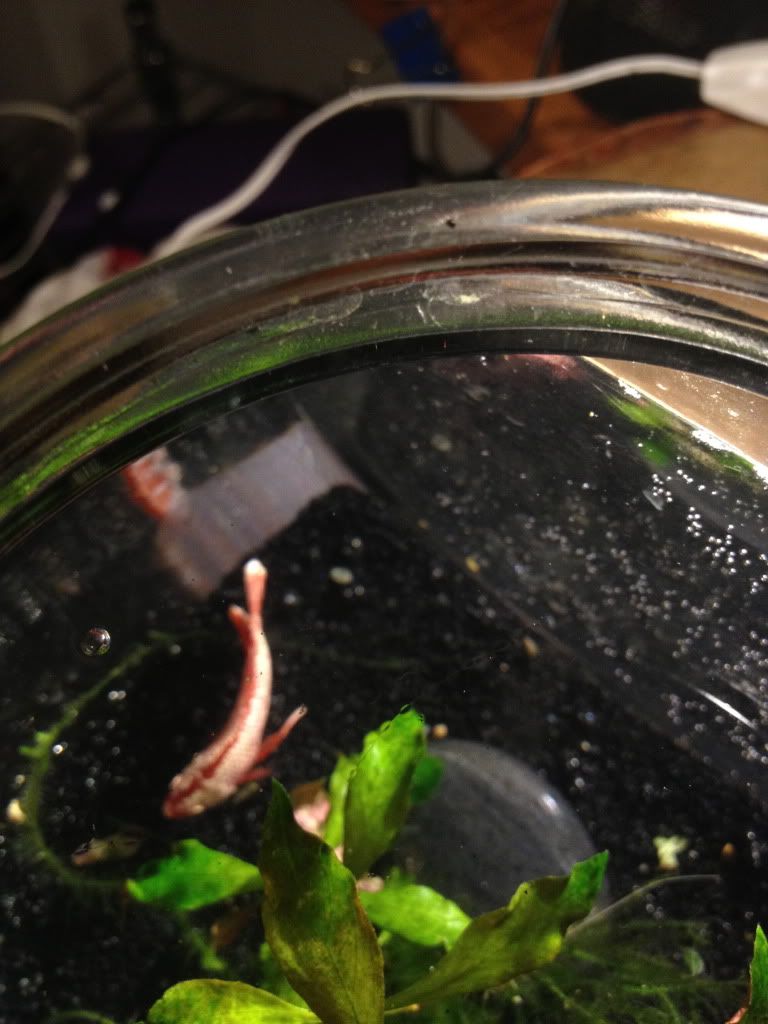 If anyone has extra plant trimmings, PM me please! Anything easy to grow is fine. I prefer free stuff, not especially interested in paying for the plant, but of course I will pay shipping. Thank you!
Thanks for reading and I hope you get the time to comment.