Hi everyone.
EDIT - REDID FIRST POST AS PLANS ARE FINAL
So I'm about to strip down and rebuild my tank - for the last year or so it's been home to an assortment of small / grow-on cichlids and my 4 blood parrots.
Recently my blood parrots... which have reached about 6" each... have become terrified of anything that moves – they thrash around the tank madly whenever anyone comes in the room.. and when anything is going on they cower behind a piece of wood, clearly terrified.
To my horror one evening i discovered my gibbiceps has been 'rasping' on their sides... i had been watching them with the lights off in the room and staying very still (ridiculous, but the only way to have them come out), the gibby, bold as brass, swam up and under one of them and started trying to suck on to it... this triggered a mad panic in all of them.
I now realise this must have been going on for a fair while... as the fish used to be super-friendly have slowly gotten more and more timid. The catfish has been removed... but it's actually no fun watching a tank of terrified fish, so i;ve decided to pass them on in the hope they will be happier in a change of surroundings. I've tried adding more hiding places. – keeping the lights low, putting a bit of food in every time I approach the tank… nothing is working.
So, like many others, I am going to convert to a planted tank…
This is my plan…
EQUIPMENT
Rio 240
Eheim 2217 filter
Hydor 300w external heater.
Hydor heating cable – controversial I know, but I have read a lot about using these and I'm going to give it a go.
D-D C02 set... MAYBE... will see how it goes before shelling out on this...
Juwel 'Lime stone' structured background
Lighting – 2 x Juwel T5 Tubes with reflectors
SUBSRATE
Base 1" or so – mixture of peat and JBL floropol clay (currently used in plant pots in the tank), topped up with some bonsai compost for organics and a 2nd box of floropol, this layer will also have a few handful of crushed oyster shell added to stop it getting too acidic. I've used this mixture in a low tech tank with incredible growth – so I'm hopeful it will work similar wonders in this tank.
£10 for the floropol, £3 for the compost and next to nowt for the oyster shell – works out a lot cheaper than many branded 'complete' substrates.
Top layer – either ordinary gravel or equivalent, not sure what colour I want yet.
DÉCOR
I have some red moorland root and mopani wood, along with some slate stones I plan to reuse
PLANTING
Current plan is for 1 or 2 large swords to dominate, and strategically placed vallis to hide the filter pipes I'll fill in around these with a bank of crypts and some red stem plants. Sorry this is a ****-poor description… it's clear in my head… honest.
STOCK
Toying with the idea of discus – however it's most likely my current 'other' fish will stay. Some platy's, 2 ancient keyholes… i'll add some more dwarf cichlids.
To this I'll be adding some ottos, some snails and I've got a real soft spot for angels, so would like to add 6 common angelfish.
QUESTIONS
Some help appreciated with the following…
1 - Will the otto's be OK with the Juwel background? I've had a tank with a piece of fake wood where a plec eventually took the paint off the resin and left it white – how likely is it the Ottos will do the same?
2 – can someone recommend a c02 reactor I can connect to my eheim? I've seen some on ebay from china but I'm worried about the concept of cheap plastic fittings and 240l in my flat!!! I don't want to use one in the tank if I can help it…
The parrot fish should be getting picked up this weekend… and I'm waiting for a bunch of things from ebay, but I'm hoping to do the rebuild within the next two weeks.
All comments appreciated… especially at this early stage where nothing is set in stone.
here's a few pics of some of my recent tanks while i get things going.

Current Blood Parrot Tank

Old 'el natural' Angel tank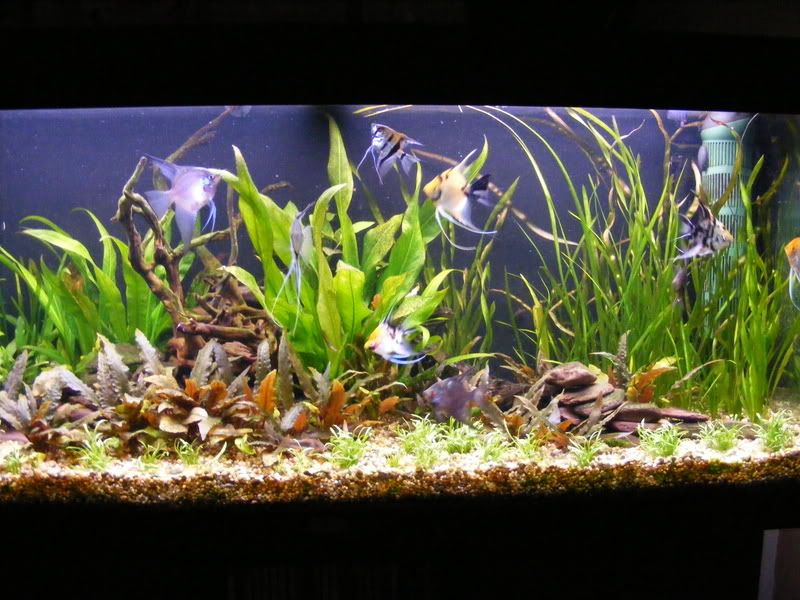 That tank was always hazy... drove me mad!!! It improved a lot when i added a canister filter... proper 'el natural' tanks have little to no filtration... tbh this tank was the most problematic i've owned. could never get it to balance.
My previous low tech plant tank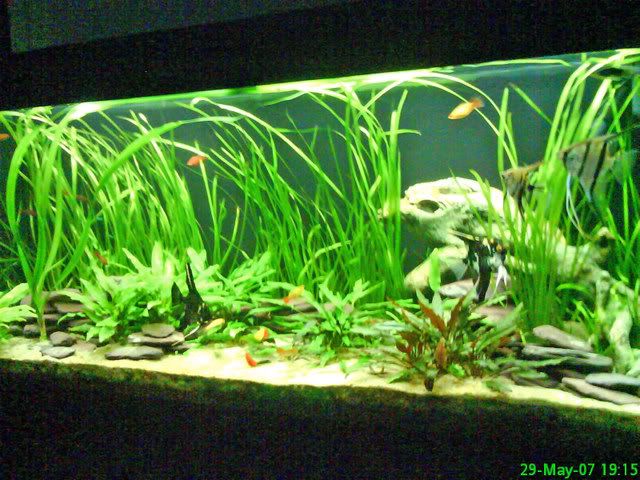 ]
Anyway.... wish me luck on this new adventure!!!
More pics soon.