I've had this odd tank floating around in storage for better than a decade. It has a little sump-type thing built into the back, that takes up a little more than its share of room. I think it may have been a forerunner for the more modern biocube/nanocube type of thing. I bought it at my very first job, due to a ridiculous sale, many many moons ago in a land far far away.
This is my third planted tank, preceded by a 20 gallon hex (my learning tank) and a jbj picotope that I've really enjoyed. This is also my first high-tech tank, but i hope to transition it to lower-ish-type tech on down the road.
I am fairly new to all of this, so this is mostly an experiment to see if I can get plants to grow in here. I believe I set up the tank right at the middle or end of January. Excuse the pictures, right now it is diatoming pretty hard. I don't think that I am terribly concerned about that as it is a new tank, and I'm hoping it is just a phase. I hope it isn't a flow problem, I think it is starting to die off, so I'm going to hold off my freak out for a few more weeks.
Tank
: 50 gallon "System II" -actually probably closer to 40 gallons 36*15*20 (or so)
Filtration
: see Tank
Lighting
: 4*39 Nova Extreme 8 hours at 78 watts with a 2 hour 156 watt burst
CO2
: 5lbs rocking 2-4bps (how do you count that fast?) -seems to keep the drop checker a happy shade of green-yellow
Fertz
: EI for 20-40 gallon
Substrate
: dirt capped with an eco complete/ red flourite mix (it sounded like it would look nicer than it did)
Plants
:
Hygrophila difformis
Lilaeopsis brasiliensis
Pennywort
Echinodorus tenellus
Microsorum pteropus
Vesicularia dubyana
Vesicularia montagnei
Rotala Indica
Hemianthus micranthemoides
Cabomba carolina
Vallisneria spiralis
Hygrophilia corymbosa
Ludwigia repens
Fish
:
Three black skirt tetras that have been with me for a while
three otocinclus
pond snails
I also ordered some cherry shrimp from ebay (they have yet to arrive)
First Disaster
:
I had this genius plan to load this tank up with super fast and easy to grow plants, but all the plants I got were emmersed/super sad when they showed up. I just threw them in the tank anyway with the hopes that light and CO2 would help them out, but they got all melty and I ended up chopping the live parts and discarding the rest. The Hygrophilia corymbosa seemed to transition most oddly, it didn't really die or grow for the longest time but later followed suit. Because of all of this, I was only able to salvage anywhere from a quarter of an inch to three or four inches of any plant. I feel pretty fortunate that I haven't lost any species yet. The Hemianthus micranthemoides and Cabomba carolina are still pretty bad, and I am a little concerned for their long term health. But all the plants left over from my other aquarium blew up and grew all over the place.
Pictures
:
These are a couple of shots that got taken right after I realized that most of the plants would live. This is a couple of weeks after the first disaster and all of the plants have an inch or so (except the camboba carolina a month later it doesn't quite have that much growth).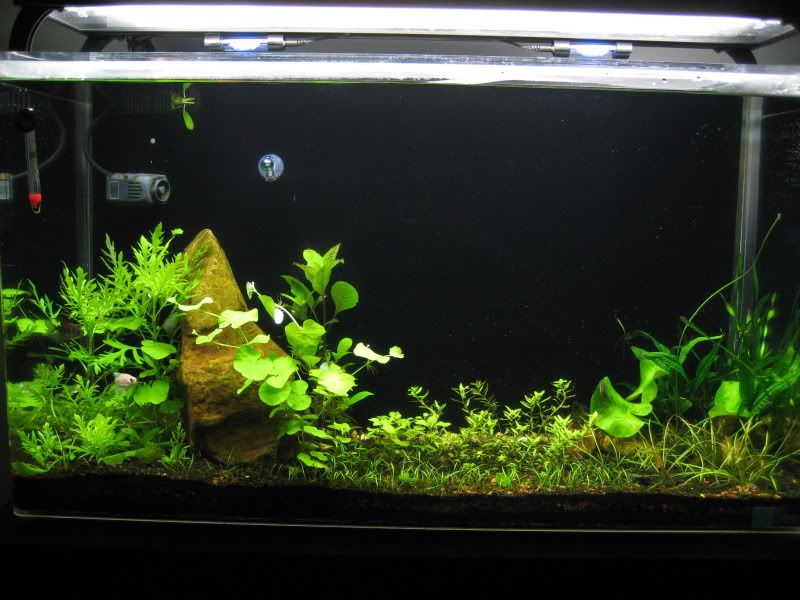 This is from yesterday 3/9/10. The Hygrophila difformis had completely filled the left side of the tank, the pennywort had to be groomed several times, and the Ludwigia repens had started to lean over his neighbors and produce shoots, which is probably why my Hemianthus micranthemoides is still really sad looking.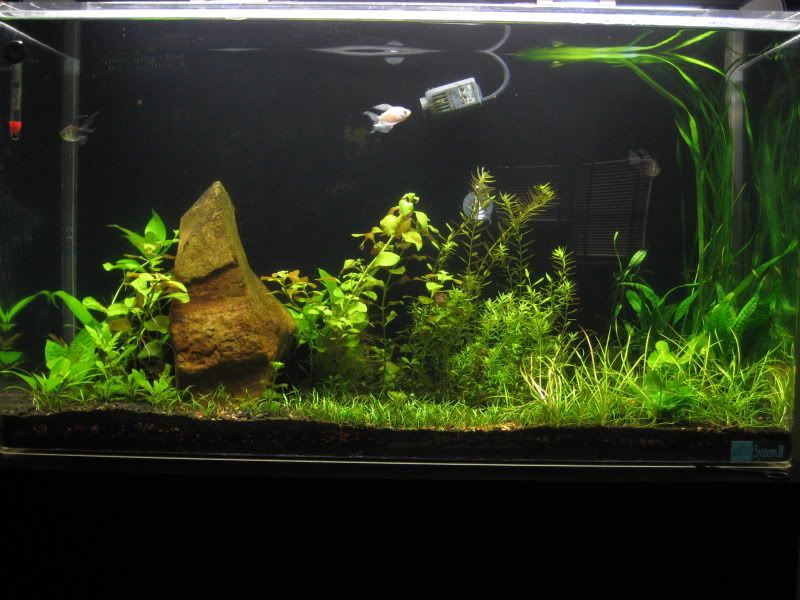 The Goal
:
I would like this to be a learning tank. hopefully I can get stuff to grow, find plants I like, figure out how to groom them to look nice, and (in an ambitious moment) learn to take better pictures. Any tips, comments, critiques, recommendations, offers of manual labor, or dessert treats are very welcomed.