Discussion Starter
·
#1
·
I went on a hike last Saturday with a NY Botanical club to the Ramapo Mountains in Bergen County NJ. The two leaders both work at the Brooklyn Botanical Gardens. If you think you have seen plant geeks, you ain't seen nothin' yet!!!! These people are serious botanists/hobbyists. Some are professionals in botany for their livelihood, others do it for fun. Their goal is plant collection for herbarium display, and not live culture like us.
We did see Utricularia radiata blooming. This is an aquatic carnivorous plant. A very detailed discussion of the identification of the plant occurred between two men very knowledgeable on Utrics. The final outcome is that this plant will key out as U. radiata, but it does not look like any other radiata either has seen before. They collected samples to preserve and study.
It looked just like the Utric we found on a NJAGC hike in June over in Green Pond, NJ. I would like to go back there and see if it is flowering too. I don't know if I'll get the time though. I'll paste in a description of that hike from our forum here in italics:
I went on a hike Saturday June 6, 2009 with four other members of the NJ Aquatic Plants Club. We were in the Green Pond, NJ area. We found quite a lot of interesting things. I'll check with one of the members to see if he wants to link his photo's here.

Here is what one of the members wrote on our forum:

Good time fellas! We got a small clutch of plants. Some known aquatics, some weirdo plants that we are not so sure of.

We needed a good photographer for sure. My little point and shoot did not do justice to some of the gems we came upon.

Lobelia cardinalis
Ludwigia sp. (very cool looking for sure, we need to get a species ID on this) Edit Sept 29, 2009: It turned out to be Ludwigia palustris.
Proserpinaca palustris http://www.aquaticplantcentral.com/forumapc/plantfinder/details.php?id=197
Polygonum hydropiperoides (<--- This has got to be it fellas, looks just like it) http://www.aquaticplantcentral.com/forumapc/plantfinder/details.php?id=240
Eleocharis sp. (what looks like two different variants)
Some bladderwort species, Utricularia sp.
fanwort (didnt bother collecting)

We had a few other un-identified species that we are not sure is aquatic. We shall see.

I found a nice clump of the red algae, Batrachospermum, in the Utricularia I brought home. I did just take some pictures of it and will post them up soon. Here is an example from the web: http://www.microscopy-uk.org.uk/mag...icroscopy-uk.org.uk/mag/artmay99/gbalgae.html

Here are two shots I took today with the microscope:



Here is a video I took today of some of my plants here at work from this collection, Batrachospermum, Utricularia, and the emersed Crypts:

Now for some photo's of the plants from Sat Sept 26, 2009:
A close up of the Utricularia radiata plucked from the water: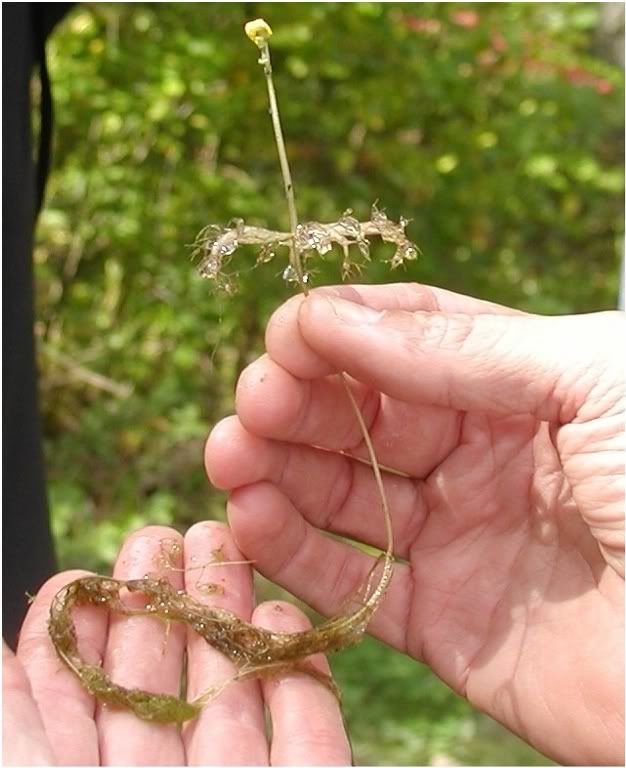 This photo shows the blooming plants on the surface of the water. You can see the floats radiating out from the central stalk.