Discussion Starter
·
#1
·
I've had this tank for about eight months now, but it badly needed a once-all-over and I figured I should start up a journal for it while I'm at it. The tank is listed on Aquarium Master's website as a "2 gallon beta tank," but the actual capacity is closer to 1.25 gallons or so.
Setup
Tank: "2 Gallon" Aquarium Masters (4.5" x 8" x 8.5")
Up top: Glass canopy and a 1 x 13W PC hood from Catalina Aquarium
Filter: Motor and intake from a Marina S10 with a Fluval prefilter sponge
Hardscape: Fluval Stratum for substrate; single piece of malaysian driftwood
Unheated
Flora: Cardinal Plant; Java Fern; Baby Tears; Dwarf Water Lettuce; Christmas Moss
Fauna: 2 X Cherry Shrimp ("Ebira" and "Joe"); Zebra Nerite ("Standard Earl"); Micro Crab ("Eugene")
pH 7.6
GH 5
KH 5
Dosing: Two drops of Seachem's Flourish Sunday and Wednesday; Three drops of Seachem's Flourish Excel daily
The Tragic Backstory
Like I said, I got the tank a while ago, and it's been set up the whole time and did very well, but the last two weeks of [slight] neglect took a rather sinister toll on the poor thing.

Then a lot of procrastinating happened, but I finally (finally...) ended up tearing the whole thing down and starting over (found out that I apparently lost a shrimp, but we aren't going to talk about that).
First was the hardscape. Of course, working with a 8" X 4.5" footprint simplifies things a bit.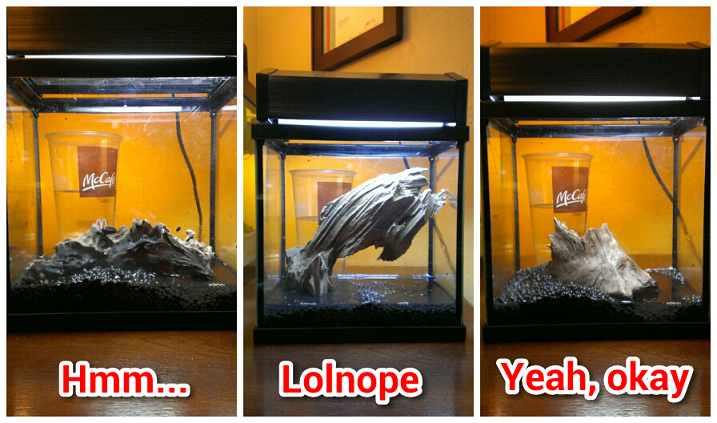 Then the exciting part! Tying, planting, cutting, tying, positioning, more planting, etc.
So enjoy a montage. A two picture montage.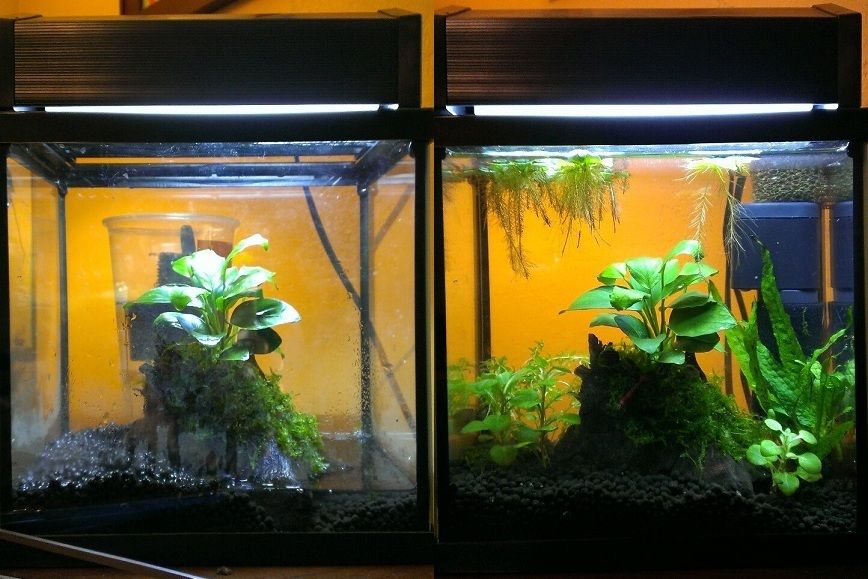 And that's more or less where I'm at with this thing now. High-res pictures coming soon, so stay tuned.