Hey guys,
I've had my tank up for almost a year now, stocked currently with 6 serpae tetra, 5 neons (was 8, but the serpae seem to be decimating them), 3 Cory's and a pleco.
I just added the neons and pleco last week, but did not quarantine them (bad I know). Yesterday and today I noticed these shiny spots on a few of my serpae tetra. I have not noticed this on any other fish, just the serpae. They don't exactly appear to be white, almost metallic. I'm concerned it could be ich, but I do find it a bit odd that it's not on any of the new fish, and only the well established serpae. Any thoughts? I'm going to try to attach a few crappy pics...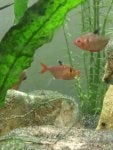 These spots look much more metalic than they do white in person. They almost go from mettalic to a shin yellow depending on the angle your at.