hi everyone,
I'll start with my oodinium question first: had an outbreak in my 20H, didn't have too many fish in there (betta + 7 rasbora [sundadanio axelrodi & microdevario kubotai]) so I moved them to my ~11-13gal QT tank and am treating with Quick Cure. today is the third day. there are three nerite snails still in the tank.
my question is: how long before the tank is "safe" to add fish or inverts to again? I know oodinium's lifecycle is estimated 7-10 days (during which they must find a host, or consequentially die), but I was wondering if anyone had firsthand experience with this? internet searches are turning up conflicting answers.
I know oodinium's highly contagious between fish, but I would also like to know if it is possible for inverts such as shrimp or snails to be carriers? I am considering adding some amano or cherry shrimp to my tank in the meantime while I continue to treat my fish in QT, and wouldn't want to put them back in the tank for them to just get infected all over again...
okay second question & I apologize if these questions are stupid lmao. first, pictures: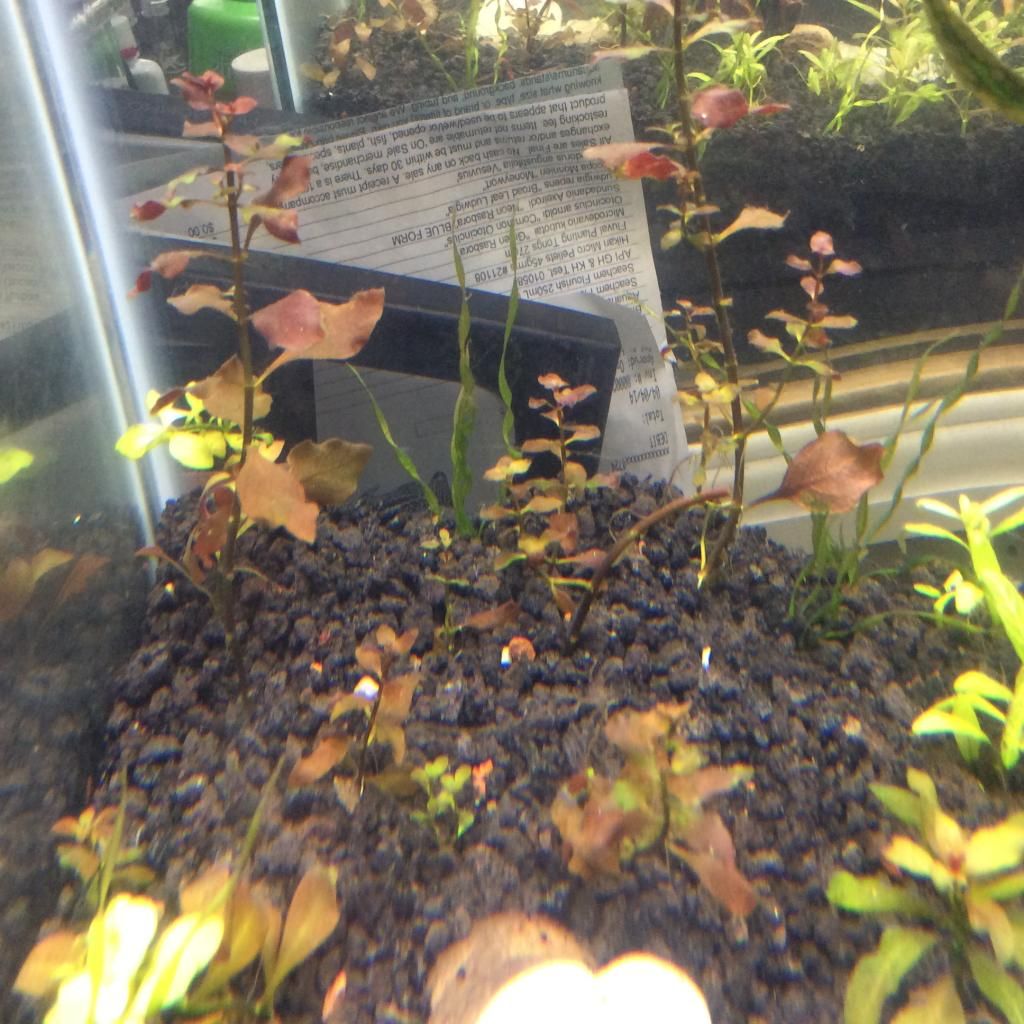 so ever since I re-scaped my tank (and before as well), it appears that the leaves on my plants, especially my oriental sword and sunset hygro, are dissolving/disintegrating, like they are corroding from the outside in. everything looks ill right now, and a little bit dusty. prior to the rescape I treated the entire tank with Ich Attack for around 3-4 weeks or so, and did not see much melt. pics of the tank right after planting in the link in my signature.
here are my tank specs:
tank: 20H
substrate: ~45lbs eco-complete black
filter: fluval aquaclear 30 HOB
heater: 100w ViaAqua ceramic heater
lighting: 24" finnex planted+
ferts: excel 3x weekly, flourish 2x weekly, though since I have moved my fish out of the tank, I have been dosing ferts in small amounts every day.
water params:
pH: 7.2
KH:4 dKH
GH:3 dGH
NH3: 0ppm
NO2: 0ppm
NO3: 0ppm
when I had the fish in the tank, my readings for NH3/NO2/NO3 were exactly as theyre listed above. is this solely a nitrogen deficiency?
flora:
java fern (x2, on branches)
hygro sp. "japan"
lindernia sp. "india"
sunset hygro
crypt wendtii "brown" (?)
ludwigia sp. "ruben"
another type of ludwigia, not sure on species.
echinodorus sp. "oriental"
vesuvius
crypt "green gecko"
& some pennywort I have floating.
thank you for all your help!!