Follow-Up: Household CF Bulbs, Growing HC, and Non-CO2...
I wanted to follow up to this thread to share some more ideas on lighting with household CF bulbs. AirSong originally had posted asking how much light she should use to light her 2.5gal non-CO2 tank... She was interested in growing HC or other carpeting plants. To her, I answered that she would probably need more than 15 watts. I didn't want to leave it at that however. I set out to investigate and find the right answer. As such, I duplicated her setup: tank size, fixture type, water depth, distance of light from the water, etc... and then took some measurements.
The answer is that you can use anything from 14 watts to 27 watts, and beyond. It all depends on how you set it up...
I personally believe that many hobbyists underestimate the need to accurately quantify their light - especially when they are plagued by unexplained algae or dying plants. The growth in non-CO2 tanks is quite slow and getting feedback takes too long. It's good to know from the start that your lighting is in a good range, so you can eliminate it as a variable if your tank is "less than desirable".
As I discovered, these CF bulbs (14-23 watts) seem fairly tame, but how you use them can mean the difference of not having enough light, and having way too much. And believe it or not, that difference can manifest itself just by moving the light up or down a few inches.
I created a several slides to show what I'm talking about. I hope this will help illustrate how things like reflector type and distance make a big difference, and can't be overlooked - it is also the reason one person's success with a particular bulb may not be your success.
(Hopefully, you've turned off that pesky "image resize" in your user preferences - if not, make sure to unscale for readability. )
Diagram1 - Household CF Bulbs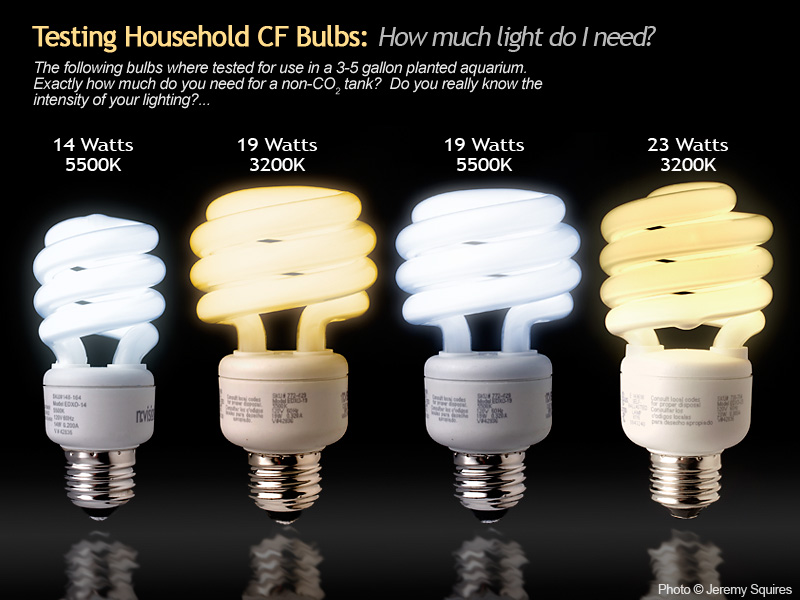 .
.
.
Diagram2 - Measuring Household CF Bulbs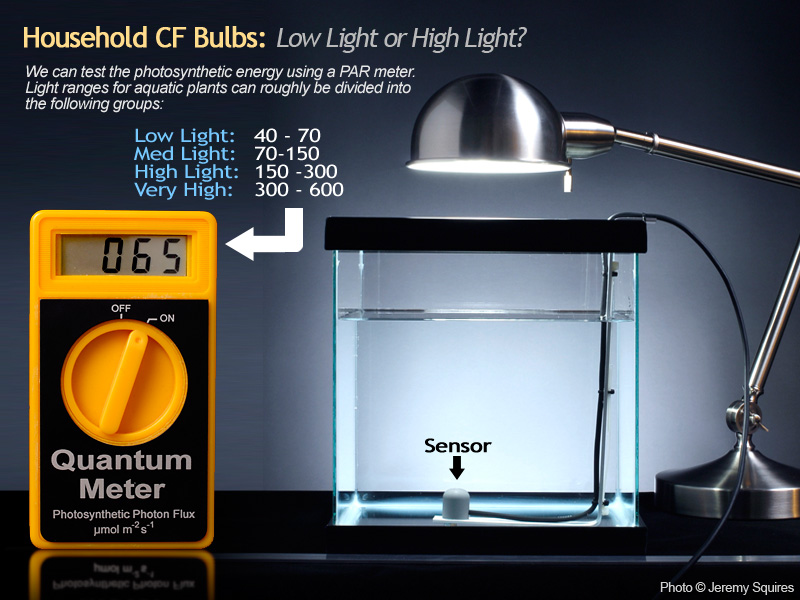 .
.
.
Diagram3 - 19W, 5500K Example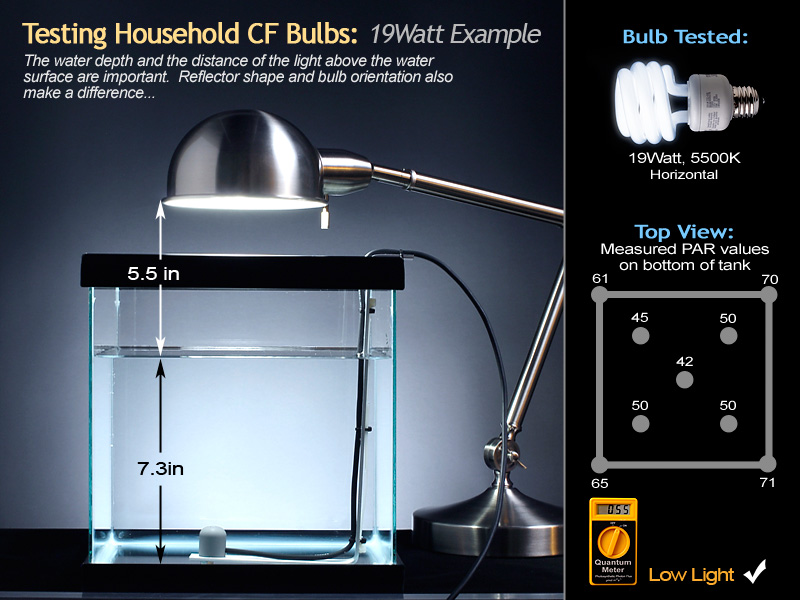 .
.
.
Diagram4 - Does Color Temperature Matter?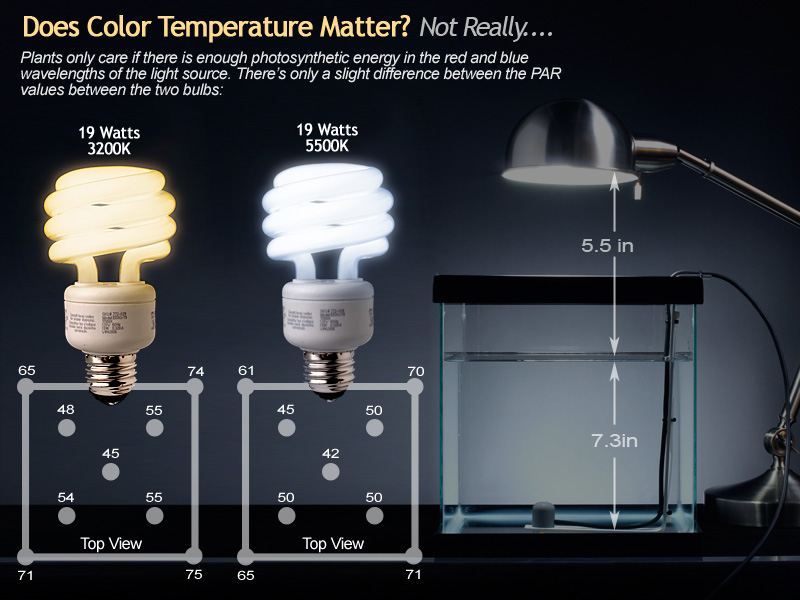 .
.
.
Diagram5 - 23 Watt Extremes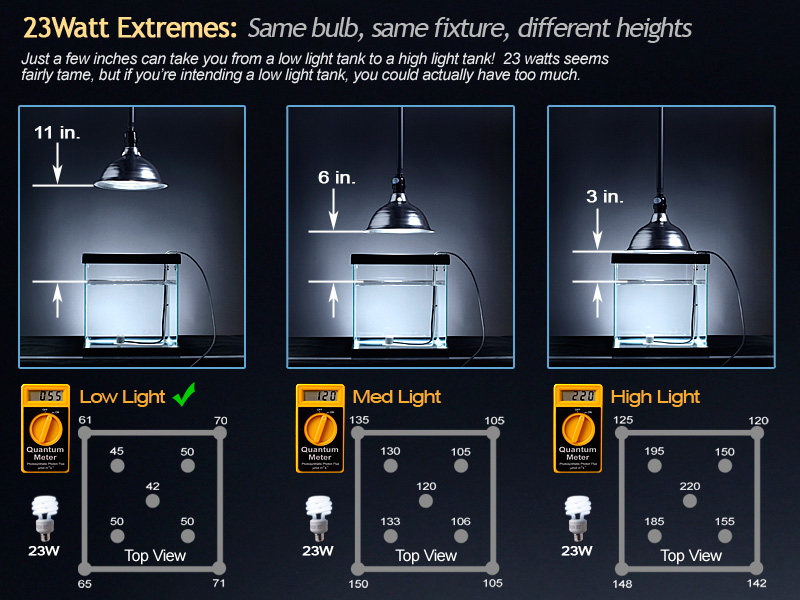 .
.
.
Diagram6 - Reflector & Orientation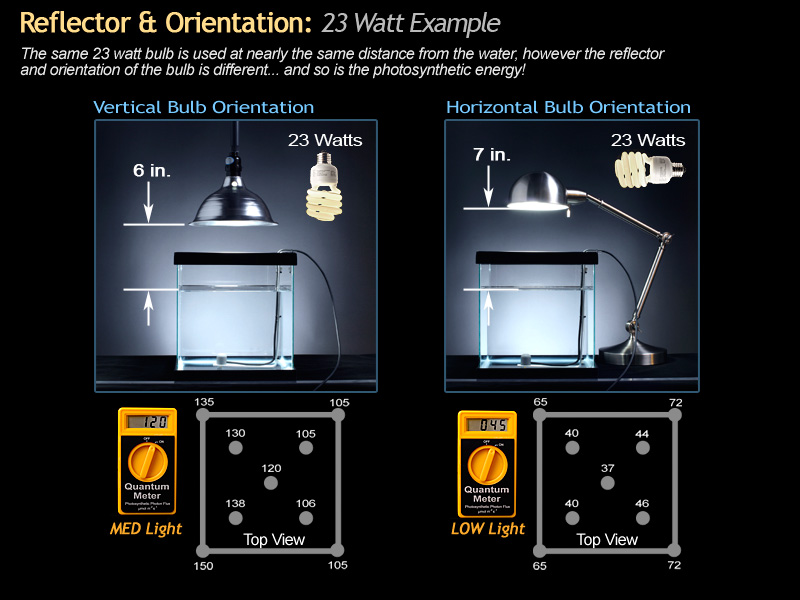 .
.
.
Diagram7 - 14 Watt Example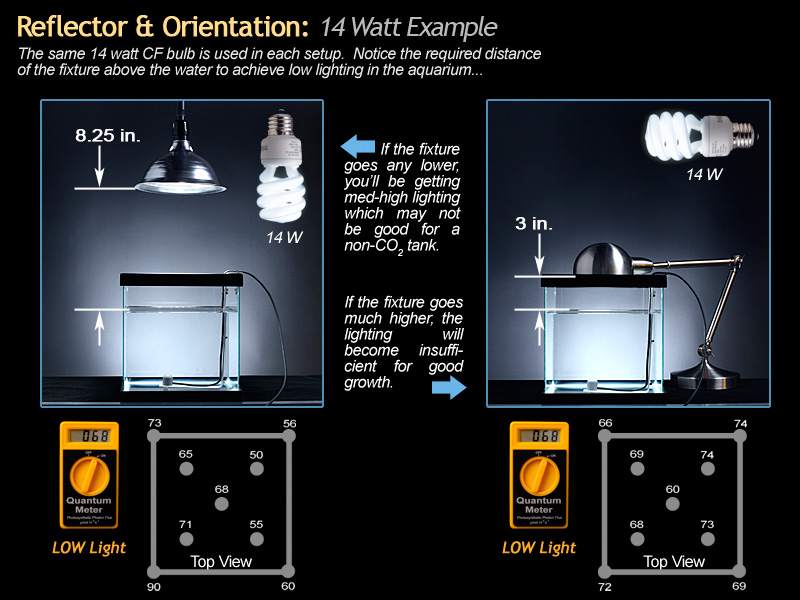 .
.
.
Cheers!