As we all know, this hobby is addictive and after setting up my 60g I decided to turn my old 55 into a terrarium/herb garden for my Eastern American Toad. She loves the new space and proper habitat, but changing a small bowl of water literally every day was getting real old real fast.
Welcome to Paludarium Paradise v2.0: 55g
It's undergoing a major redo right now, so it looks really ugly, but this little duckling will grow-up to be beautiful!
The tank is a standard 55g with a broken T-brace, so it couldn't be turned into a full-blown aquarium (You haven't had an OH $H!T moment till the T-brace on your tank fails explosively on the 54th gallon of water). The water area worked out to 5.6 gallons total volume.
I found this beautiful piece of Manzanita at my LFS, which I think will work perfect for my vision. I'm going for a very simple minimal type aquascape. Substrate is going to be black, either BDBS or Amazonia. I'm all about low-tech, low-maint, so any suggestions about which substrate is better (aka. easier) would be awesome. Plants are going to be S. Repens, Anubius petite and nana, and either a fern or sword in the back left corner.
Other than that there will be a rock feature in the back right for the toad to soak in about .5" below the waterline (she loves to just soak in the water, and use it as a bathroom, lol), because toad's are terrible swimmers she needs an easy in easy out solution.
On this end-plate of glass I will be making a glass waterfall. It is going to be the filter return, that is pumped up a tube and then a spraybar will evenly distribute the water down the whole side of glass and back into the aquarium. I think it should look pretty clean and Zen. I needed a quiet solution, because this tank is in the bedroom.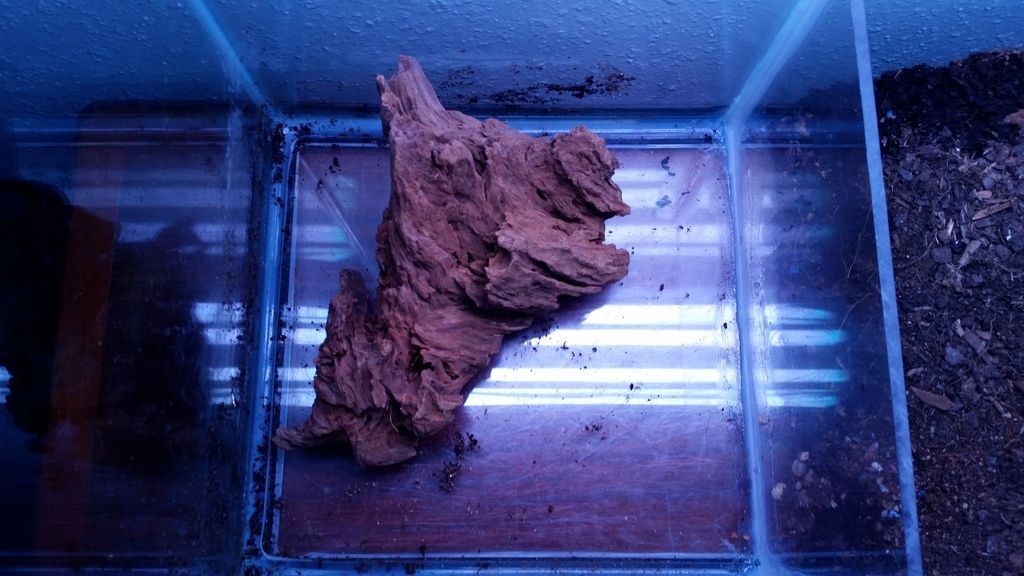 Seeing as how it's a nano tank, I will be stocking it with nano things, hahah. I'm thinking a nano fish of some kind, I was looking at Tetras, but I'm open to suggestions (looking for easy and I'm not particularly keen on all the Tetra diseases and problems). After I get the main nano fish I'm thinking either some Shrimpies or a small school of Cory's, just cause I love them.
That's all for now, more later when I finish up!