Hello TPT!
This thread will chronicle the development of my paludarium and the inhabitants which reside within. I'm new to the world of planted tanks, so any and all constructive criticism and compliments are welcome!
First, an intro:
I'm Topher, a freelance photographer based out of Austin, TX (look me up for all your Real Estate and Fine Art needs
) I got into this hobby back in April, when my neighbor abandon his tank outside with all of the current inhabitants still inside! Since then I've become obsessed with both the planted aspect and the fish/amphibian keeping aspects as well.
The Tank:
Its a Marineland 60g, that I bought at petsmart with a stand on sale for $175.00. I've set it up half water half(ish) land.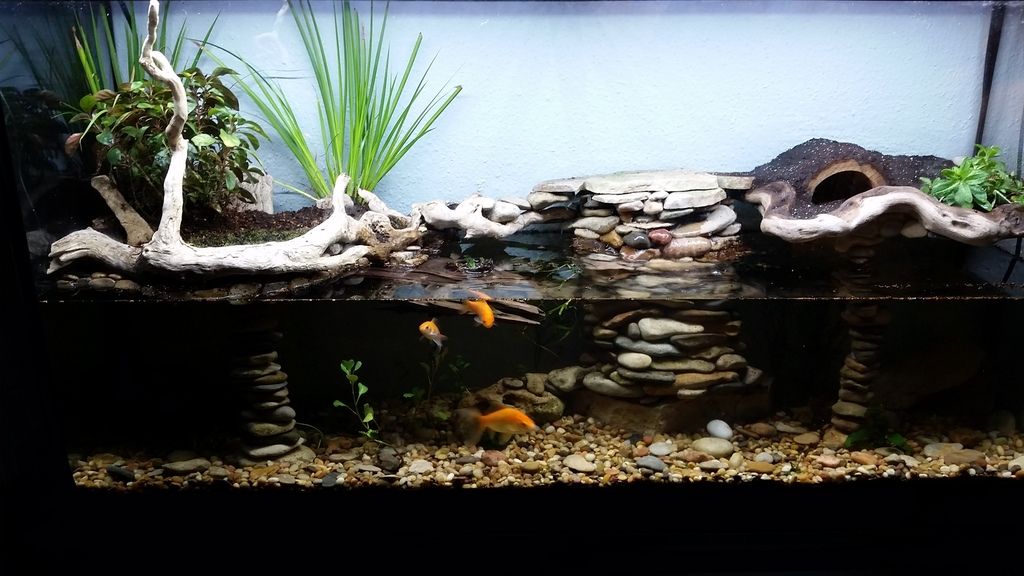 hardscape is mostly all riverstone harvested locally and the plants are all low-light Anubius, Java Fern, Jungle Val and a few others who's names escape me at the moment (yeah I'm a noob).
The left side of the tank is the wetlands area. There is a drilled plexi platform just below the waterline, which allows the peat moss substrate to be constantly wet and allows me to grow riprarium plants like Sweet Flag, Raspberry Swirl Joseph's Coat, and moss.
The right side of the tank is completely separated from the water to form a dry prairie type area for my Eastern American Toad. It has an organic dirt substrate for him to dig in, as well as for growing Forget-Me-Not, Blue Flax for some background color and dimension and Dichondra for ground cover.
Equipment:
This is a low-light/low-tech tank, so nothing fancy here. For filtration I have a Tetra Whisper 20i hidden in the rock structure for the water fall, there is a Penn-Plex Cascade 1000 canister filter under the tank for primary filtration and water movement. Temp is monitored with a Fluvial digital thermometer. For lighting, I have one 48" Finnex Planted+ 24/7 and two 17" T8 fixtures wired to a digital timer. One T8 has a ReptiSun 10.0 UVB bulb for the amphibians and the other is an UltraSun. for ferts, I dose Flourish comp every few days and a cap of Excel every morning.
The Residents:
Underwater I've been keeping it simple. I have 3 Comet Goldfish; from left to right their names are Goldilocks, Philip, and John.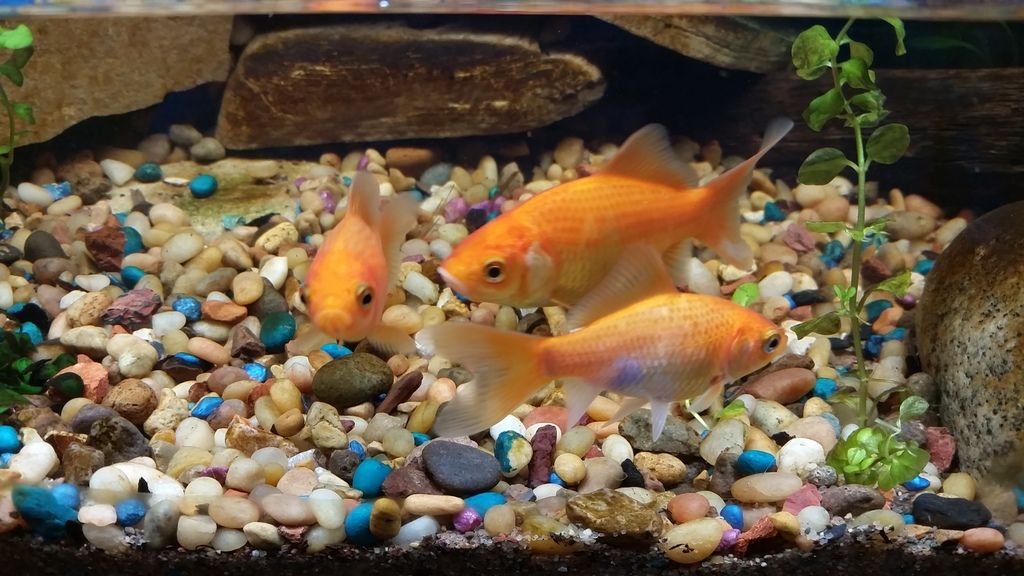 I also have two Zebra and one Tiger Nerite snails.
Topside, there is Dudley, the biggest of the Frogs.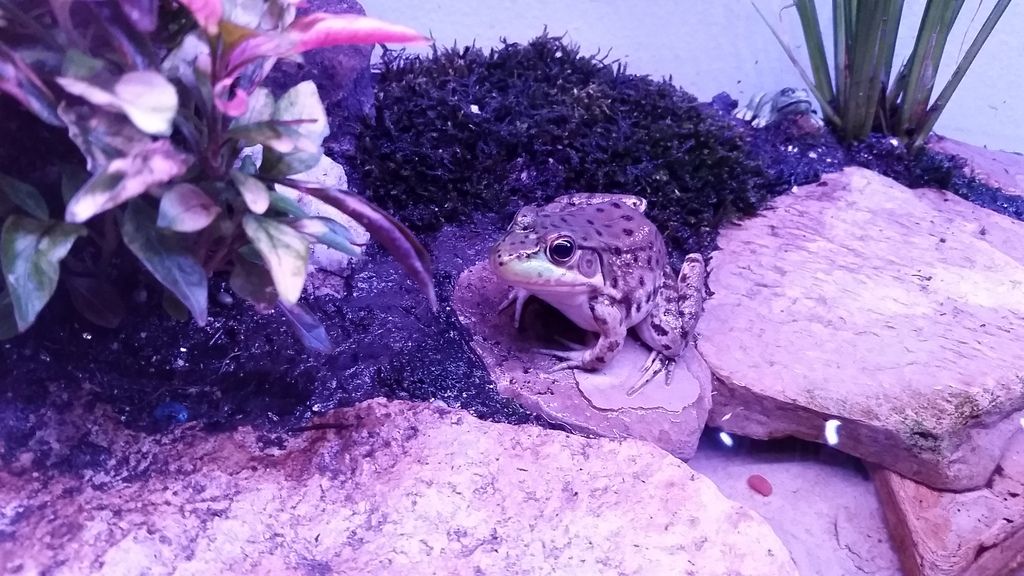 Then there is Kira, the dopey Northern Green Frog.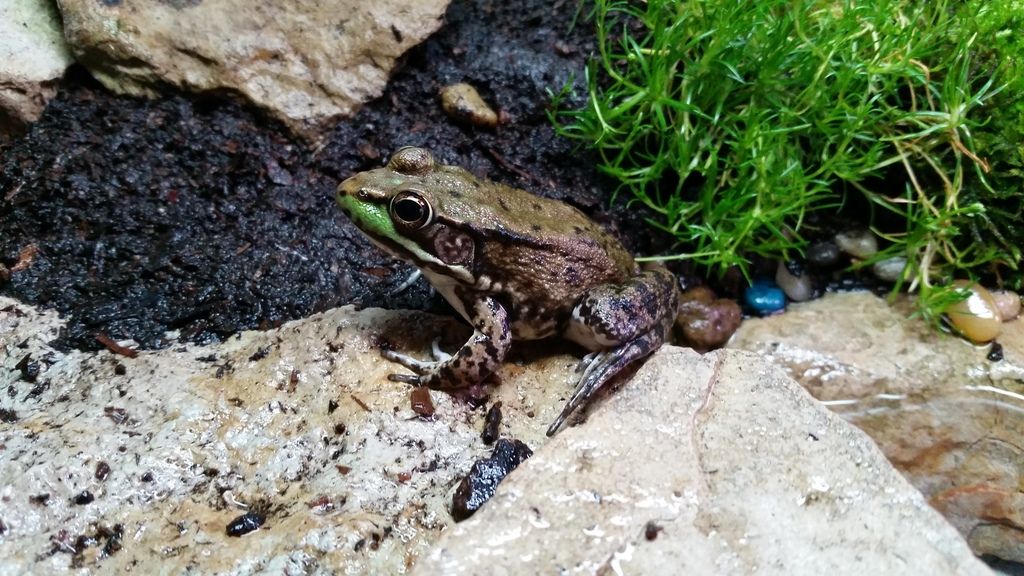 She's a sweetie.
and last but not least, the super animated and perpetually grumpy Mr. Toad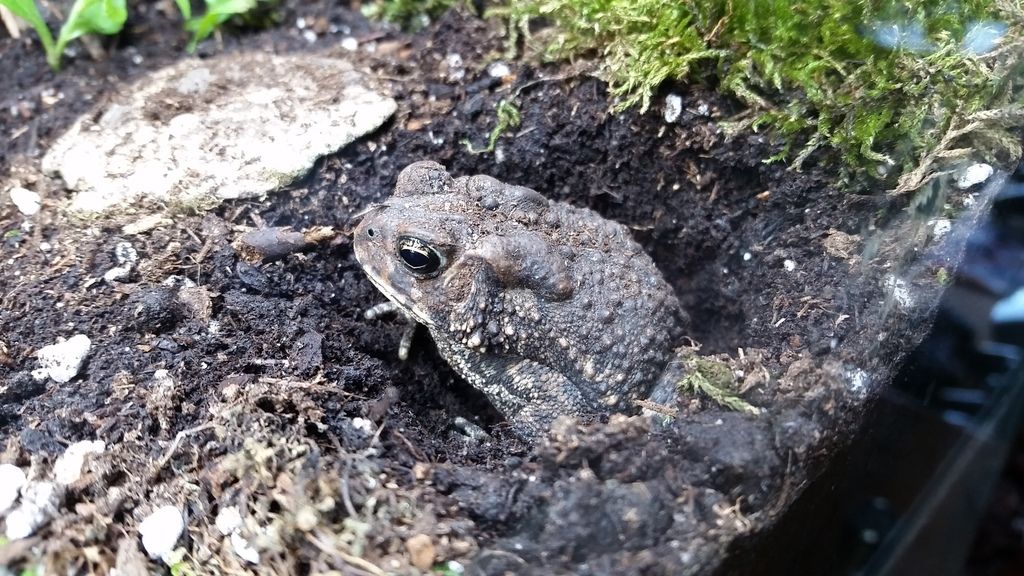 (he says, "Get off my lawn!")
A short and terrible video of everything in action.
https://youtu.be/mfi8hryjoWE
Thanks for reading!