Discussion Starter
·
#1
·
Decided to make the switch from a reef tank to planted due to maintenance, will be re-using a lot of what I had for the reef.
Tank: 36"x24"x24" 1"thick acrylic with a 20" wide external overflow.
Substrate: 160 lbs of eco complete
Ferts: Some N, P, K, and CSM+B to a bit of water and mixed in prior to planting (took a best guess at how much of each, not much) and a few root tabs on the bottom.
Lighting: vertex sr900 (LED's), it puts out a ton of par (red add-on 620nm led pads are in the mail). Will turn down the lights when I fill it (they dim/can be programmed) to about 30-40%.
CO2: plan on getting pressurized CO2 with a reactor.
Filtration: will be using a sump with (2)mesh filter socks for mechanical filtration and submerged media to cut back on CO2 loss. I have leftover kaldness k1 for a static bed or may use something else.
Auto topoff: another left over from the reef, best thing ever with a sump.
Controller: Apex controller for temp and ph + power control (from the reef)
For stocking I haven't decided on anything but was thinking about:
rummy nose's or bloodfin tetras (12+ of one or the other)
Apistogramma agassizi or Apistogramma viejita (pair)
few ottos
and maybe something else? pencil fish maybe or something that stays in the top 1/3?
Plants are undecided, I may stay away from stems so I replant less and do something like a java fern bush on the bottom of the right side wood or crypts ?
Currently im growing out a HC lawn, was planning to let it grow in for another month or so and figure out what else im putting in it.
The HC seems to be taking off, when I picked it up it was mostly light green/yellow with some dieing leaves visible but has colored up and started putting out new leaves.
On the emersed growth I went with:
14 hour photo period with a 1 hour ramp at the beginning and end of the cycle, LED's are at 95% white(48 leds), 15% blue(24leds), 10% royal blue(24leds).
The tank hits 92 degrees at peak and cools down to 75 every day for the last week.
.35mil plastic covers the tank. I take it off for the last ~3 hrs of the photo period and mist a bit, leaving it off for a hour or 2 after the photo period ends then place it back on.
On 8-22 when I started it
On 8-29 showing a weeks worth of growth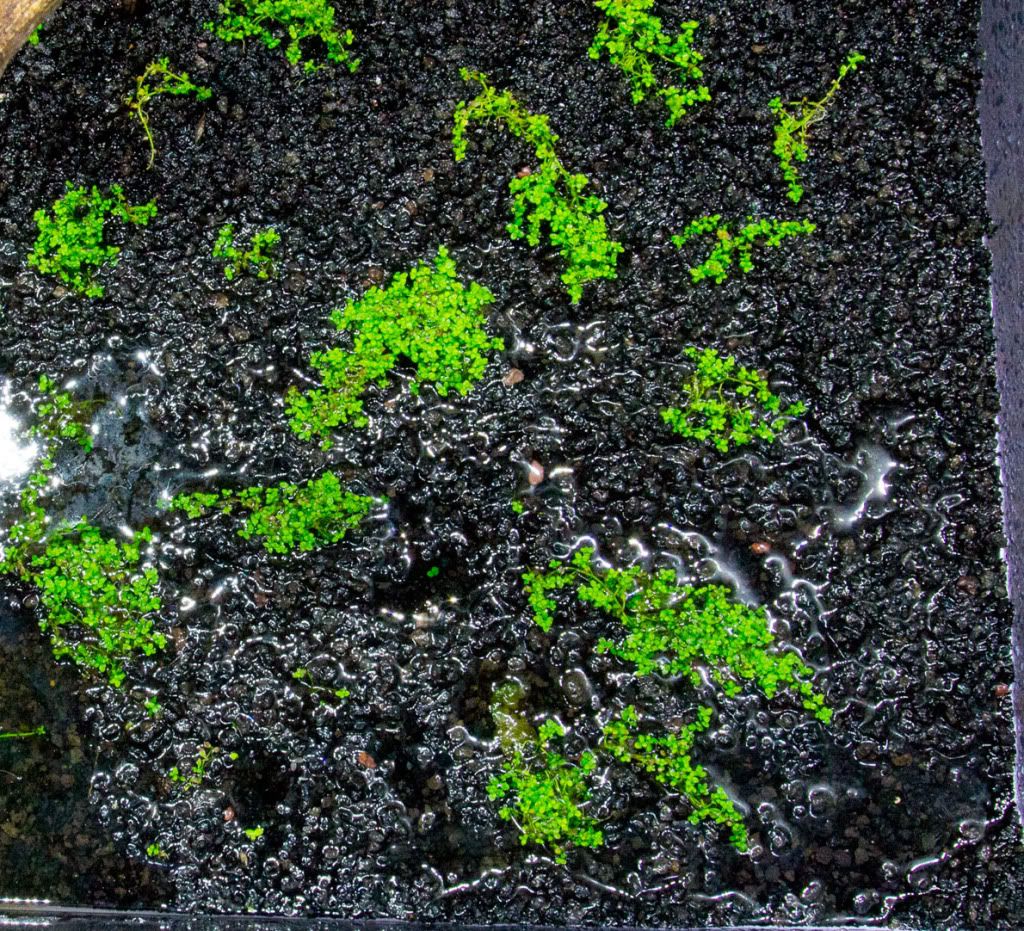 And a FTS from 8-29. I ordered 1 awesome piece of wood and shipping turned it into 10, so making due with the bits left.