Discussion Starter
·
#1
·
Hello everyone.
I have been reading this board for a while and have been captivated by all of the wonderful tanks that I have seen. I just recently got into fish keeping and the planted tank scene in the last three months and have thoroughly caught the bug.
I currently have a 46 gallon planted aquarium, but am having horrible algae issues as my current DIY CO2 system is not enough for a tank that large and am looking into purchasing a pressurized system that should clear up most of my problems. Otherwise I would post a picture.
I am posting today, because I was able to purchase a 20 gallon long tank used and am planning on turning it into a shrimp tank. I really like the RCS shrimp, but am afraid that I might kill all of them and plan on starting out with some cherry shrimp which I find just as fascinating.
Here is my tank plan, and questions. Any advise that you could give me would be greatly appreciated.
20 Gallon Long 30" x 12" x 12" idea and questions
Fauna
Cherry Shrimp
Can I have a schooling fish in the tank with the shrimp and expect some baby shrimp to survive? My wife really wants to add a school of 10 to 20 of the following: Are any of these better than the others?
Rummy nosed Tetras (Hemigrammus rhodostomus)
Glow light Tetra (Hemigrammus erythrozonus)
Galaxy Rasbora
Flora
I really think that I would like to try my hand at HC (Hemianthus callitrichoides).
I was thinking a nice Capet of this and then some interesting rocks with maybe some dwarf hair grass (Eleocharis parvule).
Idea of what I am looking at creating.
http://www.aquaticplantcentral.com/forumapc/aquascaping/23346-wet-thumb-forum-what-is-iwagumi.html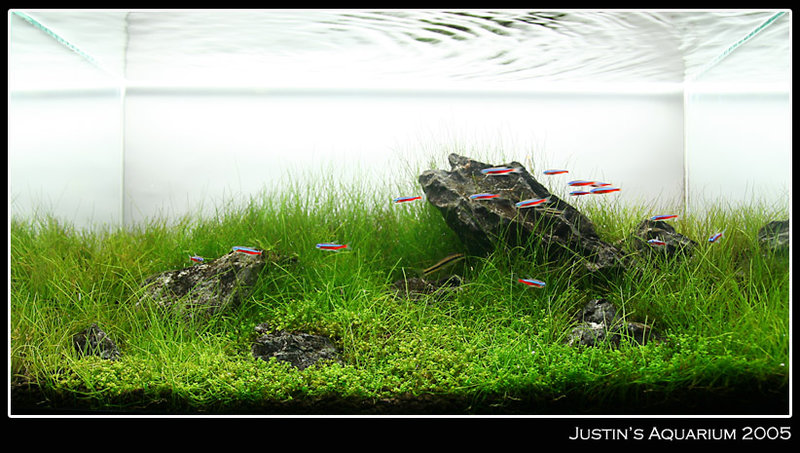 Equipment
With that being the idea for the tank. What equipment do I need to buy to get this up and running. Here are where the bulk of my questions come.
I was thinking that the since I am only using small carpet plants, it does not seem like I need to go overly thick with the substrate.
I am planning on using eco-complete and two bags should give me roughly 2 inches of substrate.
Is there any problems using this substrate with HC and Dwarf hair grass?
Lighting
From what I have been reading it seems like I will need a lot of light to keep the HC growing nice and low. I am not just sure how much light I will need.
I could go with
alife F/W T-5 Aqualight Double Strip Light-30" 41.99
two 18 watt bulbs for a grand total of 36 watts
Current USA Satellite 30" 65 Watt Power Compact Fixture-Single Strip W/Lunar Light 69.99
65 watts
Current USA Orbit 30" 2 x 65 Watt Power Compact Strip Light W/2 Lunar Lights 167.99
130 watts
Of these three which would be the best to use to use with my CO2 options, or any other options.
CO2 and Macros
I will be doing macros and trace using the EI method.
For CO2 I would like to use a simple DIY setup. I currently am running a DIY setup of two 1 gallon jugs on a 46 gallon tank, but it does not hold a constant reading for this tank and was thinking of transferring this setup to the 20 gallon long.
Do you think that I can get consistent enough results to grow HC and dwarf hair grass, and if so which lighting option should I choose: 40, 65, or 130 watts?
Filtration
I would like to run a canister filter on this tank. I still have not decided which brand or size. I have an xp3 on my 46 gallon and am happy with that, and may go with an xp2 on this one.
Would this be okay and what do I need to do to keep the intake hose from sucking up all of my baby shrimp. Is it as simple as buying a foam pad to go over the intake and if so where might I find one?
Sorry for the long post, but thanks for all of your help and suggestions.