Discussion Starter
·
#1
·
Just thought I would throw this one up here. I got a 10 gallon at work a coworker didn't want to deal with anymore, so I decided to make a low tech with it. After asking a lot of questions about small tanks and low tech here, I got it going. Unfortunately, I didn't get a chance to take any before pictures.
The tank started out with an AC mini filter and 10 neon tetras and plain gravel mixed with some black sand the previous owner had. Lighting was a DIY desk lamp with a 15 w Floraglo.
I was going to change the substrate, but then after much pondering, I decided that I didn't need it without having any heavy root feeders, and the tank is old an established already, so there was plenty of nutrients in the gravel.
Anyway, here's a pic: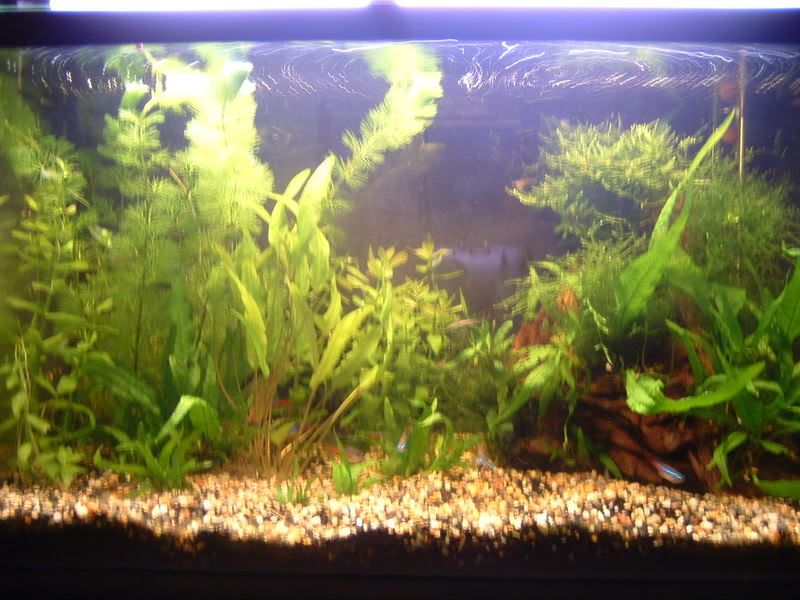 Specs are as follows:
Penguin 100
30 watts (15 for 9 hours, second 15 for 4 hours midday)
Excel once a week
Trace once a week (and a bit of K2SO4)
One piece of Malaysian Ironwood (tainted the water a bit yellow)
3 Amano shrimp
15 Red Cherry shrimp
9 Neon Tetras
I did have 2 otos in there, but the first one died within 7 days, and the second one died a week later. I never seem to have any luck with those. The last of my otos died in my 20 gallon at home after 1 year last week.
One of the original neons died mysteriously when I first started planting, but it may have been due to feeding with frozen bloodworms. Might have been bloat from the food being too rich, as the previous owner barely remembered to feed them and only with Nutrafin community food.
I switched the filter because the AC was old and very grungy and I didn't feel like cleaning it. I just ran both together for a week and then removed the AC. The Penguin also has better flow. Since I don't do CO2, I didn't care about the biowheel.