Discussion Starter
·
#1
·
Just changed this tank up, have the hardscape done, or at least I think so. If theres anything you thing I should change I'd love any feedback.
Planning an hc carpet, some downoi, some ammania bonsai, some dhg, and something with color.
Any other plants you think would look good in this tank?
Light is currently a marineland double bright, but I have a finnex fugeray planted+ in the mail now.
I will be getting a pressurized co2 system in the next week or so.
Substrate is flourite black sand. Also, I will be dosing with the ei method using dry ferts.
Anything you think I could do better? Any idea if the fugeray will be enough for hc?
The first pic is my hardscape, the second one is my tank while it was set up low-tech.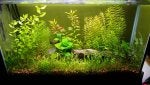 Sent from my SM-N900P using Tapatalk