Discussion Starter
·
#1
·
Hi,
I recently got back into planted tanks after spending a few years in SW reefs. I'm still relatively new to planted tanks and have enjoyed reading various members tank journals. I decided that I would go with pressurized CO2 this time and also with smaller tanks. I selected two tanks from ADA, a 30-C because I've always liked cubes and a 60-P for a more traditional layout.
I ordered the 30-C cube from Aquaforest in SF, CA and it arrived well packed and with a free copy of the ADA 2006 layout. Will definitely order from the Lo brothers again.
The rest of my order came from ADG, and the Senske's were very pleasant to deal with. My 60-P came boxed separately from the rest of my order and was well packed. I also ordered a large bag of Aquasoil and two grey line kits for my glass CO2 diffusors. In my opinion both outfits are great to deal with. The ADA tanks have very clean lines and good silicon jobs, glass is a bit thinner than what I expected but that shouldn't be an issue.
I bought a set of glass intake/output tubes from Cal Aqua labs and they look great and a set of glass diffusors from Aquatic Magic which have not arrived yet. For filtration I will be using Eheim 2224's with Hydor inline heaters. And both tanks will be lit by a pair of 70 watt metal halide PFO pendants running 10k bulbs off electronic ballasts.
I plan on running both tanks off the same CO2 system so I ordered a small manifold from Rex Grigg and when that arrives I'll hook up the CO2 system to run off the light timer via a solenoid.
I'm still in the process of building my own stands for each ADA tank. I've finished the small 30-C stand. I followed the general directions from other folks that have done ADA like stands, I used 3/4" MDF and two coats of primer and sprayed a flat black for the finish coat.
Still deciding on plants and such, I may go with Eco complete for the small cube since that is what I used on my last planted tank. I may use the Aquasoil on the 60-P only unless I hear that Aquasoil is so much better than Eco. I do plan on some HC or similar foreground plant in both tanks.
Some pics
Tanks unpacked
Tanks moved to basement fishroom along with other equipment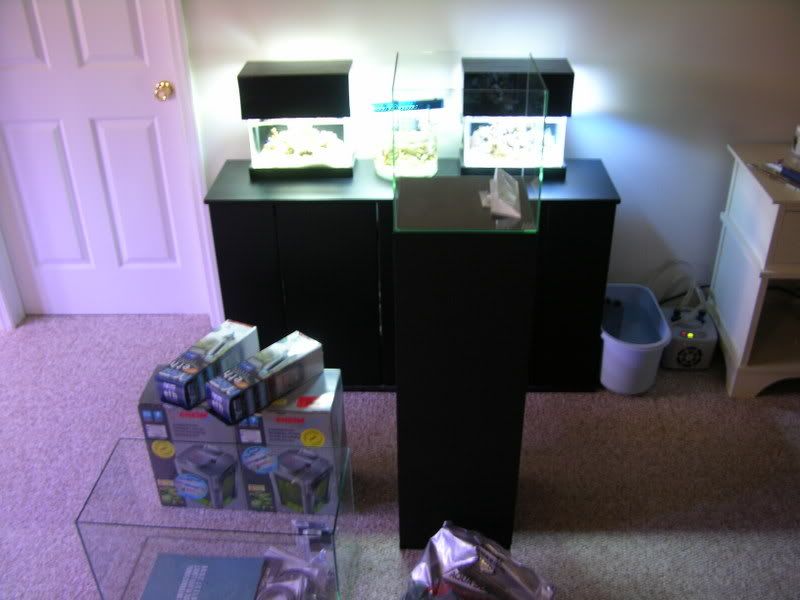 Door open on stand (it comes completely off since its such a small stand - the Eheim barely fits in there.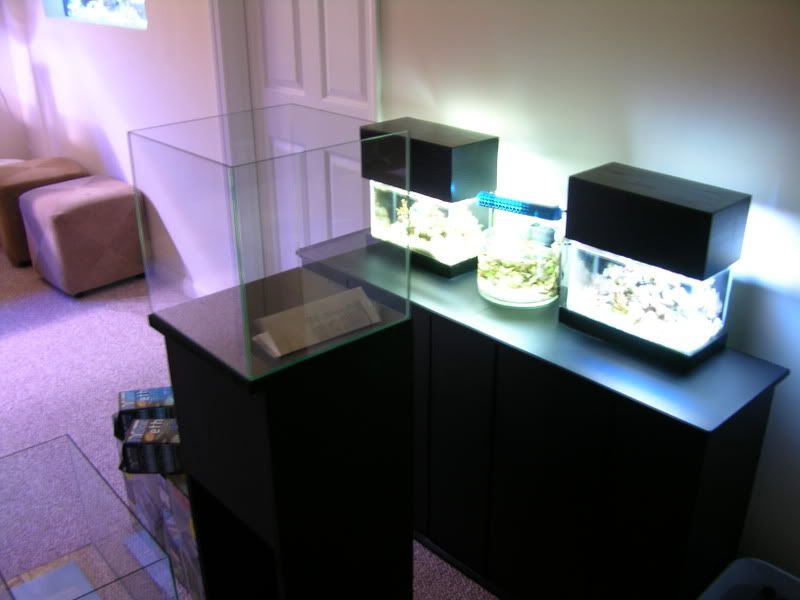 The tanks behind the ADA are my nano reef setups, two 2.5G tanks plumbed to a common 10G sump and a 1 gallon cylinder reef and a large in-wall reef.