Discussion Starter
·
#1
·
Hello all,
this is my first attempt at a hi-tech planted tank. I had spent months reading and looking at tanks, and was torn between doing another reef tank (which i've done for years) or trying something new. The flowing lines and tranquility of the nicer planted tanks I saw won me over and here I am. The tank has only been set up for a week and I can already say with confidence it is going to be more challenging than any of the reefs Ive done in the past. I've been fighting with my solenoid and diatom algae, but I think I'm winning finally.
So here's the tank:
It has a long way to go, but I'm pretty happy with it as a first try at aquascaping. I think when the Blyxia and HC grow in and I give the stems a good trim it should look pretty smart!
Specs:
tank: 65 gallon all glass
filter: fluval 306 canister
lights: 4x 39w t5 ho's (two fixtures right now, but I going to order a coralvue 4 bulb ho t5 with 7 1w dimmable leds) 3 geisemann 6000k's 1 aquaflora.
I spoke with the vp of coralvue (who is also involved in maxspect) and he told me that the Maxspect Razor 8,000k model should be available in the us the last week of January, so depending on how much I like the coralvue t5 I might try and go the LED route... we'll see.
co2: 1 bps azoo regulator with solenoid on timer and a 5lb tank on 1 hour before lights and off 1 hour before lights
ferts: ada green brighty step 1&3 (3 for iron and more potassium), brighty k, and special lights, flourish excel daily; and brightwell trace and flourish weekly
Substrate: eco complete, fluval stratum
hardscape: black lava rock, ghostwood (pain the butt, it took two weeks to sink and 4 before it stopped horribly leaching tannins... it still yellows the water a bit)
water changes: 10% daily (Ive always preferred small regular water changes)
temp: 76 f ph: 6.6
Plants: HC, cryp parva & wendiiti, cabomba (green and red), red myriophyllum, micro swords, rotalla (2 kinds), blyxia japonica (has been flowering under water which is pretty cool), and some luwidgia. Will probably add some glosso this weekend to fill in the front a little.
Planned fish: school of something small either threadfin rainbows, green micro rasboras, or ember tetras (I'm open to suggestions!), hatchets, and a small group of dwarf cichlids (appistogramma or rams)
some more tank shots: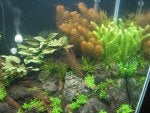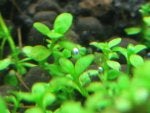 I'd love to hear any comments or suggestions. Thanks for looking!