Discussion Starter
·
#1
·
Hey everyone! After much thought and research, I decided to take the plunge and try my hand at a planted tank. My tank has been up and running now for about two weeks and I've got a few questions about my plants and fighting algae. First, my setup ... my tank is a 20 gallon high with a 2-2 1/2 inch deep layer of black flourite for substrate. I'm running a Fluval 206 canister along with a Fluval Aquaclear 30 HOB filter filled with just carbon. I'm running an Ista Water Plant CO2 system for CO2 injection using a MaxMix CO2 reactor plumbed to my canister filter. Lighting is an AquaticLife four bulb 24W T5HO fixture running two 6700K and two 650nm Roseate bulbs. So obviously I'm running high light as PAR at my flourite bed runs between 55-73 depending on where you located the probe. Photo period 14 hours, getting ready to cut back to 10-12. I dose with Flourish complete and Iron, 1/2 cap of each every other day.
I'm trying to get my system balanced and as expected, given high light and a long photo period, I'm starting to get green hair/string algae growth. I've got some pictures below to show it. I bought a CO2 indicator and am still tinkering with figuring out how to read it. The past few days the indicator solution has been blue (indicating CO2 levels are too low) and I have been slowly increasing the CO2 infusion for the past three days. Today the indicator is a green/yellow and I'm not sure if it's on its way to full green (optimum CO2 level) or if I've overshot as green/yellow indicates too much CO2 (but its not quite the same shade as on the comparison card). Anyway, I also have pictures of my plants. The watersprite is pearling like crazy, some of the other plants have some pearling, but not much. There is minor browning the base of one leaf on my Java Fern, some small black spots starting on my Anubius nana, and random yellowing of some leaves on various other plants.
Any and all advice is welcome!! Thanks in advance.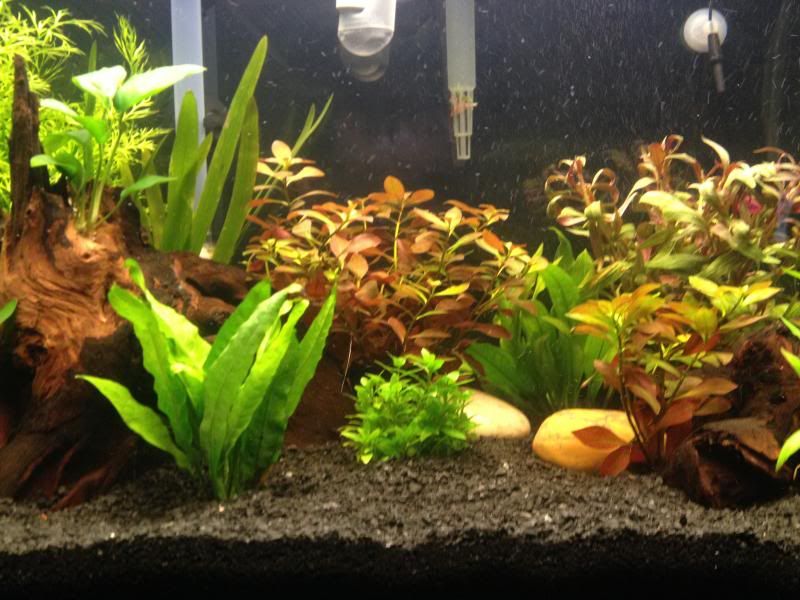 Full Tank Shot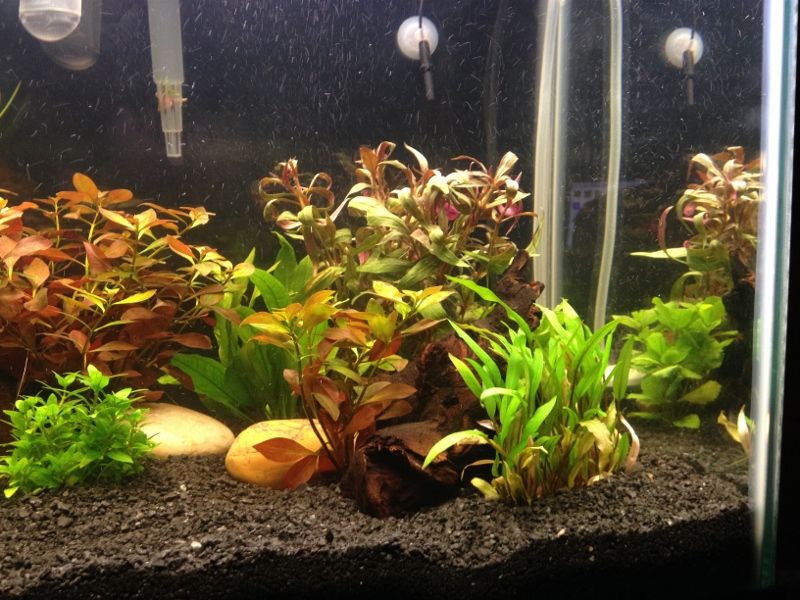 Left Side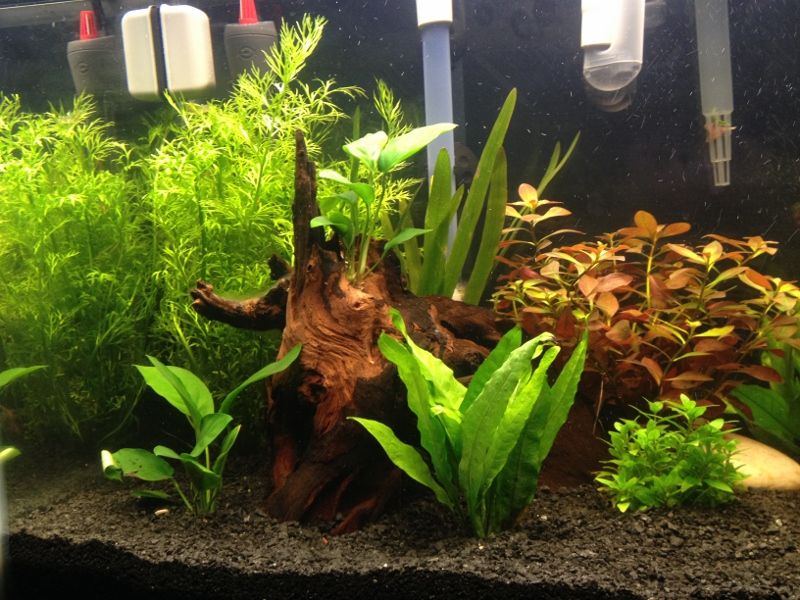 Right Side
These were taken about 4 days ago.