EDIT: Found the right pieces.... see my new post below.
I'm really enjoying my Leland nano regulator built by Rex Grigg, but unfortunately, the 88g cartridges run out in 2 weeks. I'm looking for an adapter so I can use the refillable 20oz paintball cylinders.
I've contacted Leland Ltd. and they don't have any adapters available.
I'm looking for an adapter as pictured below:
The only thing I found close to it, was this (and I bought it):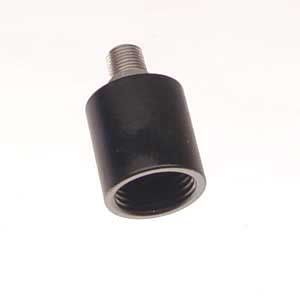 But the male threads are 1/8NPT, and I can't seem to find a 1/8NPT -> 3/8-18UNF adapter anywhere.
Does anyone know where I can find an appropriate adapter?