Hi People,
I'm really bad at Journals, but I will do a try
Like I said in my past post, When I move into my new house, I will set up a new 125 gallon tank. This is something new for me, my old tank is a 75, but this one has 4 bulkheads and I had to plumb it... I think I did an ok job, not the best one but ok (see pictures). I also decided to make my own stand. The stand is not finished yet, but I ran out of time and decided to leave it this way until I have more time to finish it.
Tank size: 125 gallon (72x21x18)
Substrate: MGOPS + Top Soil capped with Black Diamond Sand
Light : 2x GLO ballasts 4x GLO T5HO 39W with DIY Aluminum Reflectors and Hood
Filter : 2 x CFS 500
Heater : Hydor Inline 300W heater
CO2 system : Aquatek Regulator + 20LB cylinder
Diffuse system : Injected into inline reactor.
Dosing : EI

Flora:
HC
DHG
Ludwiga Repens
Rotala
Hygrophila corymbosa 'siamensis'
Amazon sword
Water Sprite
Banana plant
Tiger lotus
Anubias
...

Fauna:
Discus (10) Future
Philippine Blue Angels (11)
German Blue Rams (10)
Neon Tetras (30+)
Harlequin Rasbora (45)
Bronze cory (1)
Green cory (5)
Peppered cory (8)
Skunk cory (3)
Reticulated (net) cory (3)
Oto (I don't know how many I have)
RCS


DSM: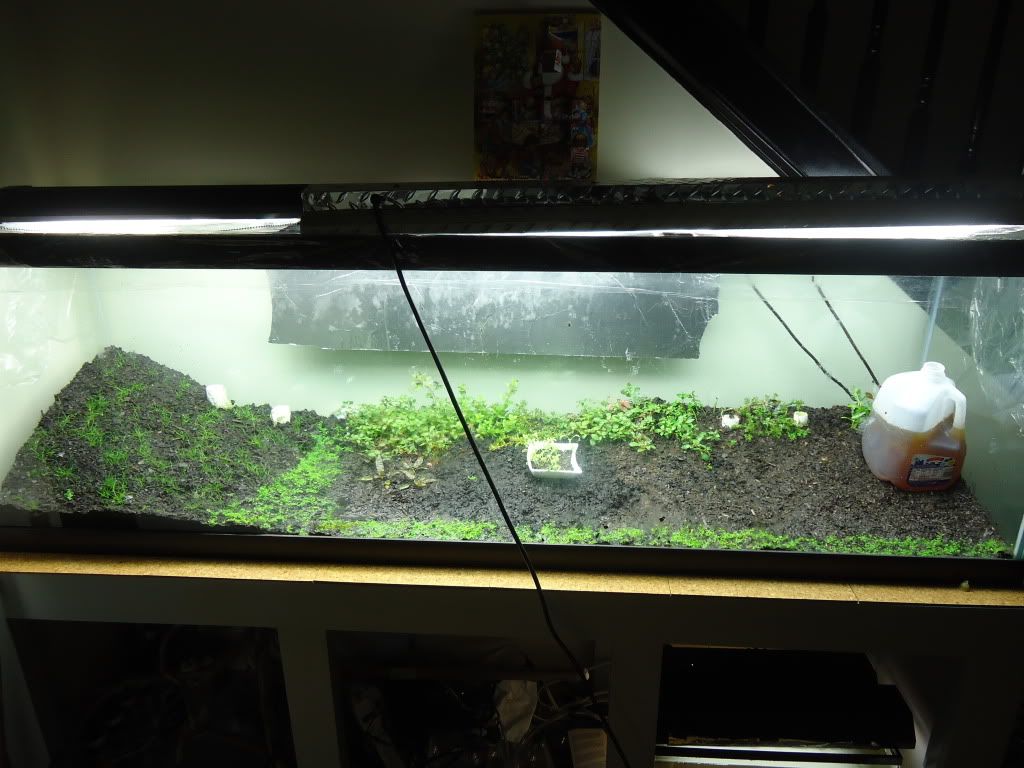 Filled 01/10/2012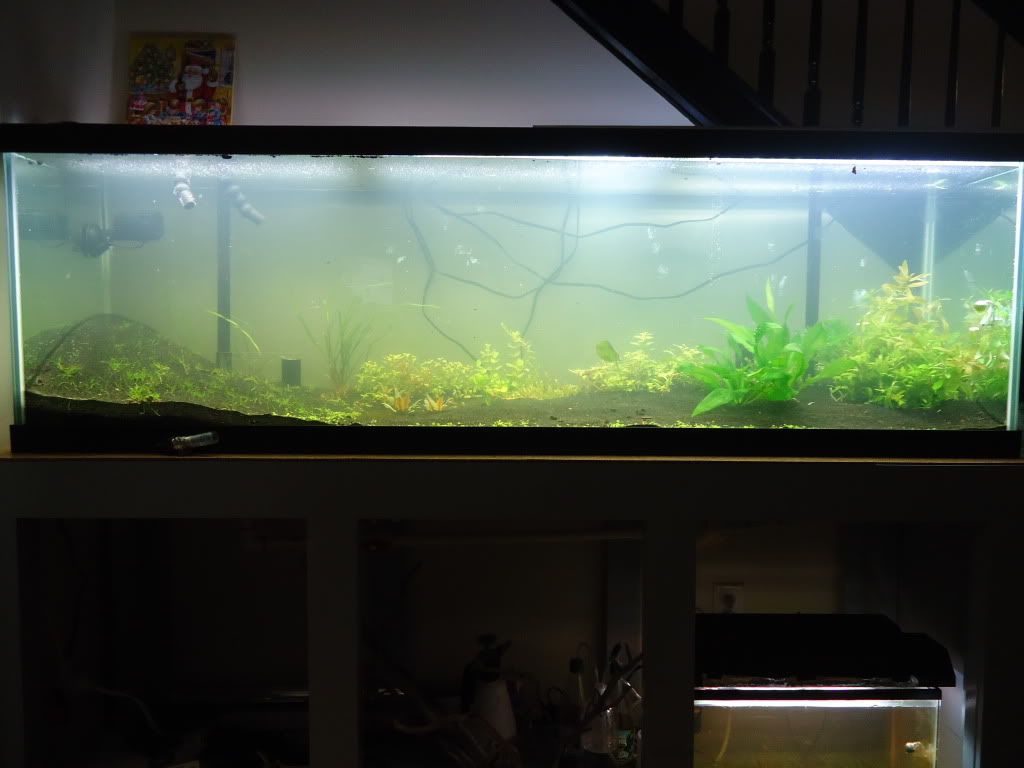 Couple days later: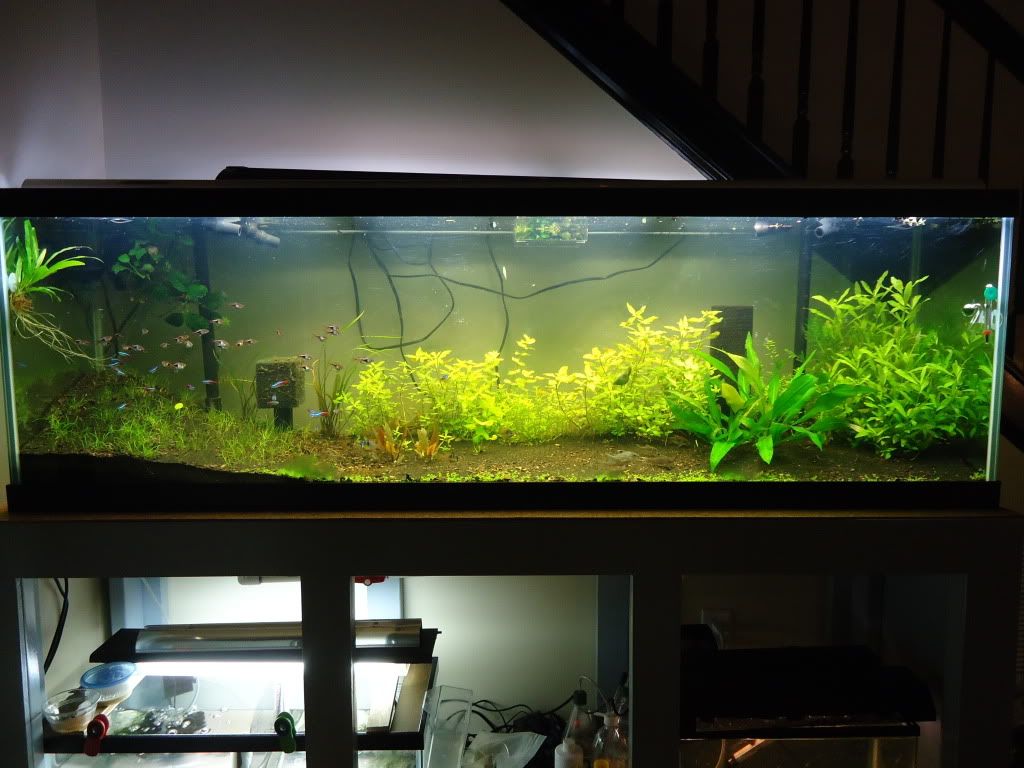 1/22/2012: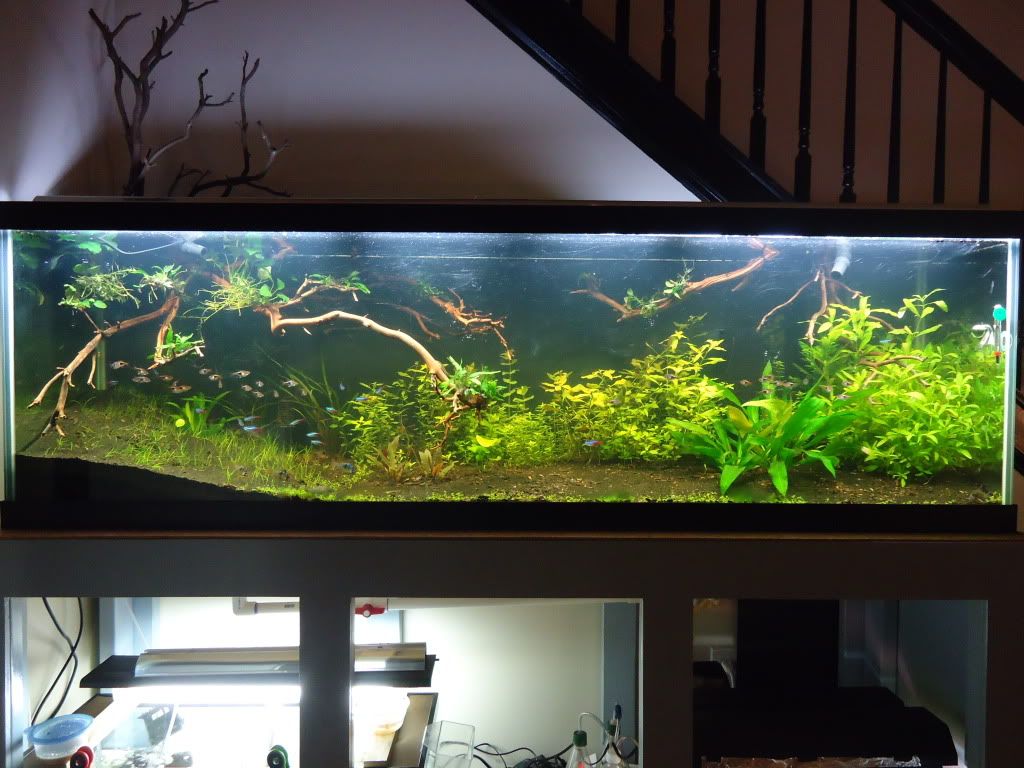 2/12/2012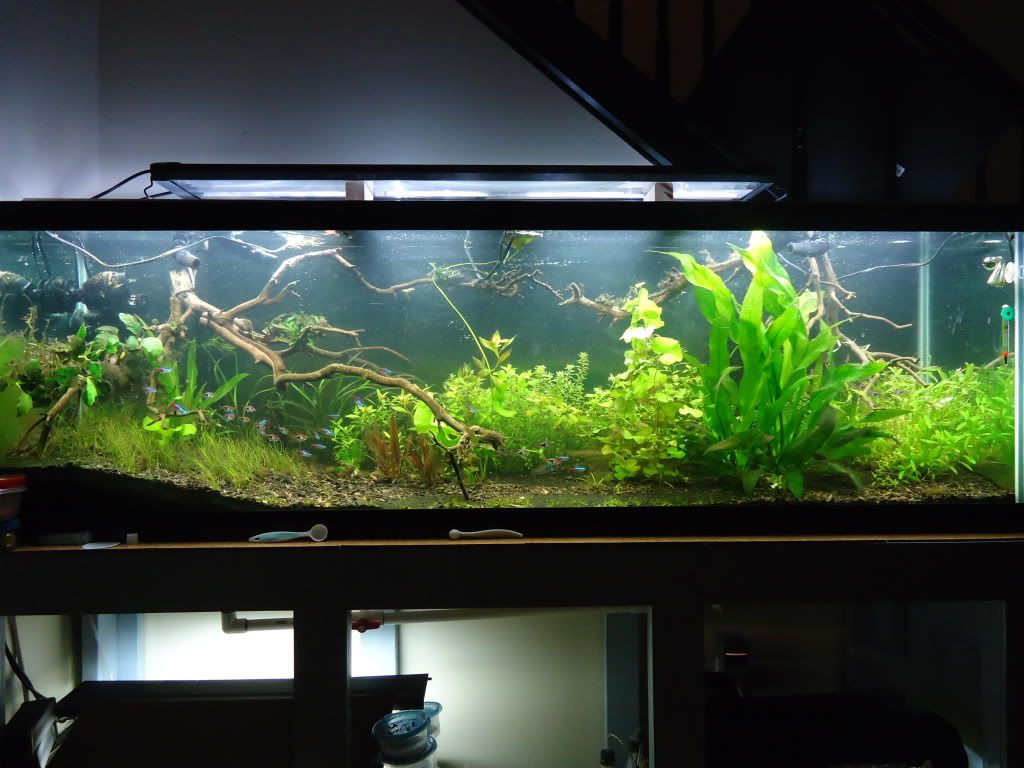 Here is the tank and the stand with plumbing stuff.
Firt plumbing under the stand, made holes in the wall, so I can keep all my filters in the garage.
Level and Plumbed in the front.
Plumbing under the stand.
First plumbing in the garage
Filling it up to see if stand is strong enough and plumbing holding it...
Cat was to curious and had to check it out.
Tank is filled, all 125 gallons are in there... but, tank is not level anymore.
There is a slope of 1 cm from right to the left corner... Is this bad?
Emptying the tank. And also almost finished with the plumbing.
(great stuff is good for more than just making backgrounds
)
Stability Question and pictures about the frame of my stand.
I made the frame out of 2x4s, here are the pics:
2x 4 posts over the with (both sides)his is ome of the middle posts.
Corner ( all 4 corners are 2x4s in L shape.
Is my stand strong enough, or should I add an extra line of 2x4s on front of the 2x4s? The frame of the tank is actually resting next to the support of the 2x4s ... is this a bad thing? Hope you understand what I mean.
Tomorrow I will do some more plumbing, but for now its waiting on HC (that I will get from Sampster5000 unbelievable ROAK, Thanks a lot!! Will be in the mail tomorrow morning, hopefully
) I'm also waiting for the driftwood (manzanita) that I will receive from PC1
This tank will be a dirt tank like all of my other tanks. I already have a bag of Miracle gro organic and 2 bags of Top Soil laying in the trunk of my car for over 3 weeks ( felt like I had more stability in the Audi TT Q lol). I will probably cap the soil with Diamond Blasting sand, or the same gravel I used in my 75 ( from a stoneyard black and red small gravel)
There will also be CO2 added, first I will use my old paintball setup, but over time I will buy a regulator. I will probably have to add ferts too overtime, because I really want to try high tech with a dirt tank. I will use my original light fixture from mu 75 gallon; Odyssea 4x 54W T5HO 48" fixture. I know I wont have light enough over the whole tank, but I know discus, corys and GBR's don't really like High light, so there will be shade for them.
Main inhabits will be GBR's, Corys, Lots of schooling fish and overtime Discus ( when my future juvies reached adultish size)
Pants selection will be everything from my old tank + some newer plants. I'm really bad at remembering the names of plants, so If anybody could help me ( in the future) to name my plants, that would be greatly appreciated!!
I think thats it for now, Thanks for watching and till the next post/ update.