Hello all,
Here is a journal for my 20g long that is/was my quarentine tank before the fish went to my 125g.. lol. I have kept fish tanks for 15+ years now. Honestly, this is the first time i really am puting effort and $$ to achieve a healthy planted tank. This is more of a trial to me and if it goes my way i will be planting the 125g. I want low tech though (more high tech than my 125g even for a low tech tank- weird).
1ST POST WILL HAVE MONTH BY MONTH PROGRESS
This was a pool filter sand mixed with eco complete at first that i just threw a couple of plants at first to have hiding places in quarentine tank. But then i got the bug to go through and make an official planted tank.
Anyways specs:
DOSE SCHEDULE (all seachem products for now)
MONDAY Potassium, Iron, Excel
TUESDAY Advance, Iron, Phosphorus, Nitrogen, Potassium, Excel
WEDNESDAY Potassium, Iron, Trace, Excel
THURSDAY Advance, Flourish, Iron, Potassium, Excel
FRIDAY 40% W/C, Advance, Flourish, Potassium, Excel
SATURDAY Iron, Phosphorus, Nitrogen, Potassium, Excel
SUNDAY Advance, Trace,Potassium, Excel
Equipment:
Fluval Aqua Clear 30 (2) - Filters at 150x 2= 300 GPH
9w Green Killing Machine UV light
GH Series Aquatop Heater 100w
Current Satellite Freshwater LED+ 18watts 24-36"
Bag of Purigen (Rated for 100g tank)
Petco Powerhead (King 160)160 Gph
Substrate:
1" Petco Black Sand (Top Layer)
1" 1 Bag Eco Complete (Middle Layer)
1.5" Flourite (Bottom Layer)
Plants:
Anubias
Amazon Swords (E. uruguayensis)
Java Fern
Corkscrew Vals
Red Tiger Lotus
Sagittaria
Crypt Wendtii
Fish:
8 Serpae Tetras
8 Rummy nose Tetras
4 Ottocinclus
Had a few fish die (R.I.P.) 1 rummynose tetra, 6 otto's, and 1 rubber pleco.
1 rummynose died for no apparent issue- one day he just ceased- they were all schooling nice.
5 Ottos died due to sickness from LFS when i received, which they replaced. 1 replacement Otto somehow got in the powerhead of my UV and well u know (have pre-filters on all powerheads now).
1 rubber pleco tried to rescue from petsmart but didn't work out.
Water parameters:
Tap 20g
PH 7.6 6.6 ->7.0
Amonia 0.3 0.0
Nitrite 0.0 0.0
Nitrate 5 10
KH 3 3
Phosphate 0.5 0.5
08/12/16
09/12/16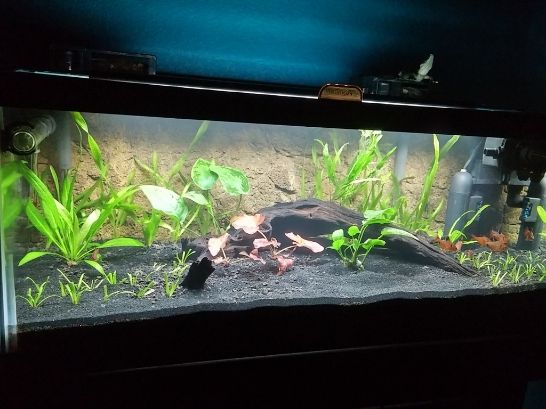 10/09/16
Work in Progres------
Bump: