Discussion Starter
·
#1
·
My first post here so i'm still new to the flow of things. I have done many large planted tanks, but I will be moving in a few short months so i figured i would downsize to a 20G long. I'm running DIY co2 as well as a DIY CFL light hood i just threw together really quickly. Currently running it at 72 watts but its 96 capable. Right now the plants are minimal; I have some coming in the mail. Java fern and a java lace fern. A val from an old tank already shooting out runners. A nice larger sized anubis; i snagged a piece off a buddies. And a water sprite i got from a LFS, already doubled in size and sent roots out. 2 water hycanths floating on top. I have 8 Exodon tetras as well as a new little bichir, a couple cory cats and otto's. Maybe even a bamboo shrimp or two if you look hard enough.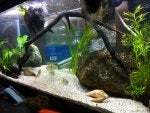 I have glossostigma coming as come foreground cover, as well as dwarf sag for some good cover around the back. ill probably remove to vals because they get out of control quick.
In the same order as the new plants will also be 4 convict cichlids! im pumped on these little buggers, i have a 29g set up real low tech next to my 20g. In there ill get myself a nice pair and breed them, feeding their numerous fry to my hungry bucktooths here and there to make sure they don't lose there edge.
The new stuff should show up early next week, ill post new pictures then if anyone gets interested : )