Greetings TPT!
So I have been here on the site for a few months and I have gotten such great advice and feedback from folks. I think its time for me to finally post my build.
Ok so first let me start out with how I began and I would like so show where I am at now.
Here is what I began with:
Equipment
10 gallon kit tank (with LED lights in the hood)
Whisper Power Filter - PF10 (came with the kit)
100W Fluval M Series Heater
Substrate
Seachem Florite and mixed it with a 5 lb bag of black aquarium sand
Hardscape
Mopani Wood
A MASSIVE boulder in the tank (well for a 10 gallon it was huge)
Flora
Java Moss
Water Wisteria
Fauna
2 GloFish Zebra Danios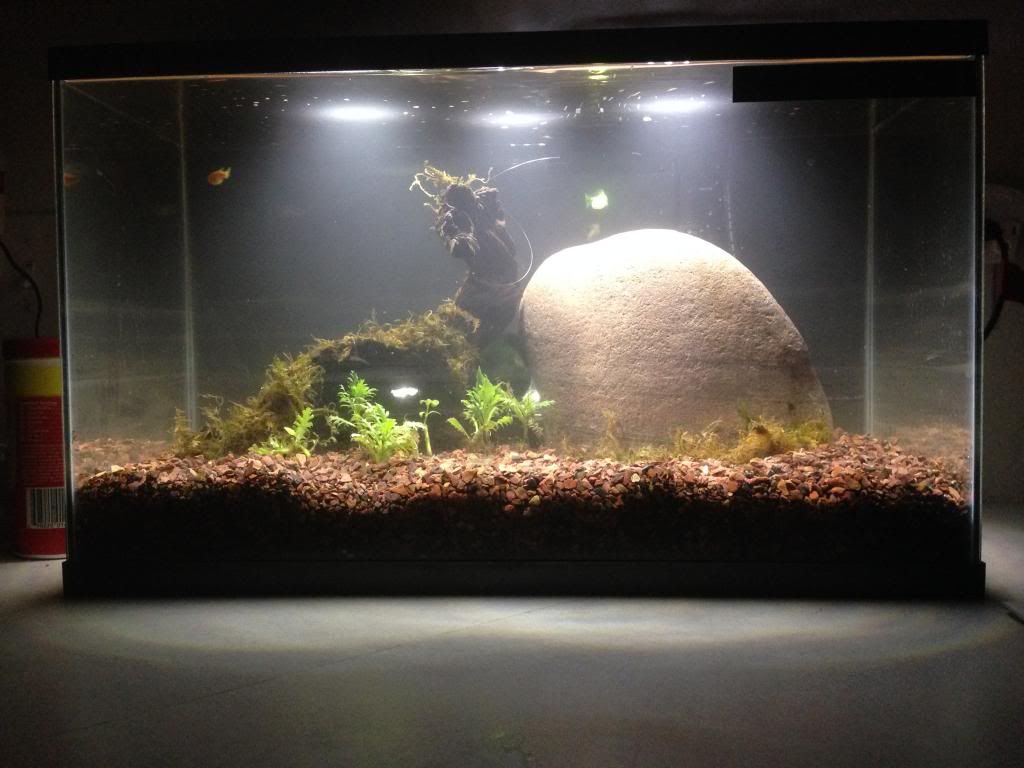 All in all it looked pretty sad
Phase 2.... Evilbay
Ok so after I got some great feedback from folks I got rid of the huge rock and filled in the tank with some plants I got from an online vendor. He was offering a "10 gallon beginners package" for a reasonable price so i picked it up.
Flora Additions
2 Amazon Swords (Echinodorus cordifolius), 8-10 inches long,
1 Java Fern (Microsorium pteropus) - 2-3 inches long,
1 Anubias barteri "Broad Leaf" - 5-7 inches long,
2 Bunches of Java Moss (Vesicularia)
2 Crypt Wendtii "Green"(Cryptocoryne wendtii) - young plants 2-3 inches long,
4 stems of Limnophila aquatica - 7-8 inches long,
4 stems of Ludwigia "Cuba" - 7-8 inches long,
5 stems of Rotala rotundifolia - 7-8 inches long,
5 stems of Ludwigia inclinata - 7-8 inches long,
5 stems of Didiplis diandra - 6-7 inches long
5 stems of Water Wisteria (Hygrophilia Difformis) 2-3 inches long
1 Marimo moss ball
Equipment Additions
Aquaclear 20 (running along with the Whisper filter)
Marineland Hidden LED Lighting System that I stole from my Red Eared Slider's 75 gallon tank (it was his night light)
After getting it all planted here is what I ended up with:
Started to look a little better
Phase 3.... Laziness = BBA = RESCAPE!!!
So I got some advice on ferts and CO2 and lights and made some improvements.
Got rid of the LED hood and created DIY sliding glass top lids.
Lighting:
Current USA Satellite Freshwater LED Plus for my lights (love these!)
Flora added:
Anubias barteri 'Nana' that was already on some driftwood from a LFS
Anacharis (treats for my Turtle)
Fauna:
5 Neon Tetras
5 Glo-Fish (added 3)
6-7 Ghost Shrimp
2 Assassin Snails
Ferts
1 ml of Seachem Flouish every other day
DIY Osmocote Root Tabs
CO2
1 ml of Seachem Excel every day
Plants started to fill in quite nicely, The Water Wisteria was going WILD and I had to keep cutting back on it.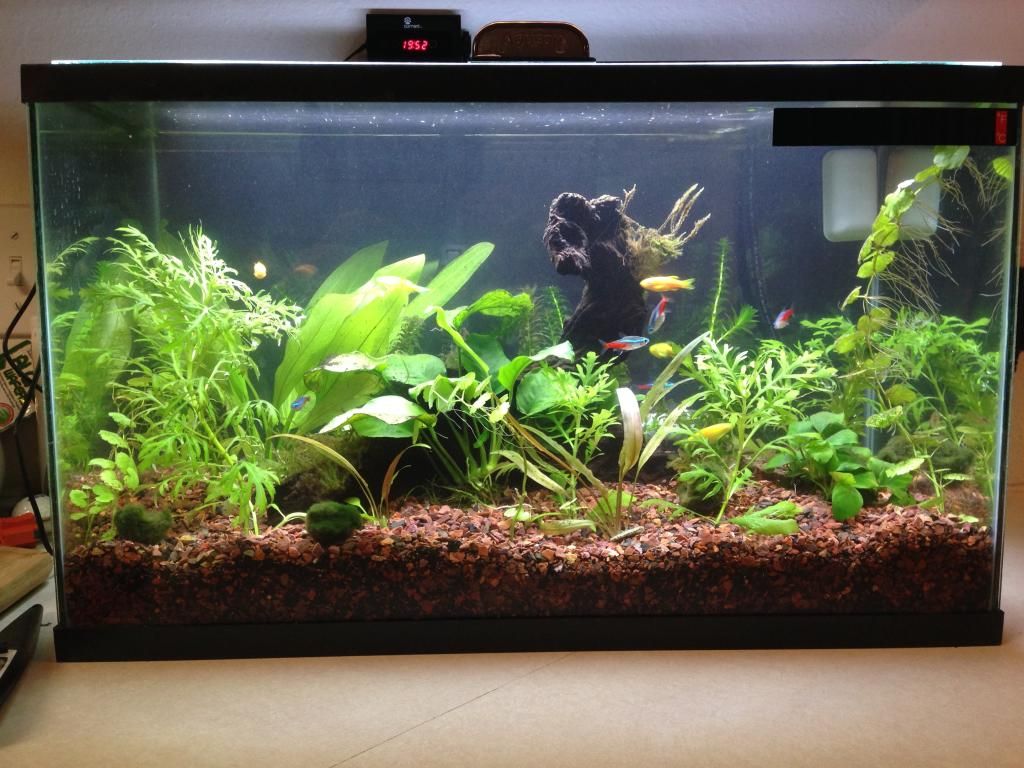 Ok after getting lazy on my dosing schedule I ended up with a bad outbreak of BBA and had to do a 4 day blackout to get it killed, lost some plants along the way but all in all it looks like the tank is doing much better.
Phase 3.5.... The Aftermath
After getting rid of the Water Wisteria because it was taking over the tank and after speaking with Dustin of "Dustin's Fishtanks" I got some Staurogyne Repens because I wanted to get some kind of foreground plant going and I split up the Anubias barteri 'Nana' into smaller sections.
And that is where we are at today.
My Anubias barteri 'Nana' and the Staurogyne Repens both have considerable GSA on them and I am playing around with my Photo Period to see if I can't minimize it.
Next up for me is going to be getting more plants to fill in the bare spots, replace the Amazon Sword with something a little smaller (would like a nice red plant) and get a second light to move me from Medium light to High Light (but not sure how I am going to do CO2 or my Photo Period yet)
I have to get a second light because my first one had 75% of the Red LED's go out and Current USA is having me ship it to them for warranty repair but it's gonna take 4 weeks to get my light back and I need something in the tank or the plants will die.
So feedback is what I am looking for. Plant suggestions. CO2 on a 10 gallon?? Other ideas!