Discussion Starter
·
#1
·
Hey everyone! After spending 2+ months gathering ideas/equipment/plants/etc. and constantly rearranging things, I've finally come up with something I'm ready to share with all of you. What started as a bare-bottomed experimental betta breeding tank has slowly evolved into what you see here :redface: :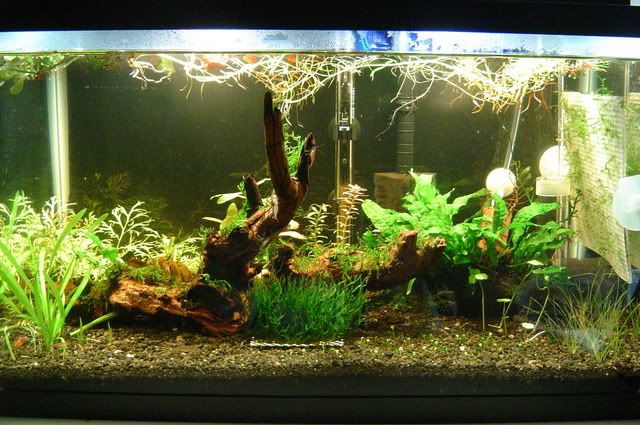 Current Stock List:
3 Corydora habrosus
2 Otocinclus
4 Amanos
~6 RCS (started with more but had a mysterious die-off that has since stabilized)
Background:
- Water sprite
- Hygro 'sunset'
- Rotala rotundifolia
(not 100% the last 2 are what they are, they came as single stems with my RCS and just waiting for them to grow out)
Midground:
- Weeping and flame moss tied to Mopani wood
- Java fern, bolbitis, Taiwan moss tied to driftwood
- Hydrocotyle verticillata
Foreground:
- Sagittaria subulata (I think...got it randomly with some other plants)
- Marsilea minuta
- Dwarf hairgrass
I'm still not totally set on the layout of the tank and am always drawing up pictures in my head. There are some things in there that I'm not sure what to do with (i.e. banana lily, xmas moss 'wall') and some other things standing-by that I'm thinking of putting in.
For filtration, I'm running a DIY sponge filter (from my betta experiment which needs to be taken out, just concerned about upsetting the bio-filtration balance) as well as an old Cascade 100 HOB that I had back when I wasn't planted tank-enlightened. I put some sponge over the intake and stuffed the media chamber with another sponge, some polyester fiberfil and a Bio-max insert used in Aquaclear HOBs.
I'm running 2x13w spiral fluorescent bulbs with DIY CO2 and Eco-Complete as my substrate. I dose macros (from Rex Grigg) and micros (Flourish and Flourish Iron) twice a week and staggered on different days with a shot of Excel when I remember. I also do a 20ish% water change once a week using Prime.
Since this is my first attempt at a planted tank, any comments, tips, suggestions, etc. are definitely appreciated. Thanks for looking! :biggrin: