I just set this tank up over the past few weeks.
tank specs:
8 gallon Finnex rimless glass tank
24W 7100K CF lighting
AquaClear 20 HOB filter (aka mini)
pressurized nano CO2 regulator/solenoid (Rex Grigg)
Rhinox 1000 glass diffuser
ADA aqua soil amazonia
ADA powersand special
a piece of old blackwood
lighting/dosing schedule:
9 hour photoperiod
pressurized CO2 at ~1 bubble per second synched 1 hour before lights
60% water change 1X/week
1/16 tsp epsom salt 1X/week
1/16 tsp KNO3 3X/week
~1/64 tsp KH2PO4 3X/week
~1/64 tsp K2SO4 3X/week
1 ml Flouish 3X/week (alternate days)
------------------------------
Foreground plants:
Elatine Triandra
Midground plants attached to driftwood:
java moss
Background plants:
Lagarosiphon madagascariensis
Ludwigia brevipes
Rotala rotundifolia
Egeria densa
Floating plants:
Hydrocotyle sibthorpioides
Fauna:
currently about 10 black lyretail molly fry
16 RCS in the mail!
I currently also have some filler plants until the ones I want for the aquascape fill in. I really like the size of this tank.
Now for the pics. :bounce:
Hardscape:
Equipment:
Algae:
Only algae so far is a little GDA on the glass and this small clump of stringy/yucky stuff (since been removed):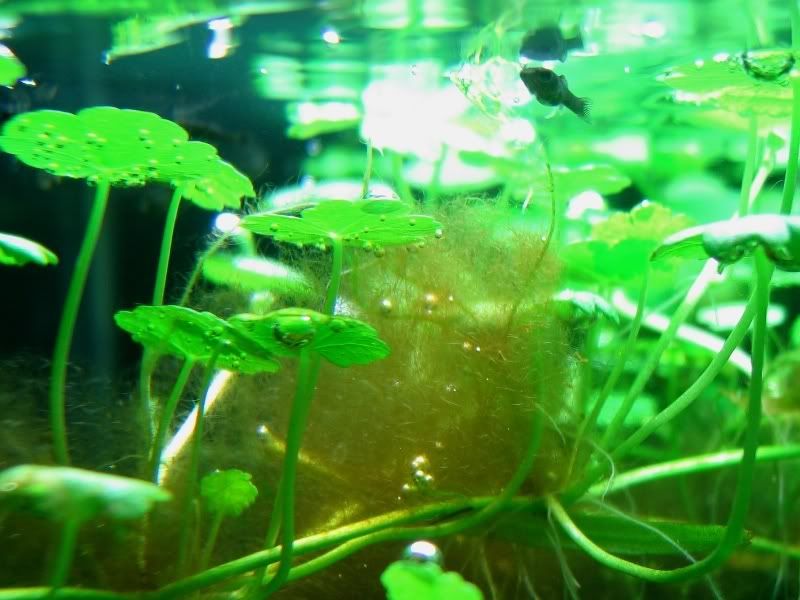 Full tank shot: