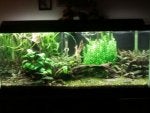 View attachment 320538
View attachment 320554
Been working on this for a while, i'm trying to establish a self-sustaining ecosystem. Living in here are: pond and ramhorn snails, a small school of endler/guppies, 3 Borneo tetras, two Danios, one large pleco, and, one mature ropefish.
The food chain seems to be established. I still feed the tank a few times a week, but, its mostly just supplemental and doesn't seem to be necessary.
Any suggestions our comments?