OK so I made the decision that when and IF I ever went high tech that I would start a tank journal....
Thanks to an amazing deal on craigslist (and my style :smile: ) I scored some awesome deals today and managed to not get into too much trouble...well yet
Anyway here is my NEW setup (upgrading an existing setup and my first foray into high-tech)
My New CO2 Tank (20lb monster I may need to re-work the regulator connection tomorrow since it's not fully installed yet...
My New Electronic Regulator and Bubble Counter (The CO2 system is not setup right now because in my efforts to re-attach/re-seal I broke a washer and didn't have an extra one, gotta buy that tomorrow
)
2 Curious cats and a nosy dog and my not paying attention and my canisters carbon as well as me all over this will be next weekends project.....:redface:
New Canister Filter - I may be having some questions about these soon, like I said it's my first round with anything more than a simple setup:
For now I will be using the stock intake cover, although eventually I want this to become a planted/shrimp tank, is this cover shrimp save ?
In the Water (no tubes hooked up here) BTW it was about this point where I realized that I wasn't in Kansas anymore with this tank...
CO2 Diffuser, this had been sitting out of a tank for a few months and was quite dirty, there was some media there (not sure why but I bought new to make sure it operated the way it was custom designed (or appeared to be)
CO2 Diffuser, all cleaned up and ready to be primed :smile:
I got to be a plumber tonight too! Had to change some fittings, and am very proud to say that the setup has been running for ~2 hours now with no leaks, it's all downhill from here!!
And it was all going great until....the curse of the 9.6v drill kicked in trying to drive the screws to mount the diffuser, I'm not upset though it gave me a beer break
Here's my temporary water routing setup (well as clear as I could get), I need to figure out how to increase flow a bit it doesn't feel like it's pushing the 350 GPM through -- The Yellow attachment is the PH controller (which I have to get warranty repaired)
The view from above before attaching lighting (system is running but see what I was saying about low flow?)
My old lighting system (not sure what I am going to do with them) and YES I sure did use some tin foil to try to reflect more light I'm not really sure if it worked well or not...The green Device is the PH controller digital part (which is the part that I need to warranty replace)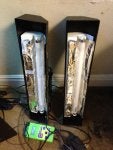 And the Finished (somewhat crooked end product for the evening) What a transformation!!!!!!!! I can't wait to see how the plants do and I can't wait to start getting some other new plants in this tank (currently only very beat up wysteria, java fern, and xmas moss, ultimately want to moss wall and shrimp this tank)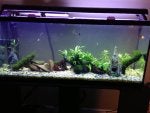 The Following is Information about the setup of the tank
Size: 55 Gallon Standard
Light: Coral Life 48" 2x54w T5HO 10,000k bulbs (was 2x18w t8 bulbs)
Filtration: MarineLand 350 Magnum Pro Canister (previously was whisper 70 gallon hob)
CO2 Tank Size: 20 Lbs
CO2 Regulator: AquariumPlants.com Electronic Regulator with electronic bubble counter
CO2 Diffuser: Outbound Powerhead difusement prior to re-entry into tank
Ferts: I've got the specs around here somewhere, I got it from a forum member
Substrate: Standard Aquarium Gravel (planning on adding some type of root tab here soon to improve quality)
Wow that's prob pretty long, if you've stayed this long thanks for looking, I welcome your opinions and suggestions as this is my first go at a high end set up (and I'm pretty stoked and pretty nervous all at the same time, it almost feels like I've started a whole new hobby)
I do know that over the coming weeks-months I am planning redoing a lot of the interior of this tank to bring in more driftwood for ferns and removing some if not most of the large rocks and the one last fake decoration